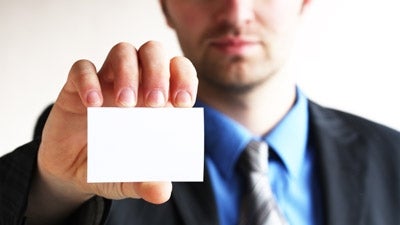 A name is the cornerstone of your business—it sets the stage for your branding and identity. Just imagine if Target still went by its original name: The Dayton Dry Goods Company. If you're about to start a business (or maybe are thinking about rebranding an existing business), you've probably been brainstorming for the perfect name.
Here are a few tips to help you find the right name and make sure it's legally yours to use.
1. Ask yourself what's the first thing you want a
customer to think about
with regard to your business? Then use that to set your tone (playful, academic, edgy, professional, friendly, etc.).
2. Descriptive names usually work better. For example, a potential customer will automatically know what "Speedy Electronics" or "Frieda's Flowers" is all about as opposed to just "Speedy's" or "Frieda's." However, don't get too specific that you might box your brand in should you decide to expand what you offer down the road.
3.
Simple is strong
. Powerful company names are easy to spell, pronounce, and remember. After all, you won't get any word of mouth referrals if your customer says "You should try my caterer for your next event. Their name begins with an A…"
4. Watch out for language/cultural pitfalls. A business name like "Get Nailed" may not be the ideal name for a carpenter. The best way to avoid creating an embarrassing or damaging brand situation is to test your name on your target audiences; they may see something you missed.
5. Make sure your name is available to use. You can easily check availability by doing a
free business name search
online for whatever state or county you are planning on conducting your business. At this point, it's also wise to do a
free Trademark search
to see if the name is available in all 50 states (you can see if anyone else has registered for, received, or abandoned a trademark for your proposed name).
How to register and protect your name
Once you've picked the perfect name for your business, you'll want to make sure that it's legally yours (and yours alone) to use in the state or county you plan to conduct your business in. There are a few ways you can register a business name:
If you haven't considered or are not planning on incorporating your business yet, you can register your name by filing a DBA (short for "Doing Business As") in whatever state(s) you'll be conducting business. This is a simple and affordable act that will legally register your business name in those specific states.
If you're planning on just using your own name for your business (for example, you provide consulting or other services), you don't need to register a business name. However, if you use any kind of variant (such as "Frieda's Flowers") you will need to register it via a DBA or incorporating.
If you're planning to incorporate your business or form an LLC, this will automatically register your business name in whatever state you've incorporated in. That means that no other business can use the name within your state as a corporation or an LLC. However, it won't stop another business from using your name in any of the other 49 states (and they can even use the name within your own state by using a DBA/fictitious name filing!).
If you are serious about protecting your brand and making sure no one else can use your business name, you'll need to file for a Trademark.
Picking a name can be one of the most exciting and important things you do for your business. Take your time, follow your gut, and then make sure you register your name to keep it yours for years to come. And keep in mind that filing a DBA or trademark is just a way to register your name; you'll still need to look into whatever
business licenses or permits
you may need to actually conduct business within a state or county.
Published: July 30, 2013
3191 Views