Even with its shifting political climate and cost-of-living energy woes, the UK is one of the most favored places in the world for new businesses to get started. Post-Brexit, the UK was named the best country in Europe for startups following research by online banking platform, Tide. 
Despite the usual challenges for businesses to 'set up shop', entrepreneurs are ever watchful for identifying promising new opportunities. From establishing their premises or discovering a niche in a foreign market, they must do their research and be creative to survive. This article explores some of the best cities in the UK to get started.
What makes a city a good place for a startup?
Cities make a great place to start a business largely due to the number of people who live there. If you are starting a brick-and-mortar business, you'll need passing trade so beginning a business in the middle of nowhere isn't the best start. But the population is just one aspect that makes a city worth investing in.
Entrepreneurs must also consider business survival rates, their access to talent (such as universities and colleges), the potential for growth and the infrastructure (including transport links and business networks). The UK has one of the largest economies in the world, the fifth largest according to the World Economic League Table, and these are the best cities to start a business in if you are setting up or looking to relocate your offices to a new city in the UK.
London
London is one of the best cities not just in the UK but anywhere in the world to start a business. With a population of over 8 million people, there are plenty of opportunities for entrepreneurs to make a success of their business in England's vibrant capital.
Not only are there plenty of people, but London businesses also enjoy a diverse range of customers from a wide range of ethnic and cultural backgrounds. With close links to Europe and fast connections to its major airports, London is ideal for companies with international aspirations. The transport links available in London are some of the best in the world thanks to the network of railways, subways and bus routes.
London is a city that few businesses will feel they can outgrow and the city has a five-year survival rate of 39.6% for startups. Top London startups include Huel, a plant-based nutrition provider and Butternut Box, a fresh food for dogs delivery service.
Leeds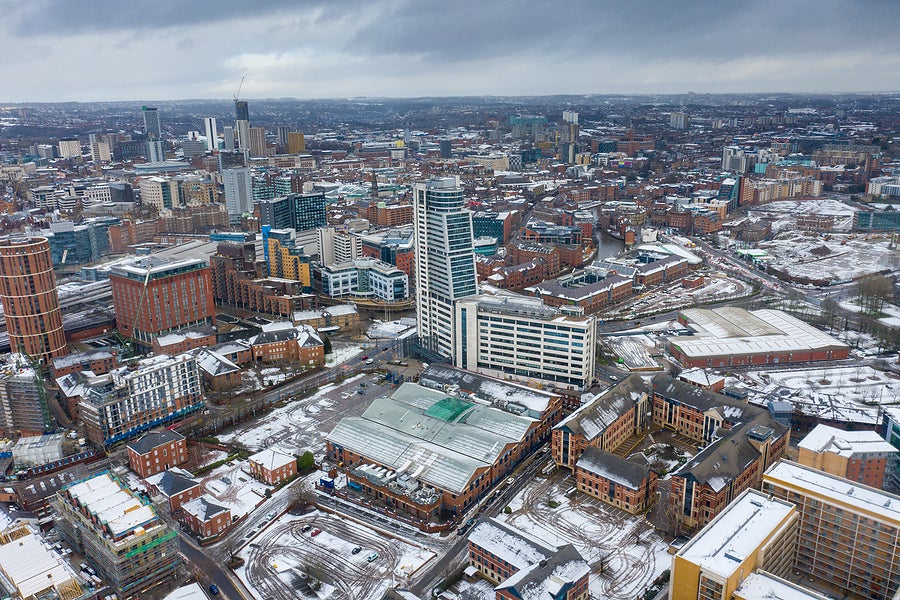 Startups looking for somewhere to call home should look to cities like Leeds with higher survival rates than most others. Leeds businesses enjoyed a survival rate of 42.9%, which is higher than the national average of 42.4%.
With a more affordable cost of living than other areas of the UK, Leeds represents a great opportunity to open a business in one of the UK's up-and-coming business hubs with a young workforce.
There are four universities in Leeds and a thriving business population of 32,600 businesses and 6,110 small & medium enterprises. Leeds' recent startup successes include Radar Healthcare, a digital health and social care system and BOXT, an online boiler fitting company.
Brighton and Hove
Brighton and Hove is one of the UK's most exciting cities thanks to its thriving arts and culture scene. Located on the south coast, this Sussex city (known fondly as a 'little London by the sea') enjoys a 44.13% five-year survival rate for its startups with a reputation for supporting independent businesses that helps entrepreneurs stay afloat. Brighton and Hove is a real melting pot of cultures and personalities, ensuring a variety of business types across the city.
House prices and commercial rents are high suggesting that Brighton and Hove is a place with growing wealth and appeal, making it a great investment opportunity. There is a thriving digital industry in Brighton but it is renowned for its ethics, welcoming charities, creatives, and environmental startups.
Thanks to the strength of the University of Sussex's research department, Brighton and Hove is a leading light in the life science field. Some of Brighton's thriving businesses include STORROR, a parkour and lifestyle fashion brand and Ricardo, a global strategic engineering and environmental consultancy.
Bristol
According to figures by Business Comparison, Bristol has the highest five-year survival rate of any city in the UK at 44.36%. Bristol was once known for its thriving port but it is now a hub for arts and cultural businesses. Other major industries that are performing well in the West Country city include finance, aerospace, electronics and creative media.
Bristol's city council aims to assist its startups as best as possible with the Bristol Temple Quarter Enterprise Zone specifically designed to encourage small business growth. Companies are given incentives such as easier planning applications and business relief rates.
With a good quality of life and younger generations moving to the city, Bristol finds itself an attractive prospect for many small business startups. Bristol-based startups to look out for: Five, an autonomous driving software development company and LettUs Grow, food tech developers.
Edinburgh
Scotland's capital, Edinburgh is a great place for startups thanks to high levels of talent, it has four universities and a business survival rate of 40.8%. With such a considerable rate of survival and lots of available talent, Edinburgh is an appealing prospect to many would-be business owners. Major industries in Edinburgh include science and technology, digital and a leading finance center.
The cost of living is higher in Edinburgh than in other cities, which may put some people off, and the average price of commercial property for rent in Edinburgh is £31.45 per square foot. Notable Edinburgh startups in recent years include Skyscanner, an online flight search engine and Beer52, a craft beer subscription service.
Glasgow
While Edinburgh is Scotland's capital city, Glasgow is the city with the highest population north of the English border. Its population of 612,000, makes Glasgow the third-largest city in the UK. In the past, Glasgow had a strong shipbuilding industry and manufacturing or engineering muscle, but today the city brings diversity to its working population.
There are three universities in the city and a considerable percentage of its population are educated to NVQ Level 4 or above. Not only is Glasgow an important city economically, but it is also a desirable place to live as shown by its nomination as the UK's top cultural and creative city by the European Commission in 2019.
There are strong transport links to Edinburgh and other major cities across the west of Scotland and Northern England. The city was also ranked as the best UK city to work in for a small business based on the cost of living, house price and average commute length. Some of Glasgow's best startups include Exizent, a data connection platform and CSI, an award-winning cloud-based service.