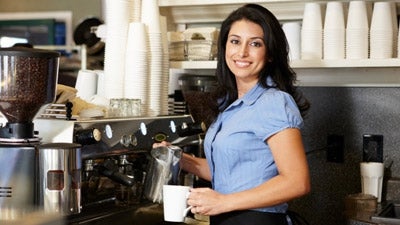 We have seen a dynamic change on Main Street over the past two years, with retail clothing giants replaced by boutique and independent coffee shops and cafés that mimic those of Italy and France.
This has led many entrepreneurs to start exploring the options of starting their own café or coffee shop in the quest for financial security and career satisfaction.
However, it is crucial to bear in mind that starting up your own café or coffee shop is not a "get rich quick" option, and it takes a lot of physical labor and hard work to get your brand established and recognized.
Get insights from people who have shops you want to own
You do not need to have experience working within the industry, but a little prior knowledge will go a long way.
Click here to read more on a coffee making course in London
There are going to be a few stores you have in mind which you wouldn't mind owning, so if you want to be in their shoes then you're going to have to be confident and ask for advice.
Obviously, don't go running to a store which is going to be your direct competitor. It's best to approach stores that aren't in your town or that aren't in direct competition with you.
If you're upfront and honest about your ambitions, many coffee shop and café owners will be more than happy to offer up some valuable advice; after all, they've been there themselves!
Location is key
Two thirds of coffee customers grab a hot drink while they are out and about, and three quarters of young adults (whether they are customers or not) will buy one spontaneously if they happen to walk past a shop.
This makes location a key element to the success of your business and that means being in a central location with a lot of foot traffic is essential.
However, as you are probably aware, with a central location comes a central price-tag. You're probably not going to find that dream, big, open space that you have been envisioning, and you may have to make some compromises.
This is the same for café too—a passer-by will find it hard to say "no" to a quick stop off at your café if it is in a busy central location.
Licenses, regulations, laws and insurance
As the owner of your business, you will be held responsible for any flaws within your café or coffee shop and it is therefore important that you do your research.
For best practice, contact your local authority to find out what licenses you need to sell in your local area.
You need to make sure that you are clued in on food preparation standards. There is no law that states that you need to undergo formal training to handle and prepare food; however there are some regulations that you need to follow in relation to contamination, cleaning, chilling, cooking and management.
You also need to look at insurance so that you are covered within; employer's and public liability, stock and contents, goods in transit, money cover and shop and glass cover.
Catering to a quality-conscious market
Customers are forever concerned with where their food and drink is sourced from and how it gets produced.
You will need to keep the health, environmental and socially-conscious population happy.
Do all the above, and you're on your way to owning and running your first café!

Author: Bradley Leonard is a startup enthusiast and has been helping entrepreneurs establish a business and find the right insurance policies to get their businesses off the ground while working at Boothby Taylor.

Published: May 21, 2014
3060 Views