Saltwater Brewery was started just under 3 years ago when a group of friends from Florida decided to pursue their combined passion for beer and the ocean. Chris Gove, the founder of the company, was in San Diego pursuing a career in finance and development when he decided to come up with a business plan for a microbrewery in his hometown of Delray Beach. In the short time since then the company has grown in ways he couldn't have imagined.
Gove and his buddies grew up like many in Florida—spending much of their time in the ocean. Whether for sports or leisure, they grew to respect the water and all that it provided them, but they also saw the negative impacts that humans have had on the ocean, which is often likened to the lifeblood of the planet. Marine pollution remains to be a serious and toxic issue for aquatic ecosystems around the world, so when Saltwater Brewery was conceived, they knew they had to make this cause a core part of the business.
To get started, Saltwater depended on the help of family and friends, but they soon got the attention of outside investors. Developing such a beer company in a market where craft brewing hadn't taken off like it did elsewhere, Saltwater expanded quickly. With beers such as Wheat Wave, Don't Get Confused, and Screamin' Reels IPA, Saltwater tapped into a Florida aesthetic. As they honed their selection of beers, the brewery also honed their relationships with ocean-based charities throughout Florida—in fact, as their distribution network has grown, so has their charity donations and projects.
One of the ventures that's taken off is the Edible Six-Pack Rings project, which replaces the plastic that kills countless marine life with an edible, biodegradable version. These edible rings replace the plastic with a byproduct of the beer making process, creating a sustainable, safer loop of production. Saltwater won a Cannes Lion for the idea.
Below, Gove talks about the brewery's biggest business challenges, the efforts to save the seas, and how the Six-Pack Rings are taking off.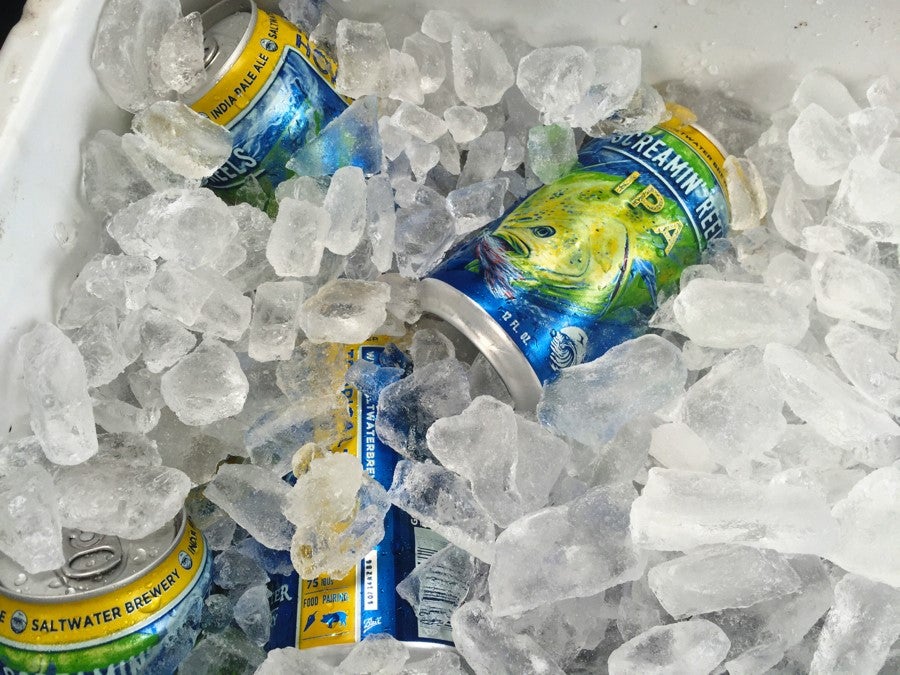 BOND STREET: What's the origin story of Saltwater Brewery?
CHRIS GOVE: We're a two-and-a-half year old microbrewery and we're all natives to Florida. We grew up being avid watermen, fishermen and surfers, so we've seen all the different types of plastic pollution and marine debris firsthand throughout our whole lives. We decided to combine our two passions—beer and the ocean—and create a company that fulfills all our dreams. It's been amazing the amount of reception we've gotten for both our beer and what we stand for.
BOND STREET: What's your professional background?
CHRIS GOVE: I'm 29. I went to school for engineering for two years then switched to finance, then I worked in real estate as an acquisition analyst and system coordinator for a large development company. After that, I basically made a bunch of friends in the beer industry while living in San Diego for a few years. I saw a gap in Florida and came back home to where I'm from. There weren't any microbreweries around, so I decided to start one.
BOND STREET: How was the business originally bootstrapped? How was it scaled up?
CHRIS GOVE: I wrote a business plan in San Diego every night after my job. I developed a solid foundation of understanding the necessities and all the steps to take. I jumped ship without really having a full plan. I came back to Florida and my parents had an investment property that was empty and going to be sold, so I used that as a home base and went around to family and friends and other investors to try to raise capital. After I got an outside investor, everyone (including my parents) started to step up more, and the team came together.
BOND STREET: Tell me about the team at Saltwater.
CHRIS GOVE: We're all friends from when we were younger. Myself, I'm president; Bo Eaton, he's head of sales and a co-founder also. Then we have Peter Agardy, head of the brand and creative director; and then Dustin Jeffers, who's head of operations and was our original brewer.
BOND STREET: What was the biggest business challenge at the time of starting up?
CHRIS GOVE: Everything takes twice the time and twice the money. It's one of those things—we tried to plan as conservatively as possible, but there's just so many hidden things when you start a business that no one can really inform you about till you've done it yourself. There were a bunch of hurdles that we had to get through initially, but like anything, that's what molds the business. We use it and continue to grow and learn and become more efficient and more understanding of the market. You gotta walk before you run.
BOND STREET: What was the most important lesson that you learned during the time?
CHRIS GOVE: Management of people is a really big one that's hard with a scaling company, just because you're juggling so much. Sometimes you can't always be as perfect of a planner as you wish you could be.
BOND STREET: Tell me about the manufacturing process of the beer.
CHRIS GOVE: It starts with 4 raw materials: water, malted barley, hops and yeast. We take the malted barley, crack it open, and put it into a lauter tun. We then add 160-degree water and we let it sit for about an hour to an hour and a half, depending on the beer, and it converts the starches into sugar. A strainer on the bottom allows the sugar water to be strained into our kettle, where it boils for 60 to 90 minutes. During that time we had the third ingredient–the hops, which adds the bitterness and aroma. The hops also gives it a longer shelf life, and protects it from any bacterial infections. The longer the boil, the more bitter the beer; the shorter the boil, the more aroma the hops gives off. After the boiling process is done, you have wort. You cool it down and push it into a tank at a lower temperature. From there, now you have fuel for the yeast, which is a living organism. The byproduct of the yeast is ethanol and carbon dioxide. After that, we strain out the yeast through a filter and push it into another tank where we force carbonate it.
BOND STREET: So there's multiple types of carbonation?
CHRIS GOVE: Natural carbonation is like champagne bubbles: they're small and they dance on your tongue. Forced carbonation is like Coca Cola: they're larger bubbles that roll over. Between the two types of bubbles is how you get a great mouthfeel and aroma with the beer. After that, you keg it or can it.
BOND STREET: What does your distribution network look like?
CHRIS GOVE: Originally we started just front of house for the first year, and spent time honing in our beers. The next year we reached out and started to distribute in South Florida. Then, as of about 3-4 months ago, we have done about three-quarters of the state of Florida. Now it's looking like we're gonna grow a lot faster.
BOND STREET: Who are your customers?
CHRIS GOVE: It's a large range of people but includes the average Joe who loves supporting local brewers; avid craft beer drinkers who enjoy a bunch of different styles and one-off flavors that are barrel aged, or sour beers. We attract a whole repertoire, the full spectrum of beer lovers.
BOND STREET: What are your most popular beers?
CHRIS GOVE: Our most popular beer is our Screamin' Reels IPA. Our second most popular is a new one, it's called Locale, it's our extra pale ale. Pales are really popular and the production on these is very consistent. They make up over 80% of all the stuff we produce.
BOND STREET: Saltwater Brewery works with several ocean based charities. How does this charitable work fit into your business model?
CHRIS GOVE: From the inception, we've always wanted give back to the ocean. It's one of the original reasons why we're here. It's not only about the beer—that's something we do and produce, but beyond that, it was about what we wanted to stand for as a company, what we believed in. Since the beginning we've wanted to raise awareness about the ocean and how important it is that 70% of our Earth is covered by it and we treat it like it's sh… nothing. Everything we do has an effect on the oceans, and that has an effect on all of us.
BOND STREET: What charities do you work with?
CHRIS GOVE: We work with Coastal Conservation Association, Surfrider Foundation, Ocean Foundation, Mote Marine Laboratory, and Seagrass Grow. We try to work with all these different charities that have chapters throughout each county, so as we grow our distribution, we develop relationships with the different chapters. We provide donations for charity events and provide private tours and parties for them. We also do projects together, like co-clean ups, things of that nature. One night a month in the tasting room we put on a tap that's dedicated to them, so whatever is drank from that, we give to charity.
BOND STREET: Tell me about the Edible Six Pack Rings project.
CHRIS GOVE: In the process of making beer, there's a wheat and barley byproduct that gets scraped out. The fibers are the basis of the rings' structure. It was a waste originally: it spoils in about 2 to 3 days and the bacteria becomes hazardous for the brewery since brewing is all about sanitation. It also has an unpleasant smell, so we had to get it away, which cost money and time. We worked with cattle ranchers and farmers to pick it up, but sometimes there's a limit, or they can't always be there, so it wasn't a perfect system; you also have to pay to have it picked up. So we decided to make it a fully sustainable cycle in the back end.
BOND STREET: What's the network that's helped you execute it?
CHRIS GOVE: It's a collaboration effort with Webelievers, a co-creation house out of New York. They came to us with an idea of a seaweed six pack that was edible for packaging. We started working together and we looked at the manufacturing process. We had just been working on the spent grain that day and we were talking about how much we had leftover, and how much of a hassle it is to manage it and how awesome it would be to recycle that. We worked together and found a sustainable engineering company that had an idea about what to do with it. We all worked together to produce the first 3D print mold, which they then put on a hydraulic steel press. Entelequia worked with us to put the formula together, they're the sustainable engineering company. It was a network that came together very quick.
BOND STREET: What percentage of your products come with the Edible Six-Pack Rings?
CHRIS GOVE: At the beginning of April it was just a few different six packs. We were gonna scale for ourselves but due to the global demand of it now, we've kind of gone back to the drawing board and repositioned our whole approach to everything. Within a month or two we're gonna try and use it for almost 100% of our stock, we're just making sure that the scalability is in line with where we want it to be. Everything is working out amazing, we have the potential to move up to 10 million units a year next year. We're in the Cannes Lion Fest and we won a gold in innovation, one of 4 companies that won a gold.
BOND STREET: So Edible Six Pack Rings is now becoming its own entity?
CHRIS GOVE: Yes, exactly. Due to the scaling and the nature of it, it needs to become its own. It's a different beast.
BOND STREET: What's the biggest business challenge that Edible Six-Pack Rings currently faces?
CHRIS GOVE: Besides scalability, it's appeasing the market's demands. Ensuring that we have the correct logistic layout of how to scale. It's a matter of getting the correct teams on the project management side and being efficient while expanding rapidly. Our goal is to eliminate as much plastic in the ocean as possible, and the faster we can get up and running, the happier we are.
BOND STREET: What's your most effective marketing channel?
CHRIS GOVE: Social media, for sure. The diversity and amount of people that create content for us and create brand awareness is unsurpassed in terms of our investments. They're very enthusiastic. It comes down to the similar passions of caring for the ocean and bringing a new perspective to a very mature industry. There's a lot of places you can go to drink a beer, but we try to make it so that whenever you're here, you feel like you're giving back to the ocean.
BOND STREET: What's the 5-year vision for Saltwater Brewery and the Edible Six-Pack Rings?
CHRIS GOVE: The rings are just the start of our packaging projects, for sure. It's just the first accepted one. We believe we can do other similar plastic items, such as straws, and eliminate them. Different cardboard packages and things of that nature, we can compete on that level. That's all gonna be part of this whole effort, to focus on the existing violators of the ocean. There's a couple others in development that I can't talk about yet.
Quickfire:
BOND STREET: What's one book every entrepreneur should read?
CHRIS GOVE: Zero to One by Blake Masters and Peter Thiel.
BOND STREET: One brand that your admire:
CHRIS GOVE: Tom's.
BOND STREET: 5 favorite small businesses in Delray Beach?
CHRIS GOVE: