In today's world, creating content for social media isn't just an option for business owners – it's a must. Gone are the days of simply posting and expecting to gain followers, comments, and attention for your business from a few words or phrases.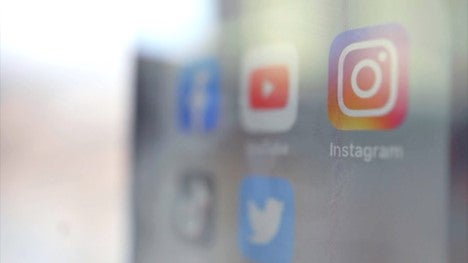 Instead, business owners must now focus on catering to their audiences, providing a fully enhanced social media experience that provides valuable information that will make the consumers want to buy from the brand.
If you would like to boost audience engagement and build brand awareness to increase sales while helping your business grow, the key is to create high-quality social media content that the consumers will love.
Not so sure how to do that? Don't stress it! Check out these six simple hacks on creating social media content that you need to know to skyrocket your business and see promising results!
Follow the Trends That Work with Your Business Model
To become a master at creating content for social media, you need to get to know the platforms you're planning on using, such as TikTok, Instagram, and Facebook. While you may be familiar with some, others might be relatively new to you, so it's worth browsing around and getting a feel for the types of content posted to these platforms.
For example, if you're only familiar with Instagram because you've personally used it for more than a decade, it's time to branch out and see what other platforms have to offer.
Once you've had the opportunity to browse and get a better feel for the content, you can start looking at what's trending on these popular social media apps and find different ways to use these trends to your advantage.
Will every trend align with your business model and core values? Probably not. But dozens of trends are circulating simultaneously, so you're sure to find quite a few you can use to advertise your business and the products or services you offer consumers.
While this will require creativity and a willingness to think outside the box, companies willing to stay up-to-date with the trends can gain followers from each trendy video posted, skyrocketing their business in no time.
Focus on Producing Real-Time, Short-Form Video Content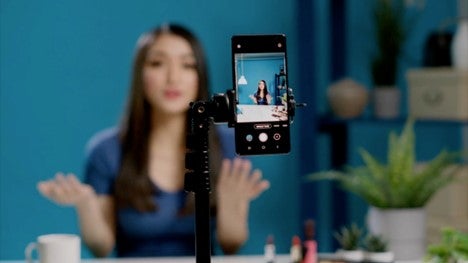 If you haven't already noticed, short-form video content is where it's at and what has naturally become the new norm.
In the past, people were used to watching lengthy videos on YouTube, whether tuning in to pranks or learning how to apply makeup from a beauty guru's tutorial. And while long videos can still get views, short-form video has become the most popular type of video posted.
It started with TikTok and has since evolved into something other social platforms are adapting, such as YouTube with YouTube Shorts and Instagram and Facebook with their Reels and Stories features.
With that in mind, focus on creating short yet compelling content that will draw consumers in from the get-go. If you make it interesting from the moment they press play and don't try to drag things on when you can quickly provide information or highlight something specific about your brand in 60 seconds or less, you can get more views.
In addition to more views and increased watch time, shorter videos will help improve engagement, which is genuinely good for business.
Use Content Calendars to Get Fresh Ideas for Images, Videos, and Captions to Post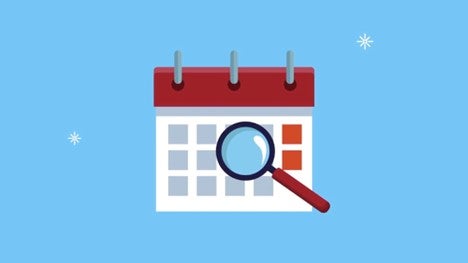 Content calendars are a huge help when you're running a business and want to regularly post fresh, engaging content throughout the month. For example, if you're a hair salon owner, you want to post regularly to inspire your current followers while gaining new ones.
When using content calendars available for your niche in the beauty industry, you won't have to worry about running out of concepts or things to say throughout the week. Instead, you could work on the calendar at the end of the previous month, making a list of ideas for different days of the week, such as "Product Review Monday" and "Wild Hair Transformation Wednesday."
These are simple themes to follow for the days of the week, giving you a better idea of what to post, such as before and after photos or a short video of the step-by-step process involved in a hair treatment provided to guests at your salon. Of course, you can adjust the themes based on your niche and the specific services or products you sell.
The beautiful thing about social media is that you have the option of repurposing your content. You can create videos specifically for TikTok and then reuse them on Instagram or upload them to YouTube as YouTube Shorts.
While you may think repurposing your old content is bad, it can help you broaden your reach even further while gaining the attention of new audiences who prefer using specific social media platforms over others.
Show the Behind-the-Scenes Footage That Everyone Wants to See
Consumers want to see the good, the bad, and the ugly, so don't be afraid to share a glimpse of what goes on behind the scenes with them. No matter what business you're running or what you can offer to them, there are different ways to show consumers how you conduct your business.
For example, you can upload short-form videos of a day in your life and begin detailing the tasks you complete to successfully run your business every day.
It's little things like this that can make you appear more relatable to the consumers, encouraging them to buy from your brand! People will feel more inclined to buy from a business if they feel like the owner cares about them and believes in the value of being fully transparent with their audience.
Share Positive Reviews and Feedback from Previous Customers
Use rave reviews and positive feedback in your social media content.
To skyrocket your brand, you need to prove that you're a dependable business they can trust to provide them with high-quality products or services.
The best way to do that is through people who've already done business with you and were satisfied with the experience. From requesting testimonials of previous customers to creating videos with screenshots of reviews and positive feedback you've received, there are dozens of ways to create your social media content around the average consumer's experience.
Doing so will help you build a solid connection with your audience while gaining their trust and showing them you're willing to go that extra mile to exceed their expectations.
Work with Social Media Influencers of All Sizes to Gain Added Exposure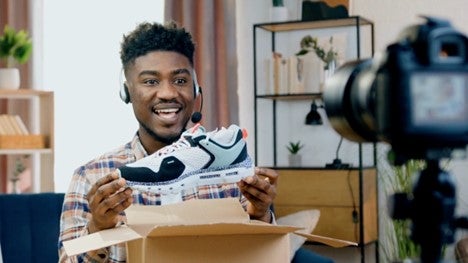 Keep consumers even more engaged by collaborating with social media influencers. You may think it's impossible to get influencers to work with your brand, especially if it's relatively new and you don't have much of an online presence.
However, there are all kinds of influencers out there. While someone with millions of followers may not agree to work with you because they get tons of offers each day, micro-influencers with a few thousand followers often look forward to having the opportunity to collaborate!
Before you decide to work with any social media influencers, do plenty of research on them. You want to ensure their values align best with your brand's values, making it easier for you to gain followers from the audience you wish to target.
Having a familiar face in some of the content you post on social media can help you increase engagement and skyrocket your business in no time. And when social media influencers post about your brand on their own pages, the extra exposure can help you land new followers and more views, leading to extra sales.
A simple collaboration can turn into a win-win situation for everyone involved.
Final Thoughts
Many people believe that creating content for social media is time-consuming and challenging, but it's much easier than most realize. Skyrocketing your business through high-quality content requires a few simple steps, such as following trends, working with social media influencers, and keeping your content short yet actionable. You can quickly strengthen your brand's online presence and save yourself time and effort if you're willing to take the right approach.