Is Your Lighting Conducive to Your Workspace Needs?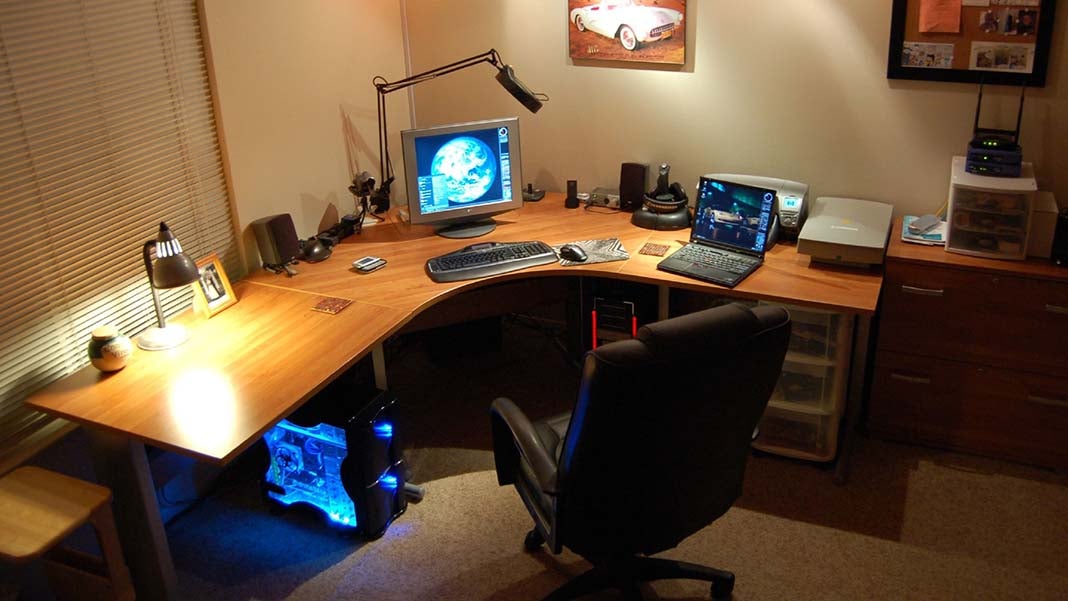 Whether you work in the office or at home, finding the proper lighting can make a significant impact on your productivity.
Without the proper lighting, you increase the issues of eye strain and headaches. Lighting can also play a critical role in your energy levels and your overall mood. For instance, low lighting can make you feel tired and lethargic.
However, you can prevent these problems by creating the right balance of lighting for your workspace. Here's how you can use lighting to enhance your office.
Layer Your Lighting
Most homes are not designed with you in mind when it comes to working from home. All too often, you have to rely on lighting that comes from existing sources, such as an overhead ceiling or a bright window. However, the lighting you have now may not be sufficient on its own.
The best way to work with optimal lighting is to secure it with different lighting, known as layering. There are three different types of lighting, including:
Ambient lighting: This is the overall lighting in the room, which includes the main light and natural light.
Task lighting: A targeted light for carrying out specific tasks, like a desk lamp.
Accent lighting: Highlights certain features and objects within a room.
A combination of all three of these will ensure you have plenty of lighting and overall ambiance. If you're working in a cubicle, here are a few tips to help you adapt with corrective lighting:
If your office is full of fluorescent lighting, this can trigger a migraine. Although there's not much you can do to combat this, you can still see if turning them off during the day is doable.
Task and ambient lights are easiest to display in a public office. To save desk space, add a lamp that clips onto any surface. Be sure the ambient light sits low in your workspace, so you don't bother other people sitting next to you.
Some offices may not allow you to add modifications to the workspace, but consider using LED strip lighting behind you if yours does. You can constantly reposition it if there is a glare on your screen.
Make Good Use of Background Lighting
Start with the ambient lighting that already exists in your home or office space. Here are a few ways you can make the most of your lighting.
Utilize Natural Lighting
Natural lighting has numerous benefits for your overall work environment. Studies show that 84% of people had a decrease in headaches and eye strain issues when experiencing natural light.
If you can, move your desk as close to a window as possible. Other alternatives to a natural light source can include a skylight or a glass door.
It's also essential to take note of the sunlight levels throughout the day. Adjusting your lighting with blinds or a curtain can help reduce glare from direct sunlight. Yet, you still have a natural source of lighting to come through.
Install a Dimmer Switch
A dimmer switch may be just the thing you need to control the lighting. Having control over your lighting allows you to work just about anywhere in your home. When you have a dimmer switch, you can choose to work on different tasks at different times of the day.
For instance, when you're working in the daytime, you can dial down the lighting in the evening to create a more relaxing environment. A dimmer switch will help you "close the office" once it's time to stop working.
Avoid Harsh Lighting
Overhead lighting can offer ample illumination, but you should try to avoid using fixtures that cast direct light onto your screen. Direct light can cause glare, and ceiling fixtures can cast shadows.
The key is to aim for a good spread of ambient light throughout your workspace. Then you can supplement with targeted task lighting. Try to position your workspace to face the light, so it minimizes shadowing. Positioning with lighting in mind is also essential for video calls and conference meetings.
Consider opting for a corrective lampshade. Depending on the color of your lampshade, you can produce softer light across your office space.
Implement Task Lighting
Once you have your ambient lighting figured out, you can now focus on task lighting. Consider LED task lighting to illuminate your space. LED is high-quality lighting and makes you more productive whether at home or in the office.
To create a sufficient amount of light with task lighting, keep your main work tasks in mind. These tasks might include writing, reading, completing paperwork, and using the computer.
Incorporate a Desk or Table Lamp
When you buy a quality lamp for your desk, you immediately illuminate your overall workspace. Another benefit of using one is moving it around to switch up your work area throughout the day.
Desk lamps are also essential for adjusting your light and pinpointing it exactly where you need it to be. Articulating your desk lamp is necessary for minimizing glare and harsh contrasts.
You can use table lamps to create a fun statement for your interiors. If you wish to make a focal point, a stylish lamp with an eye-catching shade can enhance your overall workspace and your productivity.
Save Space on Your Desk
Adjustable floor lamps can make a great alternative when your desk space is limited. Adjustable floor lamps add flexibility and give you better control over the levels of lighting.
Use an upward lighting floor lamp to infuse lighting all around. A reading floor lamp can also hang over your table. For even more effective task lighting, consider installing a wall-mounted adjustable swing lamp or overhead track lights. These can save you space on both the desk and the floor.
Make a Difference in Your Workday
Create the right balance of ambient and task lighting. With both layers of illumination, you can make a successful impact on your workday. If you can find the best lighting for your home or the office, you create a better environment and boost your productivity.
Published: November 23, 2021
2290 Views