Lean Principles are all about maximizing value, and minimizing waste. The body of thought originated in the manufacturing industry, and is rooted in the principles of the Toyota Production System. It was first described as "lean" by authors James Womack and Daniel Jones, who wrote about the system of thought in their book describing a study of Toyota's practices. The concepts also provide valuable advice for individuals working to make their daily activities more efficient and productive. Take these concrete steps based on lean principles to reduce waste and increase your productivity.
1. Update Your Mindset
Lean is dependent on developing a systematic process that constantly improves your daily activities.
This is actually a two-sided coin:
On one side is identifying value—what are the tasks that move your forward, that check off the big ideas on your to do list?
The other side is identifying where you're wasting time or resources.
Take account of how much time you're spending just filing emails, or looking for something you filed but can't find. Note these items and intentionally develop processes to address this waste. Once you get good at identifying such things, improvements will come thick and fast.
2. Get organized – 5S
5S refers to a system of organizing your workspace. It uses five words in Japanese that translate to "sort, set in order, shine, standardize and sustain." This concept easily applies to many parts of our workday that create waste, whether it's the paper and pens and other detritus that builds up on your desk, or the ever increasing number or unread or flagged emails waiting in your inbox.
Take some time to clean up, arrange your email and workspace in a way that presents the things that you use the most in an orderly fashion.
Think through the process of how to keep your desk and inbox tidy and organized.
Make this a part of your weekly routine, revisiting what makes you most successful and implementing improvement as needed.
3. Define Your Own Value
This step is by far what will make the biggest difference in your lean principles: transformation.
Review the tasks or roles you play in your work. Write them down!
Be sure to include even small items like responding to emails or making follow-up phone calls.
Once you've listed everything you do, go ahead and also assign weight to the activities.
Which items are creating the most value for your customers?
Which items are a huge time suck that honestly don't do anything for your bottom line?
Once you better understand what creates the most value, devote some time to finding ways to prioritize those items.
4. Standardize Routine Tasks
Everyone has small tasks they must do over and over again. This might be a specific follow-up email you have to send, or any form of communication or interaction that is recurring.
Create processes that standardize these functions so that they are completed the same way, each and every time.
Have a documented process for setting up billing for a new client, use signatures or Quick Parts in Outlook (canned responses in Gmail) to save time on typing out the same email repeatedly.
Even small improvements can be huge time savers, especially when all added up over time.
5. Be Ready to Change
The most important aspect of lean thinking, is the idea of continuous improvement.
The participants in lean systems should constantly be analyzing the processes they use to get work done, and identifying areas for improvement.
Make these ideas and changes a habit and always be on the look out for more!
Improve Your Work With Lean
You may launch into implementing the concepts listed here, and they might not work or maybe just not as you expected.
Please persist though, because as you work with your new ways of organizing and prioritizing your work, you will find benefits and time savings you had not imagined possible.
These five principles are just a drop in the ocean of what is possible with lean. Visit lean.org to find out more information on lean principles and how you can improve productivity in your everyday life.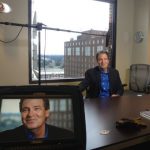 Author: Reese Bourgeois is the Managing Director of Flow Consulting, a consortium of experienced consultants with proven expertise in helping organizations make dramatic improvements in their leadership and business processes.