Tips for Having Your Small Business Stage a Large Event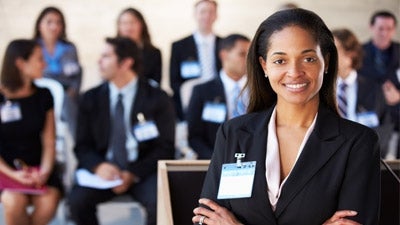 Small businesses can
throw large events
. But, as you know, large events come with large responsibilities. If an event coordinator is out of your budget, you're using in-house staff to plan the event, and each individual involved needs to wear many hats throughout the event coordination and execution process.
Whether your business is hosting a product launch, panel discussion or networking event—or just that you want to show some out-of-town clients a good time—here are some common mistakes that small business owners make when coordinating events:
Not having an event coordinator from within your staff. Whether it's you or one of your employees, there should be a single person who is "in charge" of the details of the event. Of course, that person can delegate tasks and responsibilities to others. However, the main coordinator will ensure that each task is completed; budget is not overextended; and has all of the event information available. If there's not a single person who is responsible for the event, the details can slip through the cracks and it's harder to determine what needs to happen in order to make the event run smoothly.
Transportation mishaps happen all the time. Some will be out of your control—flights get delayed, weather can be bad. People understand that. For your guests, though, the difference between a great event and one that is memorable for all the wrong reasons is having seamless and stress-free transportation. Your clients will remember if they were stranded somewhere because a bus broke down, or if their ride to the airport was delayed and they missed their flights. It is crucial that you coordinate well-planned transportation for your guests.

By coordinating shuttle vans and charter buses that can take your guests everywhere they need to go (airports, hotels, restaurants, conference sites), you're removing the stress of the logistics, which is probably the single best thing you can do for them (and for yourself). This way, you know that they will be on time for events and they don't have to be concerned about parking or directions.

Not having backup plans is one of the most common mistakes an event planner can make. Certainly, the best-case scenario is having a great contingency plan in place and not having to use it. When you're contracting with a bus charter company, you trust that the company will handle logistics for you. However, you want to know up front whether that bus charter company has its own back-up plans. Before you sign a contract with a bus charter company, ask these questions:

-What happens if a driver becomes ill and they need a substitute?
-If a bus breaks down, do they have plenty of additional vehicles that can be dispatched immediately?
-Is there a 24-hour emergency number staffed by humans (i.e. not voice mail) that you can call if there's a last-minute issue?

Having poorly trained staff or volunteers can break an event. If you're a small business owner who has a staff of fewer than ten people, but you're planning an event for hundreds, how do you manage the crowd? You might need to figure a budget for hiring event staff, or ask your vendors (caterers, etc.) if they can include staff as part of their contracts. Or, if you have partnerships with other businesses that are participating, perhaps you can tap into their employees as resources, as well. Regardless of how you find your staff (either paid or volunteer), the key is to coach them to represent your business in the way that you would want.

–Staff should be knowledgeable. Even if you have a volunteer event staff, have a quick morning meeting or send an advance email letting them know the basics of the events. Where are the restrooms? Where can I find an agenda? Each staffer should either know the answers to basic questions, or he or she should be able to point the guest in the direction of the person who would.
–Staff should be friendly and polite. Everyone, from the host to the cleanup crew, should be courteous to every guest. If a staffer is clearing coffee cups and is asked what is the wifi login, the answer should be, "I don't know, but I will help you find someone who can give you that information" – not just a shrug of the shoulders. And, of course, the staffer needs to be told ahead of time who the go-to person is for anything that needs to be handled.
Just because your business is small, it doesn't mean that you can't pull off a large event with style. Be prepared for the unexpected, and remember one thing: Your success depends on your guests' comfort. Little hiccups are going to happen, but the key to a great event is making sure that you handle them so that the guests don't have to. Good luck!
Author: Glenn Orloff is the CEO of Metropolitan Shuttle, a company that provides shuttle and charter bus services for every major metropolitan area in North America. Glenn has years of experience in the event planning industry in addition to coordinating the transportation for groups and events of all sizes through his extensive network of vendors.