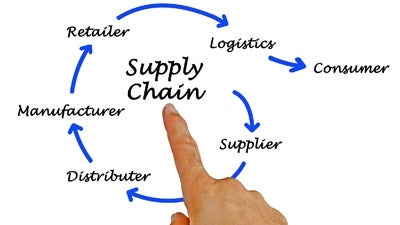 Outsourcing is a great way to expand your small business's reach in a global marketplace. Whether it's through apparel supply chain management or other in-house tasks that can be a drain on resources, outsourcing is a way to simultaneously get the job done right while giving yourself the ability to focus on doing what you do best.
Supply chain management is
an ideal candidate for outsourcing
. Most small businesses don't have the capacity to facilitate trans-global trade. The ability to deal with multiple vendors across multiple countries, languages, and currencies just isn't in the scope of small or even medium-sized companies. That's where supply chain outsourcing comes in.
Focus on Your Core Business
Sometimes the best approach to business is recognizing your own strengths and weaknesses, and then developing partnerships aimed at addressing those weaknesses. The key benefit to outsourcing is that it allows you to focus on what inspired you to go into business in the first place—your goals for the future.
Outsourcing also frees up your valued employees, so they can concentrate on the tasks they excel at. You'll be able to maintain the energy and innovation of a small company, without neglecting your supply chain.
Top benefits of outsourcing your supply chain management
In addition to freeing you up to focus on your core business, outsourcing your supply chain management has these benefits:
Flexibility: Outsourcing gives you the flexibility to find the pathways that work for you. When you work with a company that specializes in supply chain management, you can use their resources and expertise to your advantage, so you aren't left wondering if you're doing something wrong.
Lower costs: Companies that specialize in logistics know how to get the job done effectively and efficiency. Compared to doing everything in-house, outsourcing your supply chain management can lead to huge savings.
Give your customers what they want: If you wish to stay on top of customer demand, a logistics company offers expanded services when you need them and help with the ebb and flow of business. Without outsourcing, you're left on your own riding the turbulent waters of customer demand.
Expand your reach: If you're struggling to handle your own supply chain management, then you're getting in the way of your own success. When you outsource to a logistics company, you're gaining access to their expanded capabilities.
Forge new pathways: The cogs of supply chains are complex and convoluted. There are always new pathways waiting for you to explore—a logistics company can provide valuable insight into the potential for new channels.
Stay Competitive In an Increasingly Global Marketplace
In order to stay ahead of the pack and continue your success, you have to constantly adapt to the rapid changes of an ever-increasing global marketplace. Technological advances have given us access to customers across the world—but reaching out to them requires a sophisticated supply chain tailored to the needs of various markets.
Outsourcing
isn't a dirty word; it's the key to remaining competitive on a global scale.
Author: Drake Loud is a content writer who works on behalf of Apparel Logistics. He enjoys the ins and outs of small business and how to make a small business grow.
Published: October 28, 2014