It's the time of year when people are packing their bags to escape for some fun in the sun over the summer months, and small business owners are just as eager to take a couple of days to enjoy the sunshine. But with digital communication taking over our lives, 42 percent of small business customers expect a response from a business within four hours of sending an email—does this mean business owners can't enjoy some time off?
When GoDaddy took a look at how small business owners work, we found 40 percent of owners use their phones to successfully access their productivity applications (e.g.: email, calendar, online bookkeeping), and stay in touch with business operations no matter where they are. With a little extra planning, business owners can take time off and make sure they get the most out of their vacation.
Here are some of my favorite tips for small business owners to get the most out of their summer vacations:
Keep it in the cloud
If you're not already taking advantage of cloud software it could be an efficient solution for your business year round, but would be particularly useful for times when you're going to be away. Having everything you need in the cloud means that you will be able to access your work contacts, files, calendar and email should something that needs your attention arise while you're on vacation. Setting aside time at the beginning or end of your day to catch up on work emails, and make sure everything's running smoothly will ease your stress and make sure you don't return to a deluge of email.
Let the content flow
If you're a solopreneur, you don't want to go an extended period of time without communicating with your customers. Stay in touch with your email subscribers by setting up a seasonal email marketing campaign before your vacation. If you have any social media presence, you can use a tool like Hootsuite to schedule posts to go out. Vacation is a great time to help your customers feel the love by sharing your favorite customer posts with the rest of your audience.
Ask for help
If you have an online-only store, business likely won't stop just because you decided to take a vacation. That doesn't mean you have to miss out on any of the fun; you can hire a freelance web designer/developer to help maintain your site while you're away who can troubleshoot any technical issues that may arise. If you have a set schedule and a brick-and-mortar shop, find another local business owner to help you and stand in while you're away. Plus, a job swap will give you extra peace of mind while you're away, and you can return the favor sometime down the line!
Communication is key
Get in touch with your clients early to let them know when you're planning to be out of town so you can schedule projects to wrap before you leave. If you can't finish something before it's time for you to leave, work with your customer to make sure you make progress and get to a good pause point that can start back up when you return. Be sure to set expectations with employees as well. Let them know when you'll be out of the office and prepare them accordingly, and also make sure to communicate with them how to reach you for urgent matters that come up while you're gone.
Remind your customers you're human
Since we're able to get so much information at the tip of our fingers, it's easy to forget that there are people behind the businesses we love. Adding a clever out-of-office notification or blog post with information on why you're going away and when you'll be back will give your business a human touch.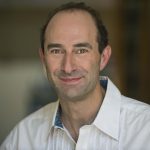 Author: Steven Aldrich is Chief Product Officer at GoDaddy. His main role is to set and execute the company's vision of providing elegant, end-to-end technology solutions for GoDaddy's 14 million small business customers.