Dick's Drive-In is no flash in the proverbial frying pan. A Seattle staple since Dick Spady, Warren Ghormley, and "Tom" Thomas opened their first outpost in 1954, Dick's has been serving up old fashioned milkshakes, fresh-cut fries, and, according to Esquire magazine, America's single most "life-changing burger." Their customer base, understandably, is a loyal one. (So loyal, in fact, they wethered Dick's cash-only policy for the better part of six decades.) The trick? No tricks at all. Their way of explaining success is simple: good ingredients served up fresh. But fans of Dick's might say there's a bit more to it than that. The prices can't be beat, surely (a Regular burger will only set you back $1.40; a Deluxe, $3.10), but one suspects nostalgia is at play here in a strong way. Dick's, to its credit, has not altered its product, its logo, or its general aesthetic since they began to roll out locations over the course of the 20th century. Today, any changes, if any, are practically invisible to an untrained eye. In a rapidly changing world, Dick's Drive-In remains a comforting constant.
As integral a part Dick's has been to its customers, the family-owned chain is equally cherished by its own employees. Their wages are the highest in the industry. Their employees, both full and part-time, are provided 100% employer-paid health insurance. Dick's takes it one step further, offering employee education scholarships to the tune, so far, of $1.2 million dollars. From the product they serve to the internal company culture they nurture, everything about Dick's feels like a much-welcomed throwback to the good ol' days–and proof, really, that that feeling still has its place in 2016. Much of their model stems from the operating tenants Dick Spady and his partners put in place so long ago, and has continued to serve as a sturdy framework for future generations. To further dig into the magic that is Dick's Drive-In, we talked strategy, heritage, and ethos with Jasmine Donovan, Dick Spady's granddaughter and current Vice President and Director of Communications.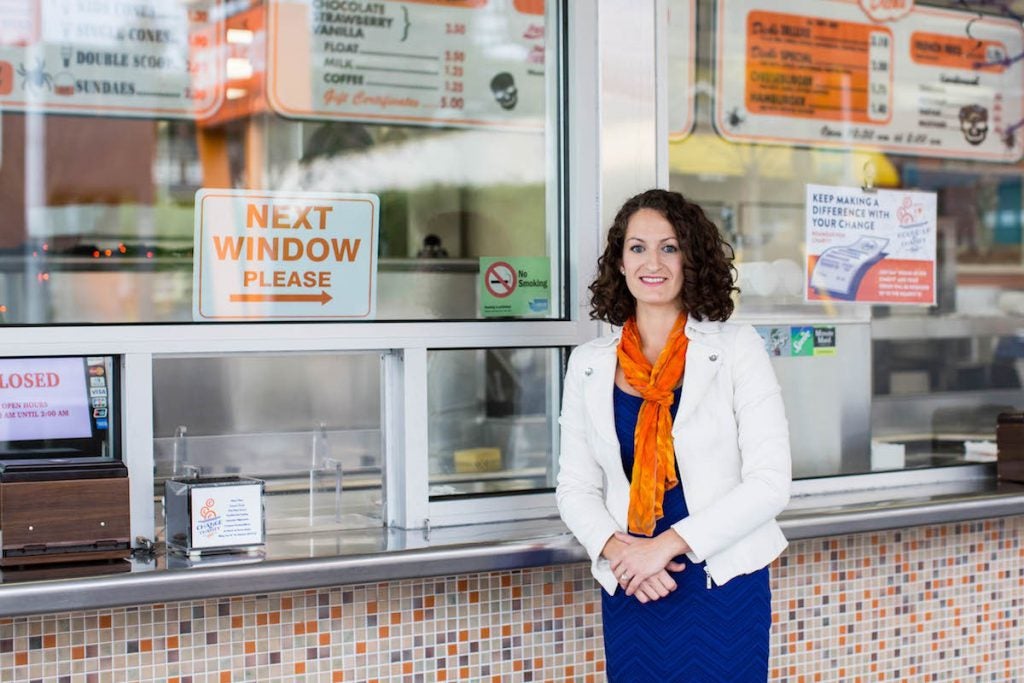 BOND STREET: Can you briefly share the founding story of Dick's?
JASMINE DONOVAN: My grandfather served in the navy as a Seabee during WWII and as a commissary officer for the air force in Japan during the Korean War. Shortly after he returned home to Oregon, he was at a small cafe getting lunch. The man behind the counter opened the door to a fridge and my grandfather saw that it was full of hamburger patties. He asked the server how long it took him to go through that many patties. The server laughed and said, "We go through this one and two more like it every day!" Doing some quick mental math, Grandpa realized there could be a good business in that.
He called one of his old navy buddies and they put together a business plan. They decided Seattle was the best place to start this new business. Through family, they found a partner with some capital who would sign on as long as they modeled the new restaurant after the fast food concepts becoming so popular in California. They even went to California and paid one of these early burger concepts to work there for a day to learn the ropes.
Back in Seattle, they were having trouble raising the rest of the capital they needed to get the concept going. Banks were laughing at the idea of people standing in line outside to get food in a city where it rains all the time. Eventually, Grandpa asked the contractor to build our first building in exchange for profits earned once the restaurant opened. His response after consideration was, "My banker thinks it's a crazy idea, my accountant says absolutely not, my financial advisers say it's ridiculous to even consider, but if I did what they told me to all of the time, they'd be running this place, not me." And the rest is history. The first Dick's Drive-In opened in Wallingford on 45th St. on January 28th, 1954.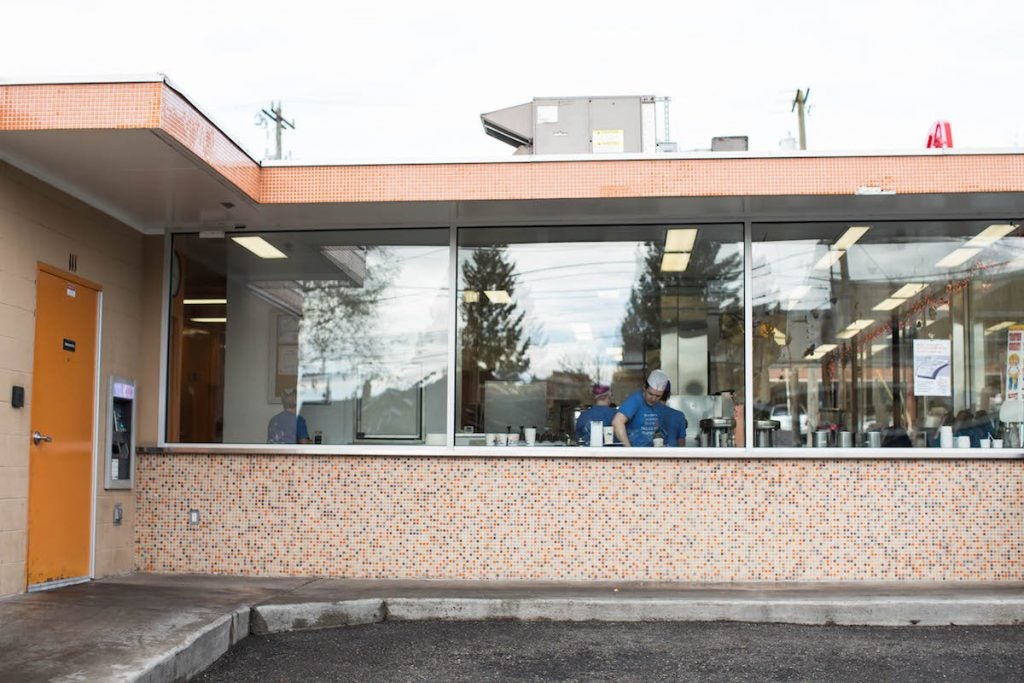 BOND STREET: What is your role in the business? How has it changed over time?
JASMINE DONOVAN: In high school and college, I worked as a crew member, like most members of the family. It's important for us in the family to understand the ins and outs of the day-to-day business, even if we are just owners someday.
In fall of 2013, I joined the executive team after leaving the U.S. Navy. My function for most the first year was to learn as much as I could about the business and how it operates at all levels. I did a crash course in the stores, relearning all the crew stations; I shadowed all of our managers at all locations, I shadowed all of our support staff, and so on. Eventually, I began taking over regular tasks at the executive level, starting new programs where needed and helping with strategic planning. Although my title is VP and Director of Communications, I'm doing a little bit of everything as I prepare to take over for my dad when he retires.
BOND STREET: Your grandfather, Dick Spady, founded Dick's in 1954. Your father is now CEO and you're the Vice President. What does being part of family business mean to you?
JASMINE DONOVAN: There are several VPs, actually; I am just one of them. My uncle Walt is our current VP and CFO, and my second cousin, Ron, is VP of Community Affairs. Working in a family business is wonderful in many ways. As a mother of two young boys (ages 1 and 3 1/2) it is great to have the flexibility that allows me to be with them as needed and have a great job and career potential. I look forward to the day that I can proudly hand over the business to my children and their cousins as our family business grows and prospers.
Working with family is both a blessing and a challenge. A friend of mine, who also works in a family business once said, "No one pushes your buttons like family. After all, they installed them."
I had the unique good fortune to be born into an amazing family business that provides not only sustenance but helps our customers and employees make amazing memories. Anyone who is committing himself or herself to a family business has to understand the concept of stewardship. You are dedicating your life to a group of assets that you didn't create and you need to leave it better than you found it for the sake of your family's financial future as well as the legacy of your predecessors.
BOND STREET: You now operate six locations across Seattle. What are some of the challenges the business has faced as it scales?
JASMINE DONOVAN: Our sixth location, built in Edmonds, was the first new location we had built in 37 years. It will be celebrating its fifth anniversary this month. Luckily my grandfather was still around to transfer some of the knowledge from building our previous locations.
Our back-of-house systems for our entire history have been exclusively pencil-and-paper-based. That includes schedules and timesheets, not to mention inventory, customer counts, temperature recordings, etc. All the paperwork was picked up and hand-delivered back and forth between our locations and our main office, and manually entered into various spreadsheets. This was still working fine for five locations relatively close together. When we added a sixth location, the strain on our systems was immediately apparent. One of our major goals as we look to continue to add more restaurants is bring our back-of-house systems up to the modern era to add efficiency and more actionable data.
BOND STREET: Can you describe the employee benefits you offer? How important has that been for retaining talent?
JASMINE DONOVAN: Grandpa developed a specific business philosophy made up of three main steps:
Step 1: Make a profit. Businesses that don't make a profit aren't worth anything to anyone.
Step 2: Invest in your employees. It's the best investment you'll make.
Step 3: Invest in your community. If your community thrives, you will thrive.
We take these steps seriously. We offer our employees the highest combination of pay and benefits in the industry. Right now we start our Seattle-based employees at $13/hour with a raise to $13.25 if they pass their basic proficiency tests at 12 weeks. We offer our employees working 20 hours a week 100% employer paid health insurance and 75% coverage of their children. We offer our employees working 25 hours a week a $25,000 scholarship over four years. They can use that to pursue any educational topic they'd like at almost any learning institution. If they are not interested in going to school or can get other scholarships, they can use that money for childcare assistance. Our employees who are at least 21 years old have access to a 401(k) with a 50% employer match. We also reimburse employees for four hours of community service hours a month.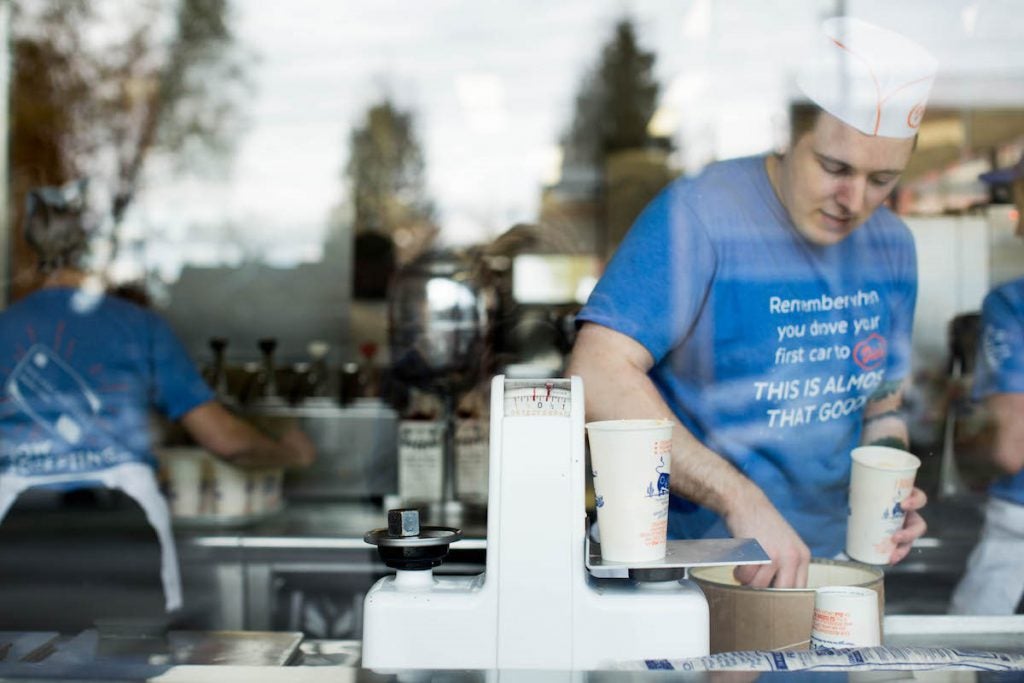 All of our managers are promoted from within, even our store managers. This benefit package has been very important to hiring and retaining the best talent. However, we take our responsibility as a gateway or first-time employer very seriously. We don't actually want most of our employees to stay with us forever. Ideally, an employee works with us long enough to get their degree and leaves us to pursue what they are passionate about. We have a number of employees who stay with us longer because working for us works well for their lifestyle and their priorities.
BOND STREET: How are you able to keep prices so low? Does this basically mean that we're getting royally ripped off at other burger chains across the country?
JASMINE DONOVAN: Our model was very common in the beginning of fast food, but is somewhat of a relic today. We are an instant service-based fast food restaurant. That means that our food is made ideally seconds before you order it. The crewmember serving you can quickly grab your food, place it in a bag, and hand it to you immediately after you order. We have a limited menu and an efficient and very specific layout of our restaurants that allows this very high turnover. At peak times, we want to service 42 customers in a half hour window. This high turnover allows us to keep prices low while still serving quality food and investing in our employees and community.
It does make it very difficult to accommodate special orders or modifications. For the most part, our customers are okay with this and like our burgers the way we make them. However, there are a vocal minority who are frustrated that they cannot get our cheeseburger without ketchup, for example. In a world of custom everything, it's sometimes hard to explain to customers that we simply can't do that without changing our business model completely. We're still working on a potential solution for customers with legitimate allergies. However, our fresh food kitchen will make it very difficult to provide a meal that is 100% free of all potential allergens.
BOND STREET: There's such an emotional attachment to Dick's, even more so than other businesses that have been around for 60+ years. Why do you think that is?
JASMINE DONOVAN: We are blessed to be a place where our customers and employees make memories. Your mother drove her first car here, your parents met here, your uncle got his first job here, it was your grandfather's favorite place to take you after church, etc. Because things haven't changed much from a customer's perspective, getting a burger at Dick's takes you back to a time when you were happy, innocent, celebrating, exhilarated, and so many other possible emotions. Taste and smell are two senses uniquely tied to memory and our customers love that coming to Dick's isn't just about the great food.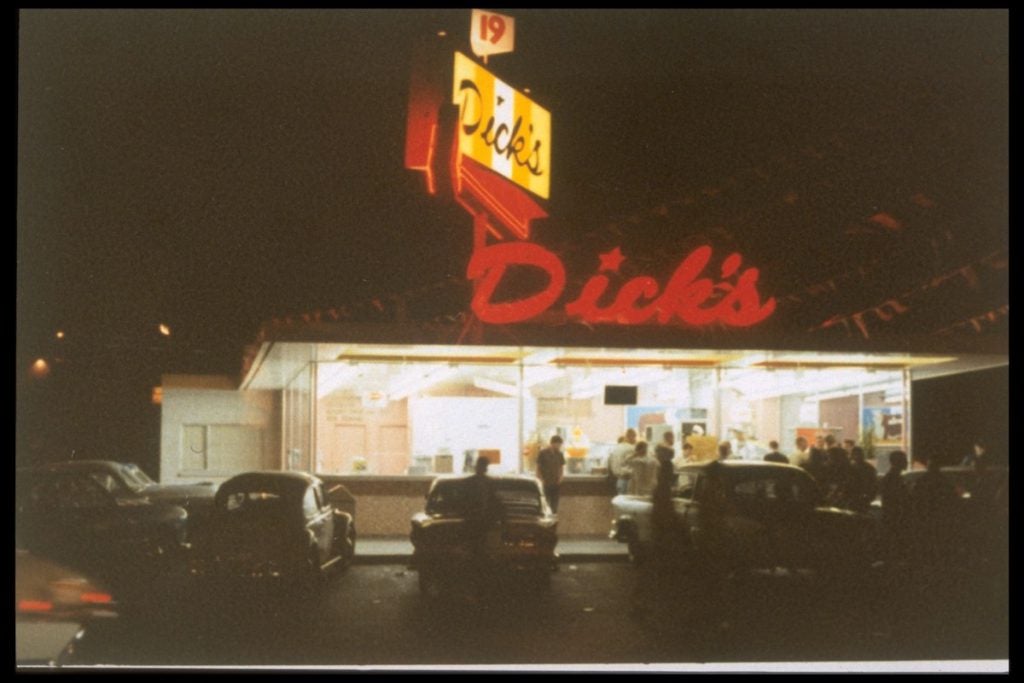 BOND STREET: You own all of the property at the six locations. Was that a decision made early on?
JASMINE DONOVAN: Grandpa was always focused on the making decisions for the long term. Investing in our real estate was one of those decisions. We own all of our property except the property on Broadway, which is owned by the daughter of the man who built our building there. We hope to continue this practice in the future as much as possible.
BOND STREET: What do you see as the biggest challenge facing the business today?
JASMINE DONOVAN: Increased regulation is taking a lot of our time and energy, especially at the local level. Investing in our community includes being engaged at the civic level as much as possible and there's been a lot to engage on lately.
Continuing to strike the balance between being nostalgic and appealing to a modern customer, especially those outside our core market, is a unique challenge for us.
Quickfire
Bond Street: What are your 3 favorite small businesses in Seattle?
Creative Minds Bilingual Preschool and Daycare


This is a brand new preschool in North Seattle and both of my sons (1 and 3.5) go to preschool/daycare here. Emma, the amazing woman who started the school, which right now only has 6 kids, used to work for Amazon, but was disappointed with her choices for childcare for her son. It is especially hard in Seattle to find quality childcare and if you do, it usually costs a fortune. Like most entrepreneurs, she saw a need in the community and filled it. She decided to take a year, fix up a house, go through the training and hire a few teachers to help. My kids are so happy there and they are learning to speak Chinese!

Gyro's


This is a great gyro/shwarma place right next to my office (I can't eat burgers everyday). The food is great and the servers are always very friendly. They only had two shops in Seattle and one was destroyed in a gas pipeline explosion (luckily for me, not the one near my office).

Night Light Nail Salon


Also near my office, this is where I go when I need a pedicure or manicure. Van, an immigrant and the woman who owns it, works hard everyday and makes every one of her customers feel like a VIP. Honestly, I'm not sure when she takes a day off. She and her staff run an efficient shop with friendly service and a great product.
There are so many great small independent businesses in this city, it's really hard just to choose three!
Bond Street: Why is it important to support independent business?
Independent businesses drive innovation, disrupt the status quo, challenge us to constantly be better in all industries. More choices and competition usually drive the best results for customers and employees.