Anyone involved in running a startup or small business knows you're bound to run into unanticipated problems at some point. One of the most common problems that many small businesses encounter is their inability to scale; either efficiently or at all. As companies grow, management may find that they need a scalable means to distribute knowledge and develop the influx of new employees.
It's important to keep your employees in mind when attempting to expand your business. Here are a few tips to help you smoothly increase the scale of your small business.
Challenge Your Employees, Tap a Few Key Lieutenants, & Give Them More responsibility. As your business grows, it's important to relinquish some of your responsibilities to your more experienced employees. Take the time to train employees in new skills that will allow them to better serve your customers. Instead of managing all of your employees, mentor a few of the more senior workers so that they can then manage and teach new recruits. When you show your employees you trust them to run your company, you build their confidence while freeing up time to work on big picture items.
Use a Learning Solution to Cultivate Your Team & Provide Transparency. Skills with high learning curves can sometimes stunt a company's growth; if an employee is having trouble learning something it sucks resources away from other parts of the organization. Learning solutions can be used to develop and mold your employees into becoming great at any skill you choose. They can foster sharing of knowledge between your employees which can create transparency in the problems your business regularly faces.
The more transparent a company is, the easier time employees will have adapting to new challenges. In turn, this will allow you to be more confident in picking the right person for the job at hand. In the fast paced environment of a new office away from your usual headquarters, you want employees who are agile and can adapt to new responsibilities, new market changes, and new competitors.
Raise your hand. Sometimes, it might just be worth it to "raise your hand" and ask for some outside help. Whether that means consulting with an expert, or even outsourcing some of your company's critical processes, don't be afraid to reach out to those that can help you. Even some extra capital from a new investor can go a long way towards helping your SMB grow. That investor may also bring in expertise and know how, potentially worth more than the capital itself.
As your company grows you will need to continually develop and nurture your talent. If you integrate a process to cultivate, challenge and motivate your team, one of your core assets as an SMB, you will surely see encouraging results. Growing your SMB is no simple task and you will almost always run into problems, but making sure your team is all on the same page is a great way to get a head start on the process.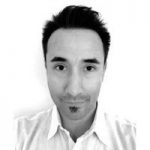 Author: Rafael Solis is the co-founder, CMO & SVP of Product at Braidio. Rafael brings 15 years of experience in strategic marketing, product and digital media, including marketing roles at Edmunds.com and Walt Disney. He holds a BA in Economics from Portland State University and an MBA from Pepperdine University.