How to Identify the Top Pain Points of Your Fleet-Based Business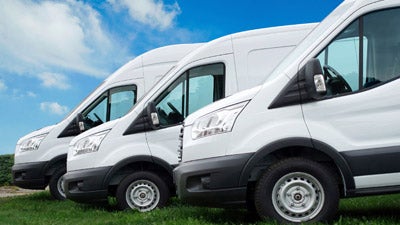 Keeping a fleet operational and ready for work is no small task. It's not unusual for managers at fleet-based businesses, like HVAC companies, plumbers and electricians, to struggle the most with work related to their vehicles.
Pain points make it harder to perform normal work. These are challenges or difficulties that harm both the fleet's productivity and profitability.
Knowing how to identify and solve these pain points is essential to keeping a fleet running smoothly.
1. Know the Most Common Fleet Pain Points
Every fleet is unique, but most fleet managers will face a few of the same challenges while managing fleet operations.
Familiarity with these common pain points will help you quickly identify them when they crop up in your own fleet. Knowledge will also help you know how other fleet managers have solved these pain points in their own fleets.
These common pain points are some of the best to learn about first:
Rising Fuel Costs
In general, fuel prices have trended upwards over the past few decades. Occasional price spikes have also created headaches for fleet managers and vehicle owners of all kinds.
Fleet managers know that fuel costs are often a major portion of fleet upkeep expenses. Rising fuel prices, as a result, can often be a major pain point, especially if it seems like fuel expenses can't be managed or reduced.
Fortunately, the right management practices can help keep fuel costs low — or, at least reduce them. Fleet management and telematics systems can identify which vehicles are using the most fuel and when — possibly helping you spot unusual patterns in fuel consumption.
These platforms may also allow you to track driver behavior that can increase fuel costs — like idling and harsh acceleration. Clamping down on these behaviors is often a great way to reduce fuel consumption, decreasing fuel spend even as prices rise.
Adoption of alternative fuel vehicles may also be an effective long-term solution. While it probably isn't practical to swap out a fleet for entirely electric vehicles, upgrading to hybrids or EVs when possible may help keep fuel costs under control. There are other benefits to these vehicles as well, like improved eco-friendliness, that fleet managers may be interested in.
Expensive or Time-Consuming Maintenance
Third-party repair costs and replacement part lead times can make it hard to maintain vehicles cheaply and promptly.
This is especially true when supply chain disruptions make products of all kinds harder to get.
Preventive maintenance and maintenance management software is the best way to keep maintenance predictable and as low-cost as possible.
Regularly scheduled maintenance, inspection and repairs will help you stay on top of issues with your vehicles, ensuring that you have as much advance notice on damage or wear and tear.
Vehicle Location Tracking and Scheduling
Knowing exactly where your vehicles are is essential to effective management, scheduling and dispatching. Without the right tools, it can be hard to know vehicle locations, however.
Telematics tools and fleet management software are essential investments for modern fleets. These tools will help you keep track of vehicle location, optimize routes and better plan scheduling or dispatching.
With the right technology, you can know where your vehicles and team members are at any moment — allowing you to make more informed decisions. Automate fleet safety and performance with the help of CameraMatics' fleet risk management solution.
2. Learn About Common Mistakes and Road Bumps
The above pain points are normal process issues. Every manager is likely to deal with them at one point or another.
Other pain points may be acute — the result of preventable mistakes or poor decision-making that can be avoided altogether with the right knowledge. These road bumps aren't inevitable, unlike the pain points above, which are challenges that come with owning vehicles.
For example, choices made when outfitting a work van can have a big impact on employee performance, safety and efficiency. It's not unusual for fleet managers to make outfitting mistakes like prioritizing cost over quality, forgetting about safety or DIYing an upfit without the right planning or skills.
When making major changes to your fleet — like the purchase of a new vehicle or the upfitting of a work van — research and planning will help you avoid costly mistakes.
3. Know How to Audit Your Fleet
Some inefficiencies or pain points may not be obvious right away, even if you know what to look for.
An audit or review of your fleet will help identify problems that aren't so obvious.
For example, you can use a checklist to determine if you need to change your fleet's safety practices. Reviewing your fleet with the right elements in mind — like your vehicle safety policy and accident reporting processes — can help you determine if your current safety strategy is effective.
You may want to develop or source other checklists that can guide you through auditing other aspects of your fleet — like vehicle maintenance, driver behavior and vehicle utility. Regularly reviewing each of these can help you identify pain points you may have missed otherwise.
Identify Pain Points to Keep Your Fleet On the Road
Pain points can make it much harder to manage a fleet or fleet-based business — even if you're not aware of them. These challenges can interrupt both daily work and create long-term problems that may emerge slowly over the course of months or years.
Knowing how to spot and solve them can help you keep your business running smoothly.
Published: November 10, 2021
3004 Views