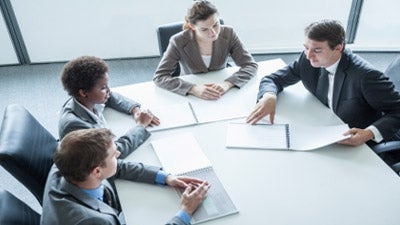 Owning a small business or start-up most likely means you're
wearing many, many different hats
. One minute you're the receptionist; the next the stock-boy; then, the delivery man; and the sales rep; and the human resource director, and on, and on, and on. It's all part of doing business. But if you have to do all that business, when do you have time to do your business? If you find yourself in this all-too-familiar predicament, you might need some additional help. But before you post help-wanted ads in all those categories on
Monster®
, take a look at the one-stop-shop that can do it all.
A
professional employer organization (PEO)
provides a service under which an employer can outsource employee management jobs, such as employee benefits, payroll and workers' compensation, recruiting, risk/safety management, and training and development. PEOs provide these types of services to small and mid-sized businesses, with approximately 250,000 businesses and more than 2.5 million people part of PEO arrangements. As the business grows, many owners don't have the human resource, payroll and accounting,
regulatory compliance
, or risk management, insurance and employee benefit expertise to meet the demands of being an employer. A PEO does. But how exactly does a PEO work?
Once a company contracts with a PEO, the PEO will then co-employ that client's employees. In the arrangement, both the PEO and the client have an employment relationship with the worker. The PEO and client share and allocate responsibilities and liabilities. The PEO assumes much of the responsibility and liability for the business of employment, such as risk management, human resource management, and payroll and employee tax compliance. The client company retains responsibility for and management of product development and production, business operations, marketing, sales, and service. The PEO and the client will share certain responsibilities for employment law compliance. As a co-employer, the PEO will often provide a complete human resource and benefit package for work-site employees. PEOs operate in all 50 states, and many states provide some form of specific licensing, registration, or regulation for PEOs.
With the onset of the Affordable Care Act, there is one more interesting caveat to partnering with a professional employer organization. Through a PEO, the employees of small businesses can gain access to employee benefits such as 401(k) plans; health, dental, life, and other insurance; dependent care; and other benefits typically provided by large companies. The
National Association of Professional Employer Organizations (NAPEO)
reports a recent study shows 40 percent of small businesses in PEO arrangements upgrade their total employee benefit offerings as a result of partnering with a PEO.
The average makeup of a client of a PEO is a small business with an average of 20 employees on site. One thing a PEO does NOT provide: employees. A leasing or staffing service does that, on a temporary or project-specific basis.
If you think your business can benefit from partnering with a professional employer organization, do your homework before signing any agreements. To find out more, visit www.napeo.org
Published: January 14, 2014
2416 Views