6 Indispensable IT Professionals for Your Business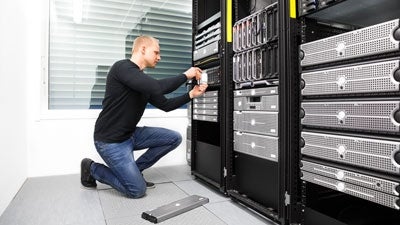 An IT (information technology) professional is a necessity this day and age in order for a business to function on a relevant and critical level. For any business, whether it's the service and products industry, law, entertainment, marketing, PR, or whatever else, an IT expert should either remain on-site or on-call to help you with your technological needs and keep your system relevant, up-to-date and running smoothly. But as with any profession, there are a variety of specialties that an IT professional may be more skilled at over others. Below are six types of indispensable IT professionals you can hire for your business.
This falls under the category of "creative." As with any specialty, a creative element is vital to the overall image of a business. The web and content designer can create the logo for your brand, design your website so that the flow on the page works logically to visitors who might require your service, and are proficient with things like eCommerce and uploading or maintaining content. A web and content designer IT professional works closely with the marketing team to bring out the best qualities of your business and give you a name in the industry that stands out.
A database specialist straddles two worlds of administration and analysis. All businesses need a database specialist to keep the functions of the system working and in order. Database organization, an understanding of where and how data is stored and backed up, and how operations work the software or hardware that carry database information are necessary in order to be a database specialist. IT professionals working as database specialists may work remotely while providing ample instructions to the employees at the company such as administrators, in order to access stored data as necessary.
The network specialist is an IT professional whose work coincides with engineering and network management. These specialists are responsible for designing, installing and maintaining any software or hardware systems that are within the local area network (LAN) and wide area network (WAN). These networks ensure that all relevant parties and departments can access the network or server in order to find shared documents or data as necessary. The network specialist also ensures that your business's network is secure and protected from any outside hackers or malware.
A programmer is a type of IT analyst or designer who can design specific functions for your software system—the type that is created specifically for certain tasks at your business. There are specific software programs created to meet the needs of businesses for logistics and operations purposes. For instance, if your system needs an automatic calculator that works out a number combining funds and a specific term, your programming specialist can create a code to meet this requirement. It's up to the programmer to create functions for your business operation's needs.
A hardware specialist is no different from an engineer or technician. If you need a specific type of PC or Mac computer, your hardware specialist can make suggestions of which manufacturers to get in touch with to find the ideal hardware to meet your needs. If you ever come across a bug or need some troubleshooting, your hardware specialist can assist you with this. A hardware specialist can also act as a technical support function when you're having trouble installing something like an external hardware. Look for someone who has a background in CompTIA A+ training or other comparable certification.
A software specialist's IT tasks coincide with engineering and analysis. They can suggest the ideal package for your software needs. They also work closely with the hardware engineer to find the best type of software package that works best on your desktop. A software engineer would also have some knowledge on the type of system your network works with.
These days virtually every industry needs IT professionals, whether to run their networks and databases, design marketing materials, or choose and implement specific hardware and software systems. Don't let yourself get left in the dust by ignoring having these critical assets in your business.
Author: A professional content and copywriter from the University of San Francisco, Anica Oaks loves dogs, the ocean, and anything outdoor-related. She was raised in a big family, so she's used to putting things to a vote. Also, cartwheels are her specialty. You can connect with Anica here. If you are interested in CompTIA A+ training, Anica suggests you check out the courses available from Pluralsight.com.