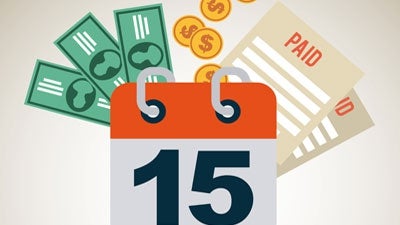 Regardless of the type of business you have, effectively and correctly administering payroll is essential to day-to-day operations. At times, payroll can be confusing, especially if you aren't familiar with standard deductions, you aren't using specialty software, or you're trying to determine how much overtime to pay someone.
If you struggle to process payroll every week, use the following five easy payrolls steps to help you painlessly get through the process in an efficient manner.
1. Keep Track of Missing Wages
Every time you process payroll, it is essential that you track any and all missing wages. The entire amount of your missing wages must be reported to the IRS prior to the submission of your payroll report.
Keeping accurate records of your payroll will help you stay out of trouble with the IRS. Your employees will be filing taxes as well, so both records must match in the IRS system to avoid any headaches.
2. Triple Check Overtime for Each Pay Period
Overtime laws
are strict, and for good reason. The federal government and local labor boards want to make sure employees aren't being taken advantage of by their employers.
For this reason, you must triple-check the hours your employees worked for discrepancies. If you miss even one or two hours of work and the mistake goes uncorrected for an extended period of time, you might find yourself in the middle of a labor lawsuit.
3. Correctly Classify Your Employees
Do you currently classify some of your employees as independent contractors? If this person does exactly the same thing and offers the same services as your business, you must classify him or her as a regular employee.
Classification is important because it determines how much you and how much the employee pays in taxes. Incorrect classification could lead to penalties and an audit during tax season.
4. Re-Order Checks Way in Advance
While the process of ordering checks seems like a mundane task, you should place an order well in advance of actually needing them so you won't forget.
Choosing to order checks online allows you to pick a specific design that fits your business and will cost less than what banks charge to order directly from them. Always order in bulk to get the best discounts.
5. Use a 3rd Party Payroll Processing Company
If you have more than a few employees, payroll can become more confusing. A payroll processing company will help you enter your employees' information into the system, will show you exactly how much will be deducted from each paycheck and how many hours they worked.
Payroll processing companies normally have software that will automatically generate paychecks based on your company's location and the W2 information you have for each of your employees. While it will cost you to use these types of services every time you process payroll, you'll likely free up an entire day that can be focused on growing your business.
Many small businesses either process payroll themselves or have their accountant do it for them. While using an accountant might be a good idea, they'll likely use a payment processing system themselves and pass the charges on to you. Like many newly developed software solutions, payroll programs are relatively easy to master, especially if the program is well-known. Taking a few hours in the beginning to enter all the information into the system and familiarizing yourself with its functions will save you from headaches and stress when Friday is around the corner.
Small and medium-sized business owners are always looking for ways to save money. Avoid the hassle of making endless calculations, dealing with potential IRS audits and implement a third party payroll processing system.
Author: A professional content and copywriter from the University of San Francisco, Anica Oaks loves dogs, the ocean, and anything outdoor-related. She was raised in a big family, so she's used to putting things to a vote. Also, cartwheels are her specialty. You can connect with Anica here. If you are looking to order checks online, Anica suggests researching the personalized checks offered by Checks SuperStore.