If you work in HR or management, you're likely to have come across some difficult or unusual requests and queries during your time. And, while you may sometimes feel like banging your head against the wall, you need to be able to strike a balance between entertaining people's wishes, however off the wall they may be, and maintaining a level of normality across the board.
The trouble is, each and every request has to be treated with as much credence as the last. So, whilst you might personally think that what somebody has just asked you is frankly ridiculous, you still need to act with the professionalism and courtesy you'd afford someone with a more 'textbook' problem. We've put together four key tips to help you deal with the irksome, strange, and downright inappropriate requests from your employees.
Put yourself in their shoes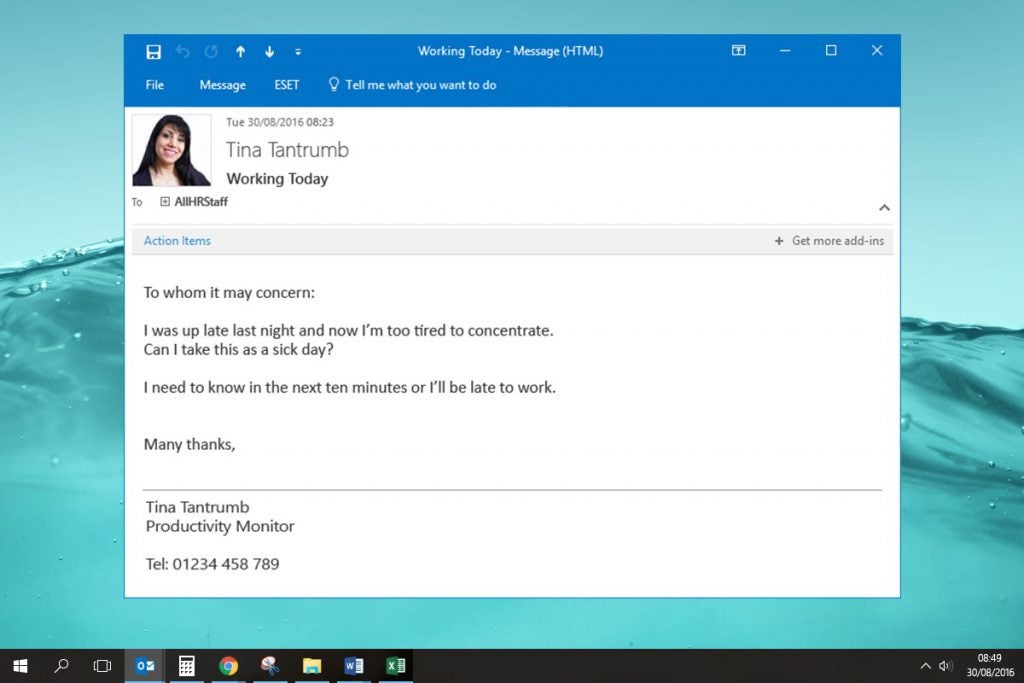 Sometimes emotions can run high, and it might be hard to rationalize somebody's behavior. In the example above, you could easily interpret the request to take a sick day because they were up too late as your colleague acting irresponsibly. As a result, you might be tempted to simply deny their request and think nothing of it. However, there may be a subtext to their request, and it might be that they weren't simply up all night boozing with their pals; they could, for example, have been hit with a bereavement and might be finding it hard to cope.
In any situation like this, it's worth asking the colleague if there's anything you can help them with, or if they're facing any difficulties that you should know about. This could lead to their opening up about something that has been affecting their personal life—which is a completely different kettle of fish to an irresponsible late night out.
Do it by the book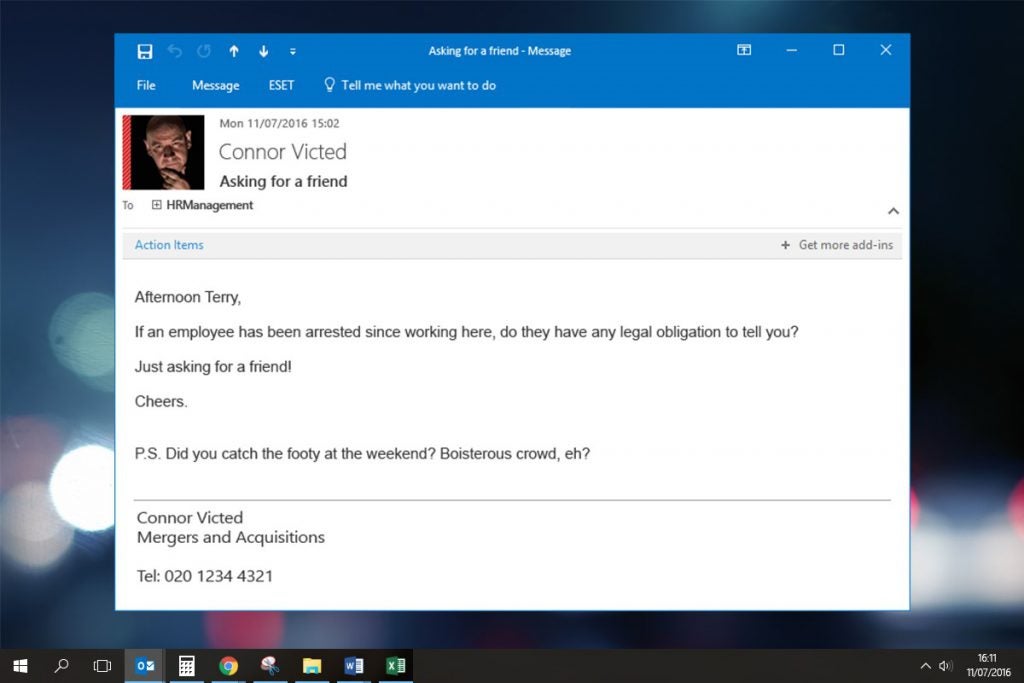 You qualified for your position for a reason, and it's likely you have a good knowledge base to use when you need to make decisions. In the example above, however, you could be tempted to assume something unsavory had happened at the football match—especially when Connor has just asked about criminal activity obligations. You might even be tempted to do a little digging to see whether your assumptions have credence.
However, as before, it's best to approach the situation from a neutral standpoint and avoid acting in an accusatory manner. If you suspect that your colleague is not following the rules, it's a good idea to remind them of the company's policy and to offer them the opportunity to have a private chat to discuss any problems they may be worried about.
When possible, compromise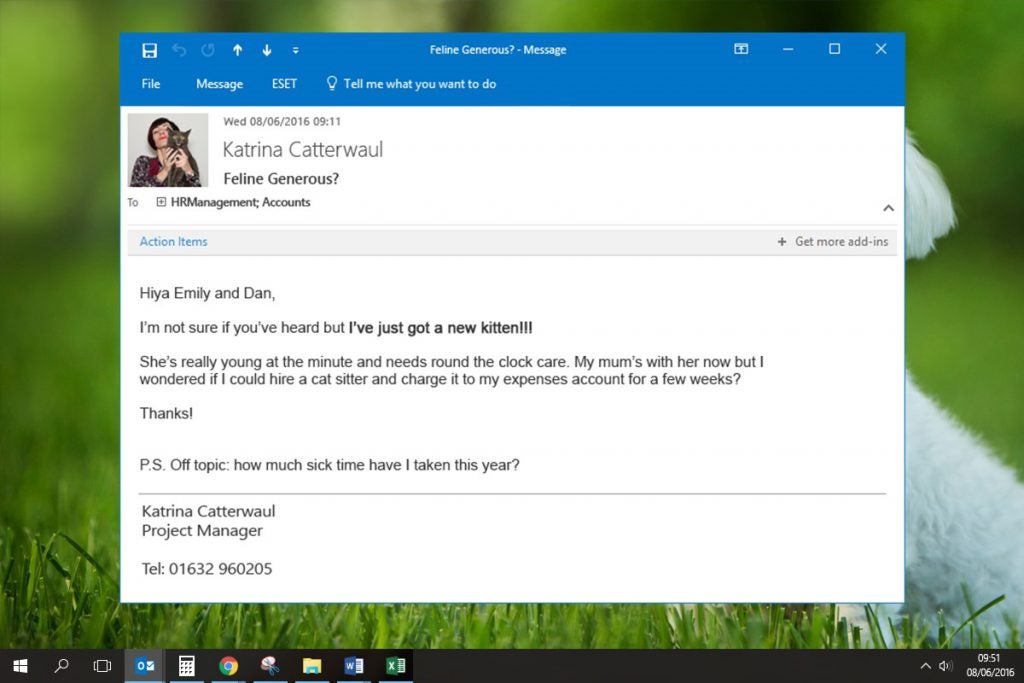 Sometimes it's worth boosting morale and company spirit by reaching a compromise, instead of simply giving an outright negative response to a request from someone on your team. In the example above, charging a cat sitter to expenses is obviously not likely to be possible.
However, you could argue that reaching a compromise and allowing the colleague to work from home for a few hours per day is going to be more productive than potentially losing a colleague's output to spurious sick leave. Suggesting the colleague take annual leave is also a good potential course of action, but the real sentiment here is to act flexibly and to try and create a positive work-life balance for employees.
Of course, this might not be possible in some workplaces. If this is the case, the best course of action would be to outline exactly how much annual leave the colleague has remaining and find out whether this can fit in with the new kitten's needs.
Be the baddie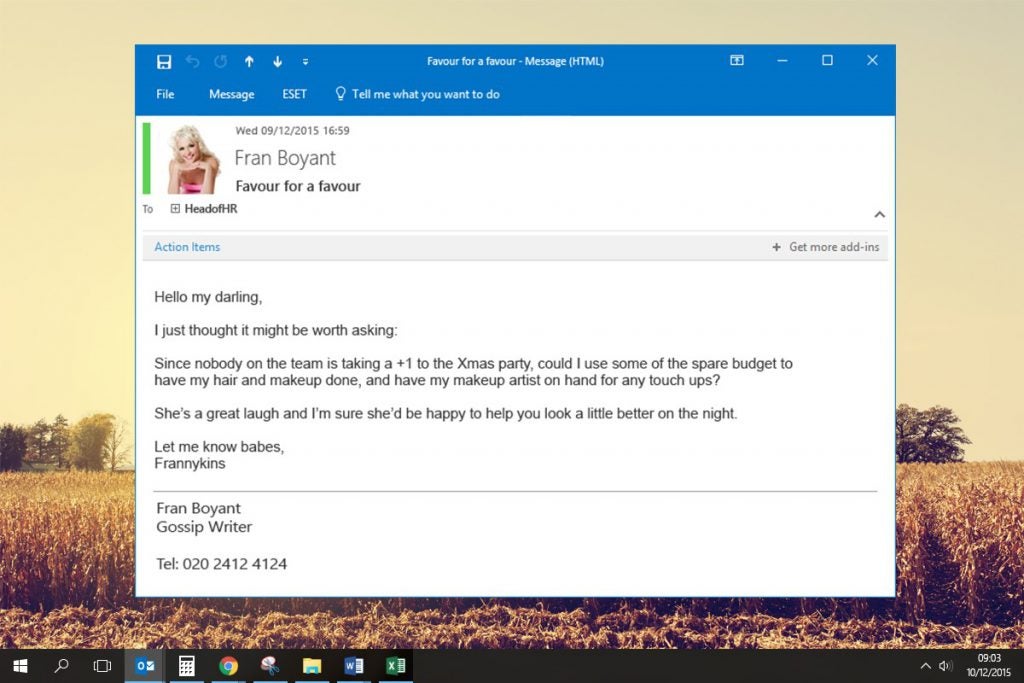 You can't please everyone—especially if making allowances for one colleague would set a precedent for the rest of the team and compromise your company's policies. Sometimes you just have to say no, so it's best to think of situations like this as an exercise in damage limitation.
In the example above, the colleague is certainly being friendly—but that's clearly just because she wants you to agree to her bringing her makeup artist with her to the party. This doesn't change the fact that Christmas parties are expensive events—usually ones that are calculated down to the last canapé, so extra guests and expenses are likely to be off the cards.
Being open and frank with your colleague is the best thing to do here. Suggest that she could meet her makeup artist friend before and after the event, giving them the opportunity to still do most of what they wanted
Oh, and it's best to just ignore the little snipe about you looking better on the night!
In HR and management, dealing with the ordinary can be taxing at times, but dealing with the outrageous and bizarre can really test your HR mettle. It's important to try and take a logical, grounded approach to each case, and rely on your policies, processes, and any case studies from similar situations to help inform your decision.
Have you come across any truly bizarre HR requests and cases in your time? Do you have any top tips for dealing with a personnel dilemma? Let us know in the comments below!
Author: Paul Drew is Managing Director of DPG plc – the single largest provider of CIPD Learning & Development and HR qualifications. Paul oversees the company's performance, progression and, ultimately, its success. He has extensive experience in a management and learning & development environment, as well as a dedication to bringing skills in these areas to the up-and-coming business leaders of tomorrow.