Small Biz HR: Dealing with Hostility in the Workplace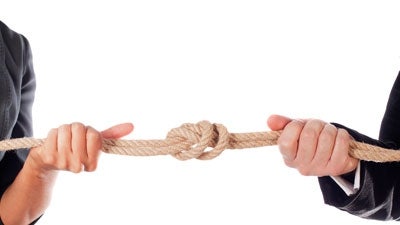 If you manage a human relations department in a small business, then you will definitely have to deal with some personal issues between employees. However, there are certain things you can do in order to minimize the amount of hostility that you have to deal with in the workplace. Here are some of the top tips.
Create a system that can serve as the backdrop for all negotiations between people in the office. Instead of having employees who believe that you are playing favorites and taking sides, one of your first new tasks as HR should be to set up a system that can serve as a backdrop for negotiations. This will keep people from placing blame on you when you have to make a tough decision; it will also give you a set of criteria on which to base those decisions.
Give employees the power to solve problems on their own. There should be some incentive in the office for employees to solve problems without taking up the time of the human relations staff. If people believe that they are responsible for their own behavior, they will be more likely to police themselves instead of having to get you involved for every little disagreement. They will also act in a more productive manner in other aspects of their job, as you will effectively be forcing them to act like responsible adults in the office space.
Create a system for solving hostility, and hold all employees to that system. There are few things more inspiring in the office than the ability to avoid a long and pointless meeting. If your system for solving hostility is long and drawn out, then you are likely to have much less hostility in the workplace. Keep in mind that you will create the system based upon true principles of conflict resolution; however, you will make the entire process a part of every resolution. What this will do is create a great deal of inspiration in employees to solve problems themselves before they become huge problems that have to be addressed by the system.
All employees must submit to the system for controlling workplace behavior and interactions, from the CEO on down. This is the only way to make this kind of conflict resolution fair.
Although there will be disagreements in the office, this usually fosters the environment for the most creativity as well. As long as you can handle a little hostility with the tips above, you will continue to have a productive workspace.
Author: Emma Sturgis is a freelance writer living in Boston, MA. She writes most often on small business and education. Informational credit for this article to a workplace mediation expert with an online bachelor of business degree.
Published: June 15, 2015
3569 Views