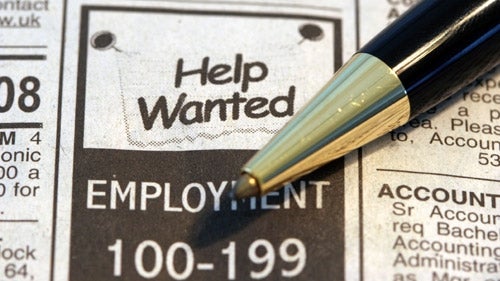 When you're looking to hire new employees, you want to write ads for the open positions that will draw great candidates to your business. You want candidates who are both strong and fitting for what you're looking for. An effective help wanted ad will help you successfully achieve these goals.
You have a wide variety of options for your help wanted ads. When you're placing ads in local newspapers, the staff of the classified advertising section sometimes offers to write the copy for the ad for you; however, it's better for you to write the ad up yourself. That way, you know for sure that the facts about the job are laid out accurately and attractively. Here are a few tips to keep in mind when you set out to write effective copy for your help wanted ads.
Be Specific
The first rule to remember is to be specific in writing your help wanted ads. You want to write carefully, so that your meaning comes across clearly and readers will have no difficulty understanding exactly what you're saying. You must start by writing an accurate headline that will draw interest from the right candidates. Have a good job description for the position, so you can clearly state the job's responsibilities, as well as the qualifications you'll be looking for in a successful candidate, including the personal characteristics that make for successful employees at your business.
You'll also want to include information on a number of other things. Make sure to give information about your company, starting with the name, but also giving some details such as the size, location, and field of your business. Don't forget to include specific contact information, so that candidates know how to follow up on the ad. Along with the job description, include a salary range, starting date, and required experience, which could include years of experience, formal training, or specific skills. Finally, don't forget to include legal descriptions for your business, such as EEO information.
Be Dynamic
Your writing needs to be strong and dynamic. Write with positive adjectives and action verbs that will make your help wanted ad stand out from the competition. Make your ads more personal by using the second person and addressing the reader as "you." The help wanted ad is a way of selling your business to potential employees, so you want it to sell candidates on the position specifically and your company generally. Emphasize opportunities and benefits, and write accurate, friendly copy to create an effective help wanted ad.
Be Strategic
An effective help wanted ad is more than just the written copy itself, though. It also will depend on where you place your ad. With newspaper classified ads, you want to put it in the correct category. The best way to make sure you're in the right section is to browse through the ads yourself and find where your competitors' ads are. If similar positions to your ad are located in a section, then you want to be listed there, too, because that's where the candidates you want are looking. When you're not sure, a simple referral ad—a short blurb in different sections directing readers to see your ad in the main location—can make sure that potential employees can find and respond to your ad.
An important lesson to remember is that you need to meet potential candidates where they are, and put ads in places where job seekers are looking. Use online ads to recruit the large number of job seekers who use the Internet for their job search, and have an email address candidates can contact to express interest, or even an online application. Consider using online job boards—whatever you need to do to find the right person for your business. Strategic thinking will turn your well-written help wanted ad into an effective help wanted ad.
Published: April 11, 2013