With over a billion users each on platforms like Facebook, Instagram and YouTube, social media has emerged to be a marketing channel that businesses can no longer ignore. Identifying where your target audience hangs out, what kind of content works well with them, and creating a content creation and publishing schedule that generates the maximum ROI can define the success or failure of your marketing campaign. Hiring a social media manager who can innovate and execute these strategies effectively is thus highly critical.
Find the candidate with the right qualifications
It is not uncommon for business owners to assume that social media marketing requires no special skills since most of us are adept at using these platforms. This can be a mistake since the job as a marketer is not with knowing how to use these social media platforms but in ideating and strategizing the right way to reach the target audience using these channels.
It is thus vital to hire a marketer who has the solid grasp of your organization's business needs and core objectives. It is ideal to seek candidates with either a bachelor's or a master's degree in marketing. Bonus points if their marketing degree also covers modern digital marketing topics.
Understand the candidate's motivation to work in this space
Similar to business owners, it is quite common among job applicants too to assume that social media marketing is a cakewalk and that 'anybody can do it.' It is hence important to ask the right questions to understand the candidate's motivation to work in this space. There are many ways to do it.
Seek their inputs on the image sizes that are used for various social media platforms like Facebook and Twitter. Also ask them about their strategy to keep audience engagement high while maximizing your marketing message. Typically marketers use metrics like 5-3-2 ratio and 555 ratio to drive this strategy. You can ask your candidates to share their personal experience with such strategies and how they have deployed such techniques for other brands they have worked for.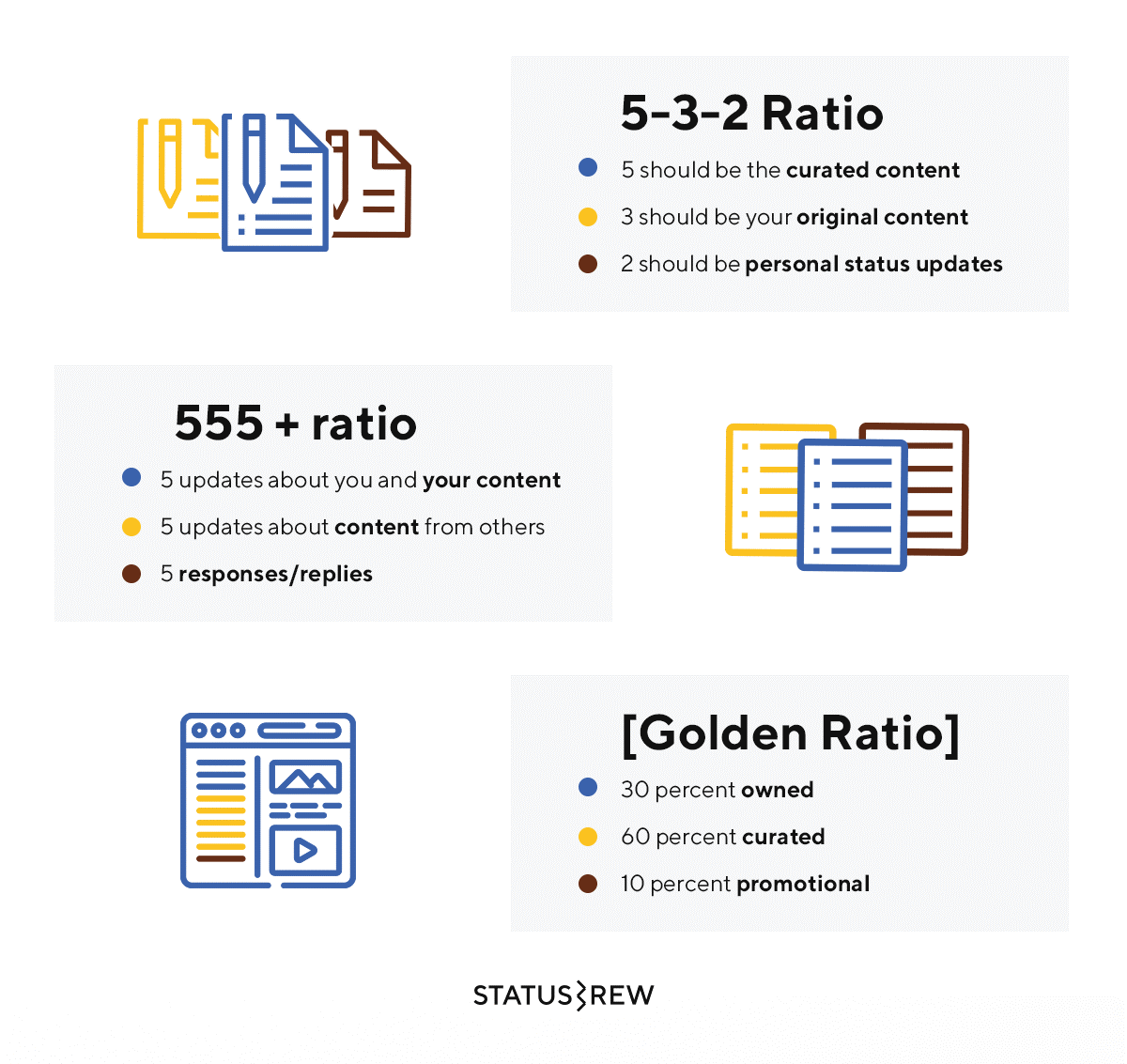 Source: StatusBrew
Dig through their past experience
Given that social media is still a nascent field of marketing, it is likely that you will encounter candidates who still do not have a formal degree in a related field. In such cases, you may dig through their past experience to understand their responsibilities and how they fared in this field.
Seek information on the brands they worked on, their contributions in the growth of the social media channel, the strategies that they pursued and the results. It is a good idea to focus on strategies that failed rather than where the marketers were lucky. This demonstrates a willingness to experiment and also the credibility of their experience.
In addition to this, quiz them on the tools that they work with and their preference. A seasoned social media marketing professional would have adequate experience working on scheduling tools like Planable and also demonstrate a strong desire to work with such tools instead of posting content manually. This is because social media marketers who work in larger teams tend to require collaboration with multiple teams and are likely to have exhaustively used these tools. Marketers who have worked on roles beyond social media marketing are also likely to have experience working with other collaboration and project management apps like Standuply/Slack.
Candidates with such strong experience are not comfortable going back to the amateur working techniques. This demonstrates their qualifications and the value they bring to the table in your role.
Social media marketing is an important cog in the social media wheel of your organization. It is highly recommended that you do not outsource this aspect of marketing to an intern and instead find highly qualified candidates who can take your social media presence to the next level. This is critical to establishing authority as well as set up a sustainable lead generation channel for your business.