You're strapped for cash and only have a small number of hands on deck to help you.
As you know, managing full-time employees is hard work, too. Not only is it expensive to find and hire quality staff, but you also need to spend a large chunk of your week managing their output and motivating them to achieve goals and targets.
So how do you compete with the big brands that have bottomless marketing budgets and hundreds of employees rowing in the same direction?
The answer is simple – you find highly skilled freelancers to handle specialized tasks in your business.
Read more on hiring freelancers.
Businesses of all shapes and sizes are looking for new and innovative ways to reduce overheads and grow without clunky hiring processes. Working with freelancers is an excellent way to hit your growth targets without taking on full-time employees.
Hiring freelancers in 2020 is the easiest it has ever been thanks to platforms such as Fiverr.
Are the freelancers good on Fiverr?
I want to jump into this question first because it's one I regularly get when chatting about Fiverr to colleagues.
Once upon a time Fiverr had a reputation for being the "cheap and dirty" freelance marketplace.
Sure, you could get tasks done cheap and fast. But for the most part, the quality and attention to detail were lacking.
Fiverr has come a LONG way since those times.
For starters, they've invested a ton of money into recruiting the best freelancers in the world to start taking gigs on their platform.
They've also created Fiverr Pro where all of the very best freelancers are available to work with businesses just like yours.
Of course, there are also lots of great freelancers that don't quite make the Pro-cut, so if you're budget conscious there is another way to ensure you'll get a quality outcome.
To hire with confidence:
Look at a freelancer's work samples.
See feedback from other buyers.
Choose from a series of packages that best fit your needs.
Communicate directly with the freelancer to answer any questions you have.
You can do all of that without paying a cent!
What tasks can I outsource to freelancers on Fiverr?
Need something done in your business? You'll find a freelancer on Fiverr who can help.
Seriously, I can't think of one single skill that you can't outsource to a freelancer with the right briefing.
Here are the most popular freelance categories you can access:
Graphics & Design. This category includes everything from logo design, business cards, stationery, podcast artwork, or even portraits and caricatures.
Digital Marketing. Get help with SEO, email marketing, video creation, social media advertising, and lots more.
Writing & Translation. Freelancers can assist with blog writing, translating, transcription, book editing, and speechwriting. If you need it written, Fiverr has a freelancer with the skills to make it happen.
Video & Animation. Outsource explainer videos, animated GIFS, unboxing videos, and more, to unlock the power of video marketing.
Music & Audio. Link up with producers, vocalists, jingle writers, and voice-over specialists.
Programming & Tech. Find experienced developers for WordPress, mobile apps, eCommerce websites, and more to significantly decrease your development costs.
Business. Perhaps you just need an extra helping hand for data entry, administrative support, or project management – this is your freelance category.
As you can see, the tasks you can outsource are only limited by your imagination and business needs. Start slow with a gig here or there and scale up with confidence once you're ready.
How does Fiverr work?
Once you get used to the Fiverr platform, you'll realize it is super easy to understand and hire a freelancer.
Basically, freelancers from all around the world post "gigs" on the Fiverr marketplace. Each gig promises a specific outcome for the buyer and offers a range of packages based on the amount you want to invest and the size of the outcome you're looking for. These gigs are then categorized so that they are easily searchable by buyers.
Here is an example of a gig for podcast editing with Basic, Standard, and Premium packages: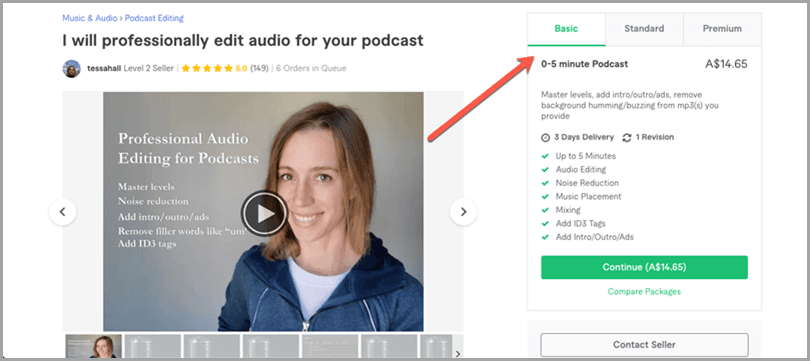 Once a freelancer has completed a gig numerous times, they will receive feedback and provide work samples that are then listed on their gig for buyers to see.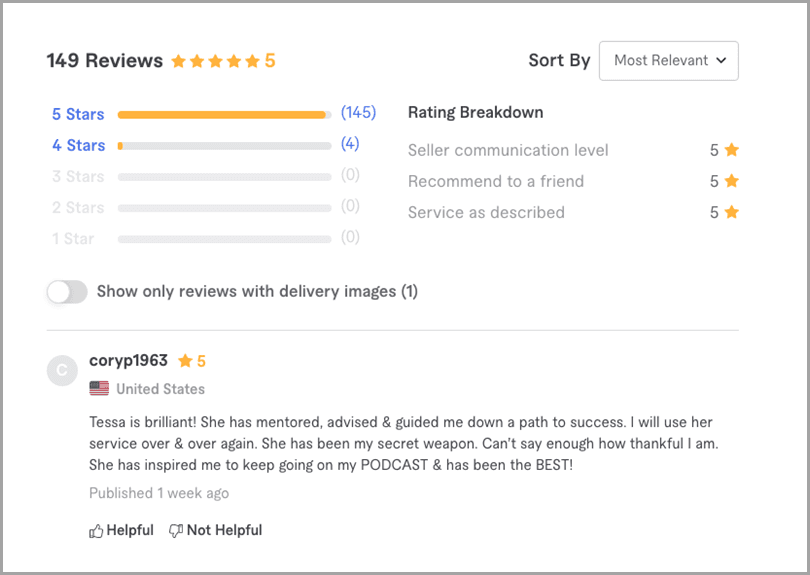 From your perspective, you can simply browse gigs based on the needs you have and choose to work with any freelancer that matches your skills gap and budget.
How much does Fiverr cost?
As the name suggests, you can hire a freelancer for as little as $5! Of course, the actual cost of your project will vary depending on the complexity of the skills you need and the time it takes to complete.
For example, if you just need a few banner ads created, you can get this done for under $50.
But if you're looking for a fully-fledged explainer video, the cost could be in the thousands.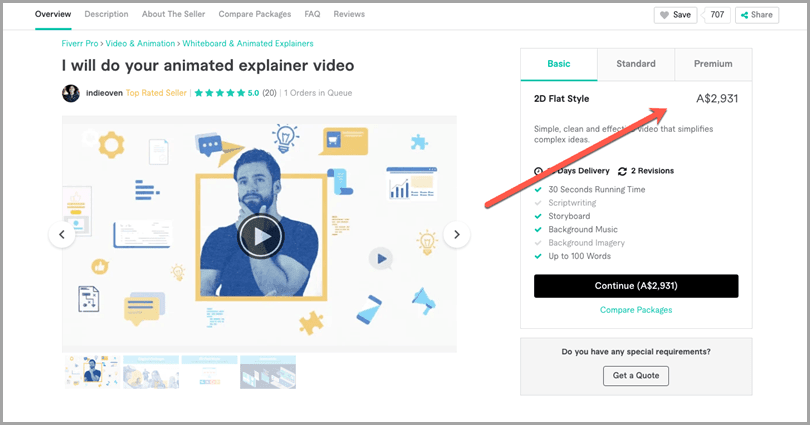 The cool thing about Fiverr is that it provides options for all budgets. Yes, you can go all out and hire the Pro freelancers at a premium rate, but you can also get cheap tasks completed on the run if you want to as well. It's up to you.
Wrapping up
If you're looking to scale your business without the headaches of overheads and the stress of hiring full-time staff members, finding specialized freelancers could be a smart way forward. It is a risk-free way of getting the skills you need to grow your business. And, thanks to marketplaces like Fiverr, finding the right freelancers has never been easier.