Guide: How to improve the recruitment process with ChatGPT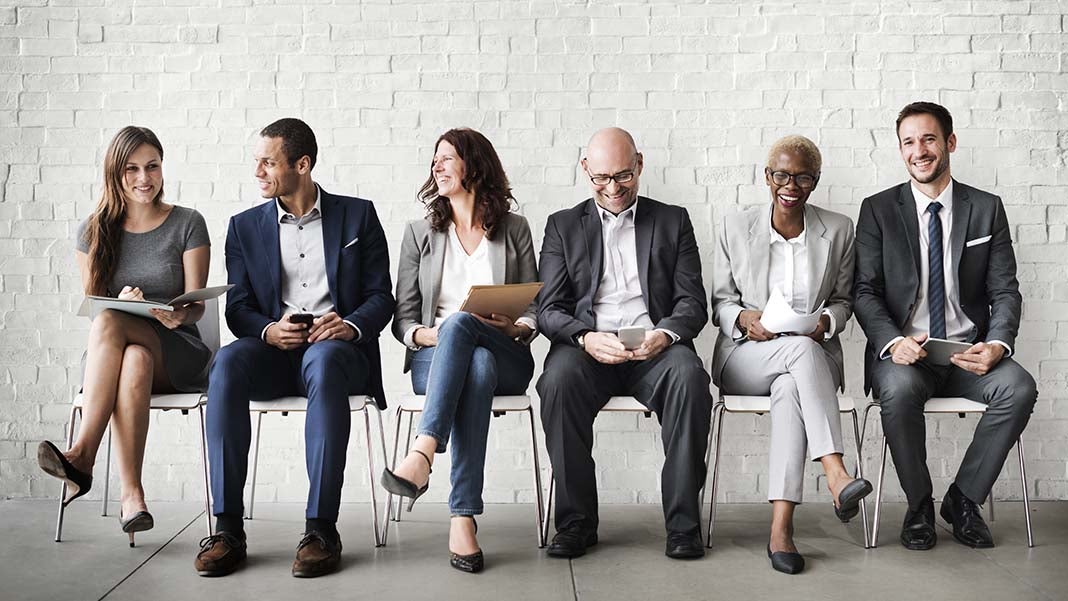 Statista shows that the global index of interest of ChatGPT in Google reached 100 in February 2023. The AI-powered system has become so popular because of its ability to answer questions and sound like a real human. ChatGPT is a valuable tool for any industry or process that involves language-based interactions, for example, such as healthcare, education, customer service, banking, finance, and marketing domains.
This chatbot may assist in upgrading the recruitment process no matter which model you select: hiring in-house, freelance, or IT staff augmentation. In this article, we will discuss how to improve the recruitment process in your tech company with ChatGPT. Read to the end to see how to save time and resources, provide a better hiring process, and conduct high-quality interviews.
Benefits of ChatGPT for Recruitment
Automation of the recruitment processes
ChatGPT automates many time-consuming tasks in recruiting. For example, the system can carry out resume screening to identify the most competent employees for filling the required role.
Also, it helps to create job descriptions that will attract qualified specialists. Besides, by generating interview questions and email messages, ChatGPT frees up recruiters' time.
Improved candidate experience
Recruiters can use ChatGPT to write messages to candidates. With the help of a personalized approach, communication will be easy and productive at the same time. For example, you can prepare for the interview together with the ChatGPT, creating questions that will be bias-free.
Increased efficiency
Moreover, the system can quickly analyze large volumes of data, freeing up your time. ChatGPT significantly optimizes steps of the recruiting process by reducing the effort required for routine tasks. For example, recruiters don't need to analyze whether or not the CVs match the role description manually, draft messages for email or LinkedIn, or write post descriptions.
How ChatGPT can improve your recruitment process
Provide market research
Deep market analysis is the first essential point if you are wondering how to improve the recruitment process. ChatGPT can collect and scan data from different sources:
Job boards. ChatGPT identifies the best platforms to find relevant candidates and helps you to understand what skills are in demand.
Competitors. By analyzing the strengths and weaknesses of competitors, you can write a job description that will attract more applicants.
Candidates. AI systems can prepare your company's description based on your employees' experiences that they have posted previously on various channels.
Create job descriptions
ChatGPT is a powerful tool for creating an engaging job description for all of your available positions. You can write the company name, duties and requirements, and information about your corporate culture. As a result, you will get a well-structured and professionally-written description that will stand out among others.
The good thing is that you can put up the existing post and ask for improvements. The result will impress both you and job-seekers. Furthermore, the system creates bias-free content which will attract people of any age, gender, and nationality.
Asking ChatGPT about roles to understand the position better
Being a recruiter means having extensive information about all possible roles. Searching for the necessary details about positions generally takes time and does not always bring satisfactory results.
Thanks to ChatGPT, you can ask anything about an unknown role and improve your knowledge. Put forth questions like "What is Java?", "Tell me more about the hard skills of a Python developer", "What skills does business analytics need to have?" and get professional responses.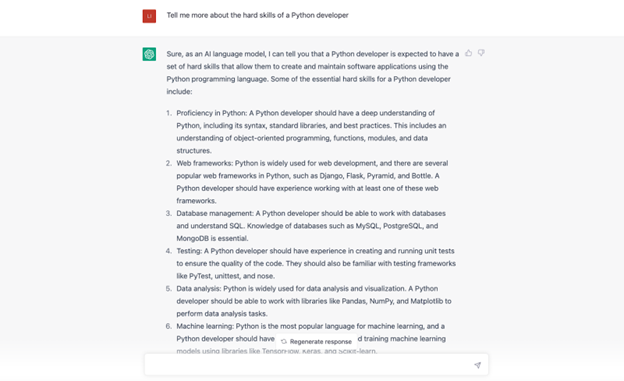 Talent sourcing
As a recruiter, you can use ChatGPT to ask for a sampling of the best resources on where to find the right candidates. The system has the ability to analyze which sites have the highest concentration of contacts who are looking for work according to your request.
ChatGPT knows how to improve the recruitment process and help recruiters quickly identify potential candidates. It can create a Boolean search request to use for a LinkedIn search, for example.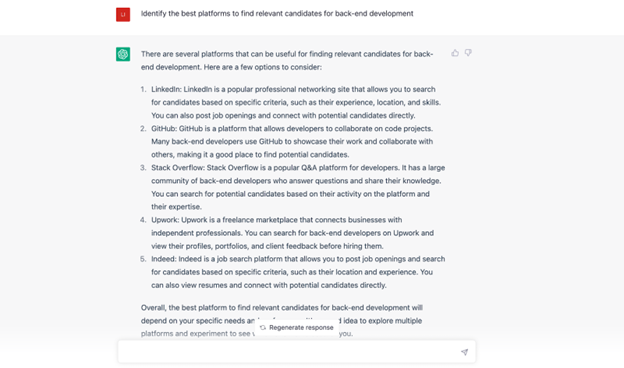 Candidate assessment
For ChatGPT, all candidates are equal. Due to this reality, applicants are evaluated only on their skills, without considering age, race, gender, etc. Thanks to customized and individual approaches, the evaluation of the candidates becomes more relevant and accurate. This ultimately leads to improved hiring decisions and recruitment process automation.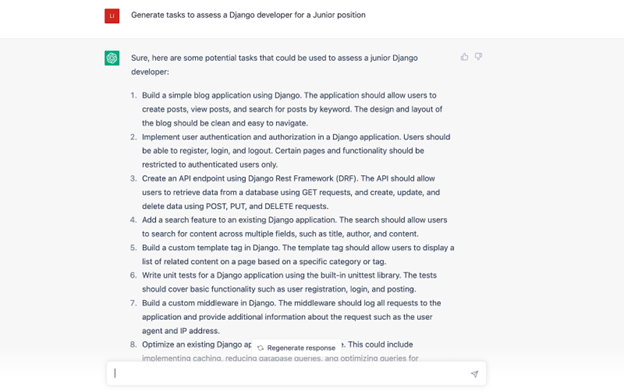 Generate interview questions
To conduct a professional analysis of the candidate, you need to prepare the right questions. ChatGPT verifies the job description and the candidate's resume and generates the most relevant questions for this person. It saves recruiters time for creating interview questions from scratch and helps to make meetings more precise.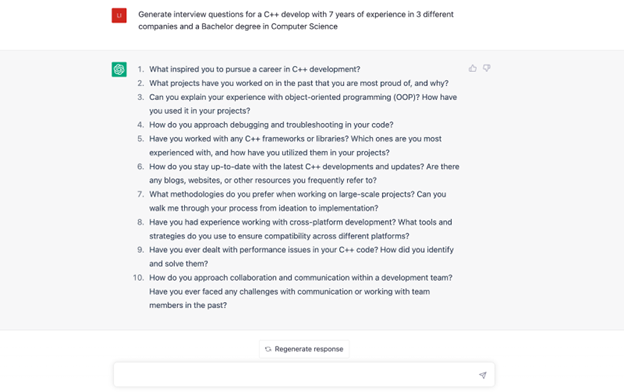 Writing email templates for recruitment
ChatGPT helps write attractive custom emails and headlines that will immediately make the candidate open and read the email to the end.
The system is able to generate templates for an intro about the job, invitations for the interviews, and even process objections. Recruiters don't have to waste their time writing emails manually.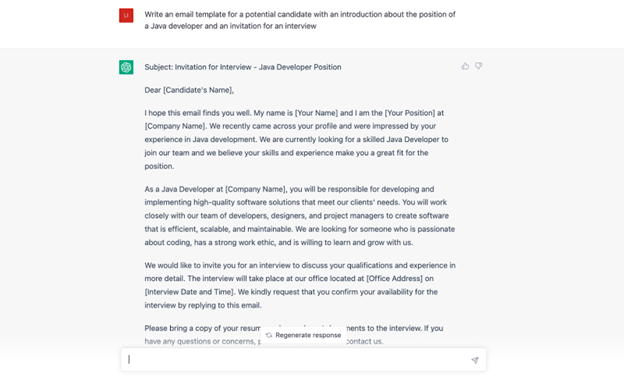 Conclusion
Now you know how to improve the recruitment process through automation of the hiring steps. With ChatGPT, your company can provide a better interviewing experience, save time on writing emails, and raise the overall awareness of the recruiter.
FAQs
How to improve the recruitment and selection process?
ChatGPT understands how to improve the recruitment process by providing companies with significant assistance. With this technology, you automate the hiring process, offer a personalized approach to the candidates, and work more efficiently.
How can I improve my recruiting speed?
To be faster in recruiting, you can delegate some tasks for ChatGPT. The AI-powered system can conduct market research, show you if the candidates match your requirements, create interview questions, and generate message templates.
How do recruiters use ChatGPT?
HR managers use ChatGPT to improve their recruiting process. For example, the system is able to analyze whether or not a candidate matches a particular position, generate questions for the interview, and create email templates.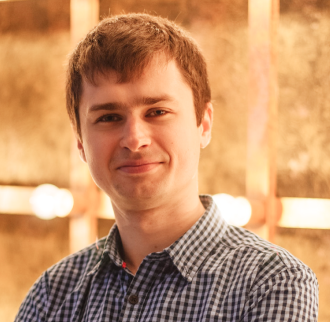 Author: Vitalii Makhov, CEO at DOIT Software, an IT Staff Augmentation company. The DOIT Software team is passionate about building bold systems and solving business challenges for startups, product companies, and digital agencies. Linkedin: https://www.linkedin.com/in/vmakhov/