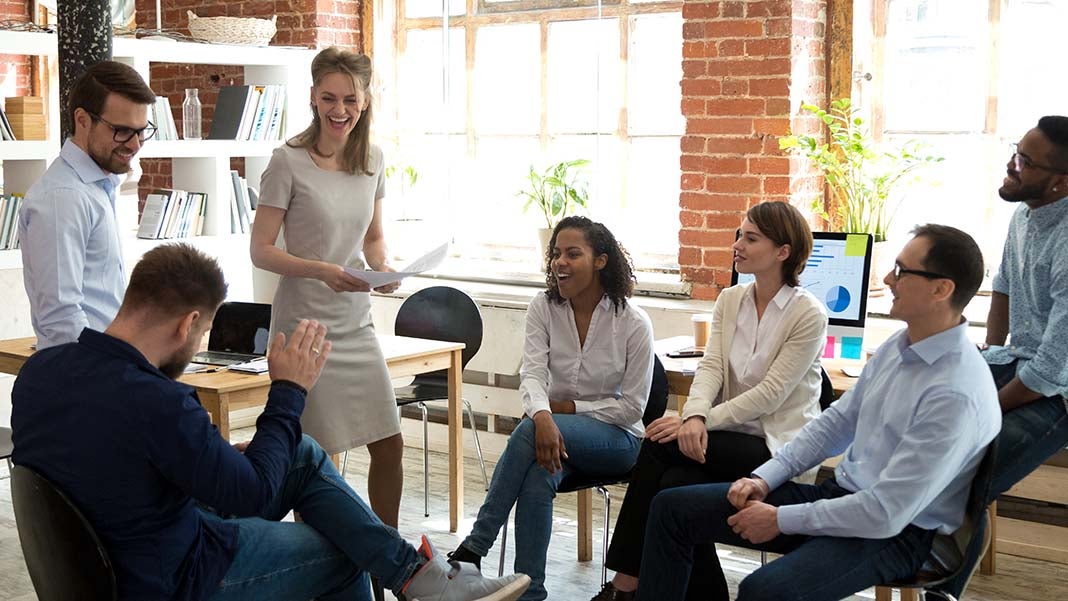 It's not just about health insurance and vacation time. Today's best employees expect their employers to provide them with a slew of perks that make both their professional and personal lives better. If they don't find it from their current role, they'll look elsewhere—the average worker will switch jobs a whopping 12 times throughout their career.
Keeping staff as long as possible has its perks for you as an employer, too. It helps cut new-hire costs, for one thing. Plus, with knowledgeable, long-term employees on staff, you can easily hire and promote from within. Such a system will keep everyone happy—and business running smoothly.
Now, it's up to you to entice staffers to stick around. It's not just about the job, either. Workers want perks, and here are nine of them that your company can afford to add to your roster.
1. Breaking a Sweat
A healthy employee is a happy employee—seriously. Providing all your staffers with a gym membership means they can work out together and build stronger bonds. Exercise allows our bodies to release endorphins, which make us feel so good post-workout. Imagine having people in positive moods coming to work each day.
There's an additional benefit to paying for your staffers' daily workouts. With healthier people on board, you will find that your company starts paying less on insurance premiums—people in good shape don't require as many doctors' visits and procedures. In other words, this one's a win-win.
2. Joining the Club
For many employees, work's a place to make money and meet people. As such, some companies have started to host clubs, organized sports and other hobbies that interest their staffers. The investment isn't that expensive, but the payoff is high. Better yet, employees will remember it and continue to look favorably at your company. As word spreads that you treat staffers to hiking trips or crafting lunches, you'll have no trouble looping in new employees when you need them.
3. Enjoying the Holidays
Most companies work hard ahead of major holidays such as the Fourth of July, Thanksgiving or Christmas. Many times, this all-out effort has staffers way ahead by the time the holiday rolls around. They'll have little, if anything, to do. Add to that the fact that many of their clients and contacts will be off on vacation, too. Essentially, there's no need for them to be in the office.
Try giving employees additional days off around the holidays. As a very generous example, you might give them the stretch from Christmas Eve to New Year's Day free of work. If that's too much, then offer remote working instead—the slow pace around the holidays will suit such a setup.
4. Helping with Student Loans
The average 2018 college graduate left school with $29,800 in debt. As such, your staff would love it if you provided them with some sort of relief program to help them pay down their student loans.
In most cases, these programs work in tandem with the payments employees make themselves— they won't be relying on your business to pay off the loans entirely. Instead, your payments will go to pay down the principal, thus shrinking the size of the loan. Keep in mind that this program is a great incentive to entice recent graduates to work for you, too.
5. Extending Maternity and Paternity Leave
The U.S. government requires that new moms receive 12 weeks of unpaid maternity leave. However, your company can do better than that—and you should if you want to keep staff on-board for longer. The more time you can give employees to spend with their new babies, the better. They will return to work refreshed and rejuvenated, and they'll appreciate the fact you let them stay home longer. To that end, consider providing them with at least a percentage of their pay to reduce financial strain during such a time. You might also offer time off to new dads, too.
6. Stocking the Fridge
This one's simpler than some of the other options on the list, but it still makes a statement. Employees love it when they can head to the company kitchen and grab a drink that's neither water nor stale coffee. A stocked fridge shows you want everyone to be comfortable and quenched throughout the day. Bonus points for providing snacks and the occasional meal for free, too—staffers feel more appreciated and energized from such perks, which can boost productivity.
7. Taking Care of Their Children
Not every company can provide on-site child care, but larger businesses should seriously consider adding such a perk. For one thing, your staffers are paying exorbitant amounts of money to have their kids cared for while they're on the job. On average, child care costs $972 a month, or $11,666 per year, to send one child to day care.
On-site care that's free or discounted will take that strain away. It will also reduce worry—getting kids into day care can be a stressful situation for parents. Best of all, though, they can sneak off during their breaks and visit their little ones. You'll see some serious post-cuddle mood boosts from staffers who do so.
8. Planning Parties
Why not celebrate how much you love your staff through a party? Off-site events allow your team to let their hair down and have fun together, once again building a bond among them. Such parties or gatherings can help your business on the social media front, too. Imagine that your staffers upload and share pictures from the company barbecue, bowling night or holiday soiree. Their friends and family will see that they work for a great company from those photos. Who knows? You might get some more applications coming in because of their posts.
9. Sharing Your Profits
Profit-sharing gives employees even more incentive to work hard—they know they get a piece of the pie at the end of the year. Split up the profits evenly or dole out bonuses to those with a direct hand in boosting cash flow. Once they do, you'll probably notice they're working harder than ever, and you won't be mistaken. They just want to grow profits and bring home another cash prize—it's a perk that works for everyone.
Better for Everyone
The above nine employee perks make a strong impression, and they don't have to break the bank, either. The more benefits your employees receive, the better—for them and for you. Start bulking up your perks package today and reap the rewards tomorrow. You'll all be happier for it.
Published: September 10, 2019