Millennials; they're a huge group, constantly dialed into their phones, and constantly lamenting about their student loans.
They're also extremely talented, and notorious for job hopping.
As a working millennial, I've personally hopped through eleven jobs in the past nine years. Some of them were part-time gigs while I went to school, others were full-time and offered a promising future. Their allure, however, was unable to keep me for long.
And I'm far from an obscure case. The majority of millennials are struggling to find steady employment. Many of them are underemployed, entering the workforce with only a degree and no experience. While others have plenty of experience, but no business is willing to hire them over an older, "more qualified" worker.
The truth, however, is far from the common perception.
Millennials are great for business; they're tech-savvy, innovative, and excellent communicators. No matter what industry you're a part of, inviting them into your company could be the key to unlocking the next chapter. Millennials deserve a position just as much as any other worker, but the business needs to be willing to make some adjustments to keep them motivated in the long term.
What is the catch with millennials? Why are they so flighty with jobs, and so very unlike their parent's generation?
The secret to harnessing and retaining millennial power lies within their skillbase. Here are the most important aspects of millennial workers, and how your small business can attract and employee their talent.
Independence
What Millennials Bring: Millennials are bringing a lot of change to the workforce, and office flexibility is by far one of the most dramatic shifts. Much of the change is due to advances in business technology within the past twenty years, but millennials hold the extra advantage of being able to work remotely; despite constant distractions.
Millennials know what keeps them motivated and what environment works best for them, and they often have the self-discipline to work hard, despite being out of the office. Many millennials even admit to checking emails and calls on non-work hours; meaning they never quite have an "off-mode" when it comes to thinking about their job.
They're dedicated, and they want the freedom to work on their own time.
How to Retain Them: Trust and honesty are two very important qualities for millennials. They value integrity not just in their purchasing decisions, but in their job as well.
As a business owner, it's vital to bring any concerns or issues straight to your employees. Millennials want a boss that is going to be honest with them, but also one that isn't going to coddle them if they make a mistake.
If you're struggling to adapt to a flexible work environment, find a way to discuss options with your millennial employee. Whatever your decision, use technology to your advantage and millennial employees will appreciate your trust and constant communication.
Communication and Mentorship
What Millennials Bring: Millennials are excellent communicators. We are social butterflies in a digital age. We love to "network" through social media.
Many employers might see this as a disadvantage; as social media use can take away valuable time spent working. However, these skills have led to a heightened sense of empathy and communication.
Millennials are also unique in what they expect from their employers. The younger generation prefers (and appreciates) mentors over managers. They seek out bosses that are willing to help build their confidence and expand their knowledge on a subject. They avoid bosses that simply delegate tasks, assign expectation, and schedule meetings that don't allow for constructive questioning or collaboration.
How to Retain Them: Be aware that no employee enjoys nor thrives under micro-management, but it is still possible to be hands-on with your employee's projects. Constructive communication and a heightened sense of emotional intelligence is the trick to being aware of everything going on, but communication is not a one-way street. Communicate your expectations and communicate your concerns. Millennials will be sure to return the favor.
Educated Minds
What Millennials Bring: According to a Payscale study, 63% of millennials hold a bachelor's degree. This makes Gen Y the most educated generation to enter the workforce. It also explains why the amount of student debt in the US has surpassed the one trillion mark; there's a lot of students paying a lot of money for higher education.
However, millennials aren't just book smart, they also actively seek out expanding their knowledge. Whether it's due to the instant gratification of Google and Wikipedia, or just due to curious natures; millennials are always willing to learn new ideas to better themselves. Unlike our previous generation, we like to see work as a way to improve ourselves, not as a way to make a living.
How to Retain Them: The best and easiest thing an employer can provide is ample chances for growth among millennial employees. Even if there is no "upward" mobility available, allowing them to expand their knowledge into other areas of the business could be the ticket to keeping them engaged. Remember that they see any career as a chance to grow, and even if you don't give them opportunities they will continue to grow with or without the help of the business.
Appreciation and Company Culture
What Millennials Bring: Millennials value company culture a lot. Research into millennials has shown that they will often pass up higher-paying jobs for jobs that prioritize and have a strong culture.
This is because millennials value support from their leaders and their staff. Their communication skills and social skills help them flourish in a team setting, and reinforcing structure keeps them happy and motivated. Millennials are often given the bad rap for the "everyone gets a trophy" concept, but the honest truth is they value appreciation. They love for their hard work to be acknowledged by their peers, and they crave constructive encouragement.
When millennials are job hunting, they are looking for something that not only aligns with their beliefs, but provides entertainment and a culture of support to back them up as they continue to grow.
How to Retain Them: Company culture is different for each business, but the effects of a strong culture are the same: workers that are engaged, motivated, creative, and productive.
What you want your culture to resemble is going to be unique to your image. However, staying authentic and true to that image is important in retaining the interest of millennial employees. Providing feedback and acknowledgement of work is also vital in keeping them engaged, and can be beneficial to other generational groups as well.
No matter what your business specializes in, the power of millennial employees should not be discounted. Their hard-working ethic and standard of excellence will no doubt enhance any sector of business. You just have to be willing to give us a try.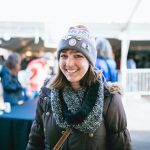 Author: Katie McBeth is a freelance writer out of Boise, ID, with experience in marketing for small businesses and management. When she's not writing about millennials or small businesses, she spends her free time training her dog Toby to herd her three annoying (but adorable) cats around her house. You can follow her animal and writing adventures on Instagram or Twitter: @ktmcbeth.