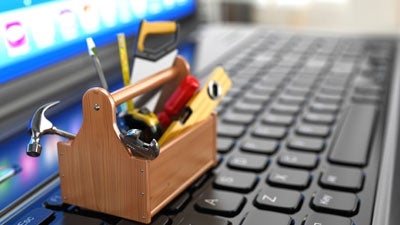 When it comes to managing staff, you want every tool in your toolbox you can get. To that end, there are plenty of apps, software programs, dashboards, and technology tidbits that can cut down on your admin time and help you be the best manager possible. Here are five to get you started.
You've got a lot of paperwork, and if it's all housed on one computer, you're limited in where you can access them. That might have been the status quo for years, but now we're used to having access to these documents anywhere through cloud-based platforms like
Google Drive
or
Microsoft Office 365
. Being able to create and share documents with your staff, who can also edit them online, is a huge time-saver, and convenient to boot.
2. Project Management Platform
Every day is a project. Whether that's hiring a new employee, completing work for a client, or closing a sale, there are steps that have to be taken and deadlines that have to be met. Rather than try to wrangle your staff offline, make it easier with project management software like
Podio
or
Basecamp
. There, you can assign tasks to staff, upload documents they need to succeed, and track deadlines. You can also house all communication on the project in one place, so you're not constantly searching through emails to find correspondence.
Naturally this is a category we think is important! If you're scheduling employees, make it easier by using an intuitive
scheduling app and platform
that lets you view at a glance who can work when, as well as review and approve vacation requests. You can send your staff their updated schedules via email or text and eliminate paper from the equation.
In addition to creating documents in the cloud, it's a good idea to have cloud-based storage for all your documents and files. It serves as backup in case your computer crashes, and it takes the load off of your computer if you frequently save large files like images or music. You can access your files from any device, and you can share links to the people who need them.
Dropbox
and
OneDrive
are both great and affordable examples to check out.
Hiring new staff may be your least favorite job. But technology can make it easier.
MResource
uses text messaging to find and vet potential candidates, and
JobScience
scours the web to find you the best potential hires, as well as presents their resumes in a visually appealing format for easy scanning. All of this makes it easier to sift through that pile of resumes and get to the most qualified applicants.
There are new management tools popping up daily, so pay attention to what's out there, and invest some time and money finding the ones that reap you the best benefits as a manager.
Published: January 9, 2015