Becoming an entrepreneur is what many people dream of, but most are scared to take that leap of faith. Here are tips from successful entrepreneurs on how they have helped their businesses thrive and how you can become the next-best entrepreneur.
The Importance of Self-Branding
Named "Boston's Hottest Startup," Jebbit, a venture-backed marketing technology company, created the No. 1 Post-Click Marketing platform nearly five years ago. Founder Tom Coburn and Co-Founder Jonathan Lacoste have relied on self-branding to promote the success of Jebbit.
Related Article: The Key to Personal Positioning
Both have been listed on Forbes's 30 Under 30 and Boston Globe's 25 Under 25. Lacoste was recently named Emerging Executive of the Year, appeared on CNBC and makes regular contributions to Inc. Magazine. Coburn and Lacoste's accomplishments and appearances have put Jebbit at the forefront of conversations. Their appearances and accolades not only speak to their entrepreneurship, but the professionalism and growth of Jebbit. Often, people prefer to buy into other people, and with a track record of positive self-branding, Jebbit never misses a sale.
Stay Socially Savvy
In the past five years the solar industry has grown 59 percent with no plans of slowing down. Jim Jenal, founder of Run on Sun, has successfully contributed to the solar industry for nearly 10 years now.  Listed as a top contractor in the United States, Jenal knows social media also plays a role in his successful solar installation business.
Jenal actively uses his personal social media accounts as well as Run on Sun's accounts to spread the word about Run on Sun's contribution to the solar industry. It is important to share industry information not only on your company's social media accounts, but your personal accounts as well. CEOs should have personal accounts for LinkedIn, Facebook, Twitter and Google+. This not only boosts your credibility and your company's credibility, but shows there is a real person behind the company and invested in the company.
An active blogger, Jenal regularly writes about what the solar industry is facing, solar policy and solar tradeshows. He has also been quoted in the Los Angeles Times, the Wall Street Journal and the Guardian which boosts Run on Sun's credibility while helping increase business. Jenal stays top of mind by regularly sharing his blogs, news about the solar industry and engaging with other leaders in the solar industry on social media.
Teamwork Makes the Dream Work
For more than 10 years, LeafFilter has revolutionized the gutter protection industry. Matt Kaulig, CEO of LeafFilter, grew his company from his basement to one small office in Ohio, and, 10 years later, to 27 offices that serve 33 states spanning from Boston to Seattle. What does Kaulig attribute the company's rapid success to? His team.
Voted one of the top places to work in Northeast Ohio by its employees, it is no surprise Kaulig puts his employees first. Just one look at LeafFilter's social media and you will see employees participating in company luncheons, pumpkin decorating contests, chili cook offs and attending NASCAR events to support NASCAR Xfinity Series driver Blake Koch, who is sponsored by LeafFilter.
Engaging your employees in company activities and company sponsorships help employees feel valued, and more than just a number. Kaulig proves that keeping employees happy is ultimately what makes his business thrive.
Put These Tips in Action
Whether you have many years of experience as a CEO or are just starting out, you should implement each of these tips to further your professional life. Start self-branding early in your career like the founders of Jebbit did. Don't be afraid to network, get your name out there and promote your accomplishments through social networking.
In addition, build your online brand for both you and your business and keep them both up-to-date like Jenal does. Lastly, take Kaulig's advice on strengthening the team around you. Don't be all work and no play. Follow in his footsteps of company parties and outings to boost employee morale and your growing business.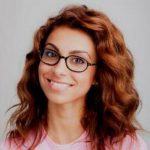 Author: Alexis Caffrey is a freelance writer with a focus on marketing and entrepreneurship. She welcomes your feedback via email.