Right now, summer is here and sporting goods stores need to be on high alert. Customers are coming through your doors for cleats, gloves, balls, bats, and more. Soon, they'll be on the lookout for footballs and hockey sticks.
Sensing a trend here?
Sporting goods stores have no offseason; they're constantly adhering to customers' demands and purchasing inventory for every new season that comes. And like any small business, sporting goods stores need financing in order to keep up with the constant demand they face on a daily basis.
Booming industry
Sporting goods stores have seen their consumer sales increase every year since 2002, reaching a high of $62 billion in 2013. But while the industry as a whole is strong, it still isn't a walk in the park to obtain business financing. Banks are still hesitant to lend to any small business, let alone a sports store, and have understandably tightened their standards ever since the Recession. Viable collateral, high credit score, and a strong history have become essential components to the financing process, but many businesses struggle to keep up.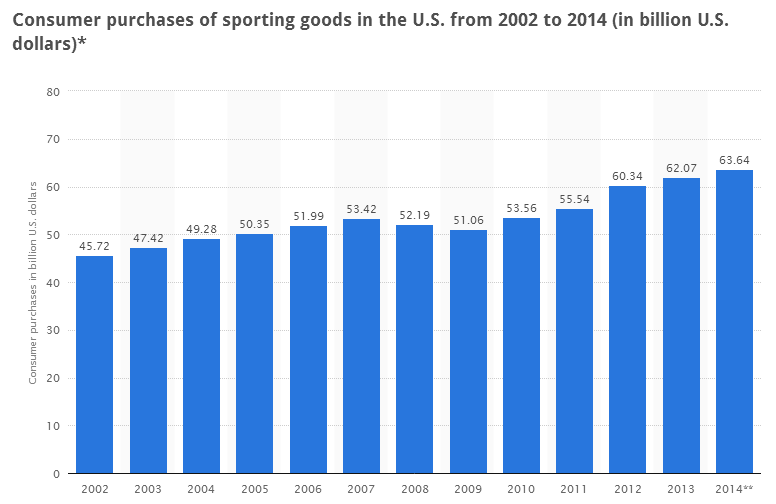 Source: Statista 2014
So what can your sporting goods store do if you're denied a bank loan? The answer lies in alternative lending.
What is alternative lending?
Alternative lending is a new financing method that emerged in the wake of the Recession. When regulators forced banks to strengthen their requirements, small businesses needed somewhere turn and alternative lending has been there ever since.
Alternative lending has one aim: get small businesses money as quickly as possible. With alternative lending, your credit score is not a major factor, collateral is not necessary, and you can be approved and get the money all in days.
The primary method through which business owners receive alternative lending is a merchant cash advance. A merchant cash advance is not a traditional loan; it's an advance against your business's future credit and debit card receivables. Every month, a small percentage is taken from your credit/debit card sales until the advance is paid off. A merchant cash advance generally works with your cash flow, so during slow months the lender will take less. During strong months, the lender will take more.
But once you receive financing from an alternative lender, what are your options? How can you improve upon your business with alternative financing?
Let's take a look:
Purchasing inventory: Sporting goods stores are an inventory-based business and must consistently have fully-stocked shelves for each season. Right now, you should be preparing your business for the fall while also keeping up with what consumers want in the summer, such as soccer and baseball supplies and especially golf equipment. Regarding golf, if your store doesn't have a golf simulator or an area for golfers to practice their shots, this may be a nice draw for you to add.
Advertising and marketing: Getting the word out about your sporting goods store should be a primary objective at all times. To start, social media platforms like Facebook and Twitter are an excellent (and cheap!) way to promote your company. Consumers like visuals, and social media gives you the chance to show off your inventory and equipment while allowing you to get creative. For traditional advertising, you should be looking into radio, print, and TV. While all the talk is about social media these days, traditional advertising is still a strong player in the business world.
Expansion and renovation: Alternative lending can also contribute to your remodeling efforts. Whether you want to put an addition on your current store or open a brand new location, you can use the money you receive from alternative lending for this. At some point, all small businesses outgrow their initial space and feel the need move on to something bigger and better.
Special promotions: Ever want to hire a local professional athlete to an autograph signing and meet-and-greet with fans in your community? It's common for sporting goods stores to have professional athletes visit and these events can really boost not only sales, but awareness of your store and your brand. You may think it seems difficult to lure some of these athletes, but many of them have community obligations and are normally more than happy to participate. Not to mention they're getting paid!
Alternative lending has become a reliable source of funding for small businesses across the U.S. If you're a sporting goods store owner looking to improve upon your business with some extra financing, alternative lending may be for you if you're struggling to secure funding from a bank.
The sporting goods industry never sleeps, so make sure you're doing everything you can to keep in step with the big brands.
This article was originally published by AmeriMerchant