Is your business humming along? You might think you don't need to take on debt and just let the good times roll.  However, times can change quickly and whether you are growth-oriented or maintaining a steady, consistent business, healthy working capital is vital to continued success.
Even better times may be ahead if you secure low-cost, long term financing. Like all things in business, it's all about the economics. The maze of debt options is intimidating but focusing on loans with only low payments will simplify that journey to a more secure financial future.
Some of the key questions are: "Can you secure a loan at a lower cost than your current debt?"  Additionally, "Can you purchase key equipment, expand hiring or marketing and boost your revenue line?"  Or, "Will additional working capital help you improve operations so that your growth accelerates?"
If the answer is yes, and it usually is, the best way to do it is typically with a Small Business Administration (SBA) loan. The SBA is a government agency that promotes the success of the U.S. economy by offering assistance – like education, advisement and loans – to small businesses. After all, small businesses are the backbone of the U.S. economy with 89.6% of America's employers having fewer than 20 employees, according to 2012 census data.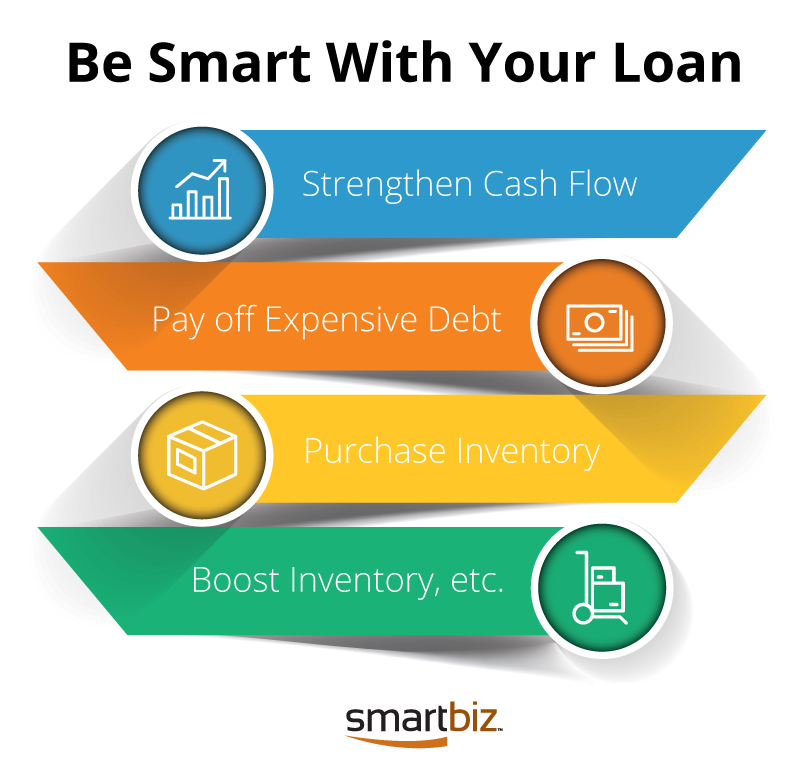 The SBA's 7a loan program is its primary form of assistance to small businesses, and it's widely considered the best priced loan available to a small business person. Through the 7a program, the SBA does not originate its own loans, but rather guarantees loans made by SBA-approved banks. By guaranteeing a majority of each loan, the SBA reduces risk to the bank, allowing borrowers to enjoy affordable capital, with reasonable monthly payments and low rates.
The SBA's low-cost capital and long repayment terms (usually between 5-25 years) make it an ideal way for you to infuse low-cost funds into your business. This can help your small business in a number of ways while strengthening your bottom line and ensuring that your business is healthier in the long-term. Here are ways an SBA financing can help:
Shore Up Cash Flow
First take a look at your cash flow, or the cash moving in and out of your business.  Here are some examples of how a loan used for cash flow could be a great benefit.
Seasonal businesses might make big profits during the holidays or primarily the summer season. Businesses such as boat rentals, landscaping, roofing and retail often have peak seasons. Financing can serve as a cash bridge, enabling you to meet expenses during the trough of the slow season and prepare you to climb and succeed during the peak of high season.
Financing can help fund big jobs that you might not have been able to take advantage of without additional funds. You can use proceeds from your loan to purchase equipment, increase inventory and hire more employees for expansion or for larger projects.
Provide Valuable Working Capital
Working capital is a measure of the short-term financial health of a company and is calculated by deducting current liabilities from current assets. The long term of an SBA loan helps small businesses stabilize their operations beyond the short term, effectively managing overhead, making payroll and retaining employees.
Purchase Equipment
The right equipment at the right time can help you expand and remain competitive in your business. Even with strong revenue, you may need to expand your bar or purchase that new boiler or generator to grow. Instead of putting that purchase on a credit card or using another costly option, consider loans with the lowest rates and don't be tempted by short term financing. You'll get the equipment you need without crunching cash flow.
Pay Off High Interest Debt
One of the biggest benefits of an SBA loan, especially if you've taken out an expensive online loan, is lowering your cost of debt capital. Are you currently making payments on high interest debt? Taking on more debt might sound crazy. It can be crazy smart if it reduces your current cost of debt.
Taking out a low-cost loan to pay off an expensive one is a great strategy to save money.  Refinancing expensive debt taken from a short-term online lender can lower your monthly payment by thousands of dollars, freeing up considerable sums of money that can be deployed to your growth needs.
SBA Loans vs. Non-SBA Loans
There are lots of online lenders offering short term debt, probably far too many and it can get confusing. A typical offering from these lenders, depending on borrower credit strength, would be a 36 month, or 3-year loan at 18%. Assuming the balance is $150,000, a comparable SBA loan would be a much longer term, 10 years with an interest rate of approximately 7%. Assuming the loan amounts are equal, the difference in rate and term results in a lower monthly payment, $1,742 for the SBA loan, compared to a whopping monthly payment of $5,423 with a typical non-bank online lender. This translates to annual estimated savings from the SBA loan of $44,174 in the first year alone.
Terms differ based on credit quality of businesses but the savings to small businesses with an SBA loan versus the plethora of online options represents a substantial cash savings that could be invested right back into the business.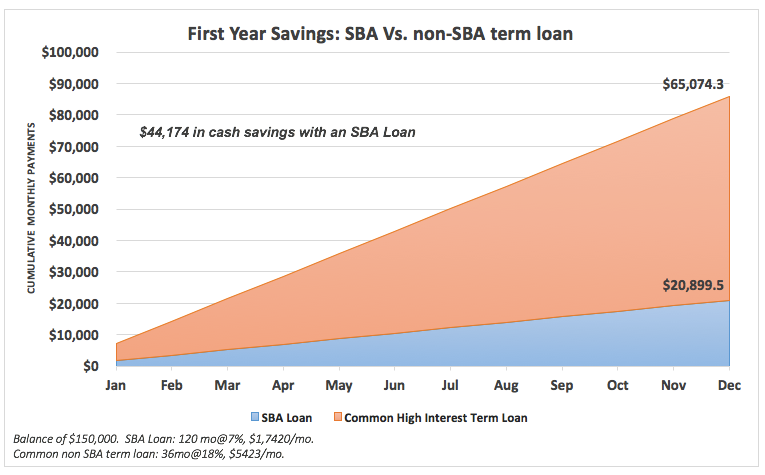 Time to Expand
Is there even more growth potential for your business now? Adding additional merchandise or offering a new service can help attract customers or increase sales to existing customers.  If you have a strategy for success that depends on beefing up your offerings, a low-cost loan can help.
Boost Inventory
Does demand for your product skyrocket around the holidays? Or do you have products that fly off the shelves in the summer only? If your business is cyclical, you might find that your cash isn't quite sufficient to increase your inventory with the spikes in demand. With an SBA loan, you can purchase inventory to give your business a chance to capture these high demand periods. Well-timed, strategic purchases keep you profitable during busy season with stocked shelves full of product.
Marketing and Advertising
You can have the best service or the best product around, but you need to get the word out. Marketing and advertising is often the first thing slashed when a business owner looks at the budget and it can be fatal. Funds from a loan can be used to implement strategies to reach new customers. You can also use small business loan proceeds to hire an employee or even a part time contractor to help with outreach efforts to customers.
Got Loan, Get Started
Once you've determined that a small business loan is the right solution, determine how much you need to borrow to meet your short term and long-term goals. Your banker will need a clear idea of your use of the loan proceeds. Be specific about your needs and use of the funds at the time of funding and in the first year. The key here is that financing should be used to improve your business only, and not your personal financial health. This business-focused, long-term outlook will motivate you to think through your firm's operational and strategic needs.
Next, find a lender you can trust and that starts with a bank. Scrutinize the non-bank lender du jour you see advertising online and look for a trusted bank option first. Many small business owners are skipping the banks and looking to online solutions. If you do so, look for business transparency, excellent customer service and great reviews but most importantly, look for bank partnerships.
Check sites like TrustPilot and make sure the company you're working with has Better Business Bureau certification.  Strive to get the lowest rates with the longest terms and don't get fooled by "teaser rates" or terms like "total cost of capital.  There are a lot of non-transparent lenders out there.  The good news with an SBA loan is that you know you can trust a bank originated loan backed by the U.S. government.
Finally, always know that credit is key. The stronger your credit scores are, the better opportunities you'll have to get a low-cost loan when you need it.
Author: Leo Jacobo is a Vice President at SmartBiz Loans. Leo is responsible for lending operations to bank partners as well as inside sales. SmartBiz Loans is an online SBA loan marketplace and bank-enabling technology platform. The company's sophisticated, online software provides SBA preferred lending partners customized and automated origination, underwriting and documentation assistance, making approval and funding fast and easy.