What's the best way to differentiate myself and still be profitable?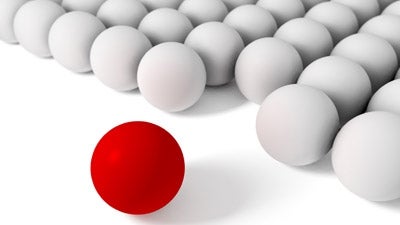 I'm a local screen printer, embroidery, and promotional products business. The market is pretty competitive in our area and there is one major local competitor that offers the same services as I do and produces the same high quality as me but does a lot more business because they have been around for a long time. I want to find a way to do more business like them but have a great answer for when my prospects ask "Why you and not them?" What's the best way to differentiate myself and still be profitable?
Answer:
Business Differentiation: In such a competitive business environment, it may be very important that you differentiate yourself from the other locally successful screen printer/embroidery shop in order to capture enough of the market share. The four basic categories of differentiating your business are price differentiation, focus differentiation, product/service/quality differentiation, and customer service differentiation. Positioning your company according to how you operate and market your business will help you to penetrate a particular area of the marketplace and capture your share in a specific niche. Essentially, this is a practical way of picking one or two components of the industry business and doing them extremely well, rather than trying to do everything at a mediocre level.
A. Price Differentiation: Obviously, this method usually means that you will set prices in such a way that your services will be offered at a better price than your competitors, thus bringing more customers into the shop. However, it is important to not do this in such a way that allows the market to perceive your work as lower quality or not as good as the competition. Be inventive in the way you position yourself with this method by offering services at the same price as competitors while including a free additional service or a coupon for future use. You could also find ways to lower your overhead or cost of materials, which would allow you to price lower than competition while still delivering a competitive quality grade service.
B. Focus Differentiation: If you're a small business, this will be the easiest and most effective way for you to differentiate your business from the competition. You still have the flexibility and business position to select one focus of promotional products and embroidery clientele, doing that extremely well. For example, if you live in a town that hosts a university or college, you should aggressively build relationships with leaders of Greek life organizations (fraternities/sororities) and other campus organizations to capture that market potential which has high demand for your type of products. Other ways to utilize focus differentiation are listed below as explained by PowerHomeBiz:
Location – take advantage of your closeness to prospective customers.
Customer specialization – be very specific about what characteristics your customers will have for example, racing bicycle enthusiasts or companies with a spiritual conscience.
Customer relationships – know customers really well, form partnerships with them, and get them to speak for you!
Affinity relationships – associate your product/service with a well-known person or organization.
One-stop shopping – offer everything your target market needs, in your area of expertise.
Wide selection (within your niche) although this one may seem to be the opposite of focus – the key is to be very specific in one dimension and very broad in another."
C. Product/Service Offering Differentiation: This may be a challenge for your industry due to the standard scope of product offerings, but the idea is to offer different services or products that your competitors do not offer. One good thing about your business is the flexibility to be artistic, creative and innovative in the products you produce; your creativity could be the key to differentiating your business from your local competitor. Furthermore, it could be a new service that nobody else has begun to offer yet, giving you the opportunity to be the first in the marketplace. In order to be successful with this differentiation method, you will need to have good communication with your existing customer base and see what they want/need that isn't already being offered.
D. Customer Service Differentiation: Often times when local competitors (like the one you've referenced) have had success for an extended period of time, they begin to feel so needed by their customers and complacent that they fail to recognize the importance of superior customer service. This form of differentiation is almost completely a matter of ownership/management making it a priority to not only deliver a quality service, but to give the customer a great experience in so doing. If your customers aren't happy with the way they were treated, spoken to, or handled in the process of doing business with you, they will go to the competition right down the road. However, if your competitors are doing the same thing, yet you have a reputation of delivering superior customer experiences, those unsatisfied customers will flood through your doors the next time they need an order of screen printed apparel. A few practical ways you can achieve this are by under-promising and over-delivering, completing orders sooner than quoted and as quick as possible, offering realistic prices, 100% guarantees or warranty on your work, and also simple communications like a warm greeting upon arrival or friendly customer service phone calls.
Published: February 12, 2014
1812 Views