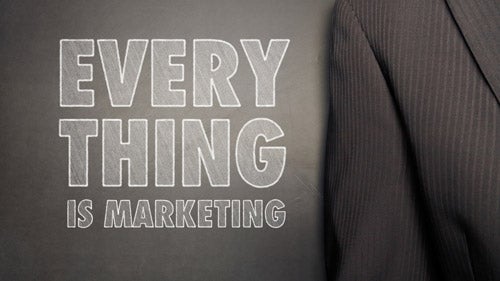 To succeed, every small business owner has to learn how to market his or her products and services. That's why SmallBizClub.com's first
Success Saturday
event was focused on the topic "Everything Is Marketing."
Host Fran Tarkenton was joined by Bob Moore, Executive Vice President, Marketing and Merchandising for Office Depot, along with the owners of three small businesses to talk about real marketing challenges and strategies. It was all about the three big keys to marketing: You have to Know Your Customer, Know Why You're Better, and Communicate Why You're Better.
Know Your Customer
"The key in marketing is, first of all, know your customer," said Moore. "Know who they are, and what they're looking for. Know what they're trying to accomplish in their own lives."
One of the business owners profiled on the show was Neil Bass, the owner of SmartTax. Bass shared his story and discussed his own marketing efforts, which are focused on finding referral sources. This is a business that knows its customer; it is focused on being great at one thing in a niche market, and knowing exactly what that niche is. For businesses like this, it's critical to find events and organizations where the people you are targeting are going to be; then you can make your case for what you have to offer. But it all has to start by identifying the right people. A valuable tool to help in that is looking at your existing customer base; what are they like, and then in turn who are people they know that they could refer to you as well. Partners and related businesses are certainly one place to find referrals, but don't forget about help that you can get from your current customers as you try to get more people in the door.
Know Why You're Better
Central to marketing is differentiation. It's not enough to just have a product, to just tell customers, "Me, too!" You have to be different—and better. "Understand what it is you can do, what you can do better than anyone else," Moore said. "Give them a preferred choice solution."
Another small business guest for this event was Victor Davanzo of RSP Nutrition. The marketing for RSP Nutrition has to be two-fold: first to retailers to get the products into stores, and then again to customers to get them to buy. So RSP Nutrition has to know how to tell its story, to demonstrate the real benefits it can offer to both retailers and consumers. For consumers, that means know how the product really works for people, and how it can improve lives. For retailers, it's about proving that the product will sell and make money. There are all kinds of ways that you might be better than your competitors—you might differentiate on price, on service, on features, on convenience, or many other possibilities. The trick is to study your competitors, know what they do well (and don't do well), and figure out where you fit in to the picture. Then you can target your message to market most effectively.
Communicate Why You're Better
Once you know your customer and why you're better, then you have to actually communicate your value to your customers. This includes the parts of marketing that everybody thinks of (advertising), but also a lot more. "Let people know about it. Let people know you exist, and tell them why you're a better option than what they're doing today," said Moore.
The way you present yourself, the way your employees act, the way your store looks—it all communicates something. What's important is that it should all be communicating the value and differentiation of your products. And you have to be on the right platforms to get your message across, too. The other small business guests for this event were Ron and Diane Pence of Images Incorporated, who have been in business for 25 years. They started their marketing by letting their product speak for itself—by boldly knocking on doors, talking to potential retail partners, and showing off their product. Now, they have the opportunity to improve their marketing by setting up a website, which would help them communicate their value and their products to more people, more often.
Success Saturday
The next Success Saturday event will be March 30, 2013, on the topic of how to "Maximize Your Tax Deductions." Don't miss it!
Published: February 27, 2013