The restaurant industry has been witnessing a change in consumer trends over the last few years. Customers have become less interested in dining at restaurants and now prefer the convenience of ordering in. It is the better option over getting ready to go out, fighting traffic, and standing in line to be seated when you can sit back, relax, and have your favorite cuisine delivered right to your door. But how do you do this?
Enter – Cloud Kitchens
A Cloud Kitchen is a restaurant that does not have a physical location where customers may dine. It is a commercial kitchen, sans the seating and takeout choices, that you'd find in a normal restaurant.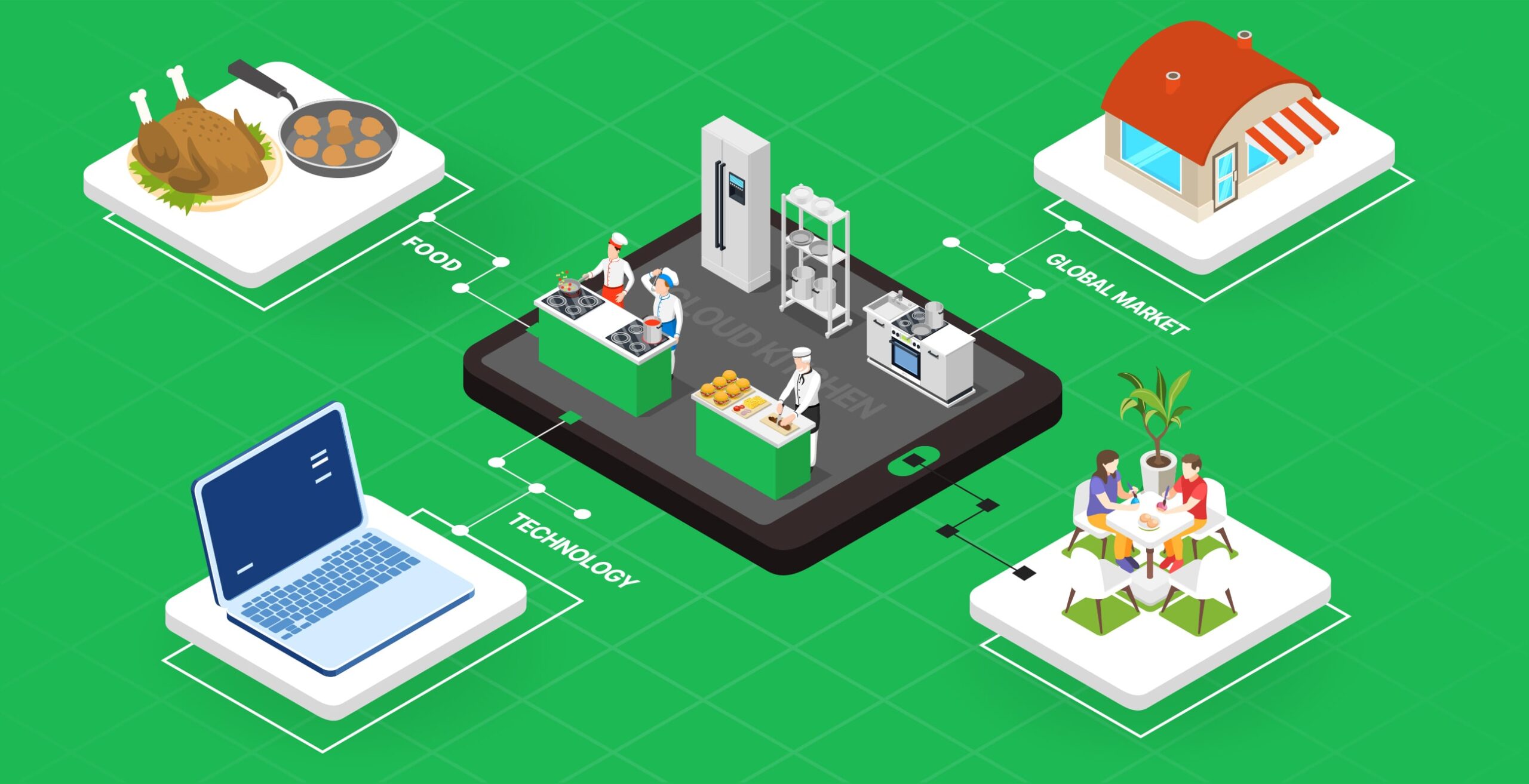 Cloud kitchens review their orders online, from a restaurant's website or app, or even through a third-party delivery application. Sounds exciting right? Even restaurant owners of renowned companies are catching on to this new trend and are giving this new and exciting model of running a restaurant a try. It is also a viable option for new and upcoming restaurants that are still creating a name in the competitive restaurant industry.
All in all, Cloud kitchens are new, they are trendy, and they are highly profitable. This post will dive into everything you need to know about Cloud kitchens and this new business model of running a restaurant. So, let's get to it.
What are the benefits of running a Cloud kitchen?
First things first, it saves a lot of money. Cloud kitchens require less capital expenditure and low start-up funding. What's more? No money is spent on rent, interiors, tables, or the infrastructure of a dining facility. You don't have to hire staff or train them; you don't have to directly interact with clients.
Cloud kitchens have easy and simple operations, when compared to a traditional restaurant, it's a seamless experience.
Requires low capital expenditure
Running a traditional restaurant is expensive and exhausting. One big dent in your budget is the enormous rents that most restaurants are burdened with. Real estate prices are high and if you want your restaurant to have a good brand image and an esteemed client base, you need to set it up in a respectable neighborhood with good foot traffic.
All these factors make rent prices soar high. Many dreams of restaurants are thus squashed due to the rent costs incurred. But no more. Cloud kitchens take away the stress of renting an entire restaurant space. All you need is a kitchen unit. You can cook your homely meals here, make sure you are close to your target audience, and deliver your yummy food to your customers. Reaching your target audience is now easier and cheaper.
Provides higher profit margins
It is a simple concept. If you aren't spending a lot, you are saving a lot. A traditional restaurant has a lot of overhead costs. But here you pay much lesser for utilities like water, electricity, infrastructure, and staff which includes, hosts, cleaners, and servers. You must account for delivery costs, but you are saving a lot on everything else. Your operations are simpler to manage with lesser factors to consider. No staff or rent included. You can make higher profits by even offering highly competitive prices to your customers and driving in more orders.
Quick, efficient service that wins over customers
With cloud kitchens, you are not bound by locations. You can have kitchens across towns and reach your customers faster with hot and delicious food.
More flexibility to experiment
Experimenting keeps your restaurant brand young and interesting. You can make full menu changes without having to go through the process of managing operations. You can try out dishes and see how your customers react. You don't have the same baggage as full-fledged restaurants. You can adapt to changes in customer trends and have fun with your food!
A larger scope for expansion
This is the most interesting aspect. Cloud kitchens have scope for expansion, you can run several brands from one kitchen. Different cuisines from one location. With low overhead costs, it's profit all the way.
Collect customer data easily
Technology is your best friend while running a Cloud kitchen. You can choose an online ordering system for your website and app, ensure it is customer-friendly and you are good to go. Your website and app collect data that you can use to forecast trends and change your menu accordingly.
What are the costs of opening a Cloud kitchen?
If you are deciding on setting up a Cloud kitchen or a cloud kitchen you need to account for everything from rental costs to restaurant POS to inventory. Here are a few things you would be sending money on:
The cost of a kitchen unit.
Cost of acquiring the necessary licenses
You'll need commercial kitchen equipment fit for all your needs.
You will spend money on building a good staff.
For a Cloud restaurant, you need a strong online presence and marketing strategy.
You will need good branding and packaging as it is the remote interaction your customers will have with your brand.
You will need a good restaurant POS & Inventory System to run operations smoothly.
Different types of business models you can choose from for your Cloud kitchen
Independent Cloud Kitchen Model
The original kitchen model serves a single brand with one kitchen. With food delivery on the rise, this is the best way to avoid high rental costs with no seating and dining pace requirements.
Freshmenu Business Model
One brand, one kitchen but a mix of a takeaway restaurant and a Cloud kitchen. Customers can take their pick of dining or order in.
Rebel Foods or Faasos Business Model
In this model, there are multiple brands with different cuisines but one kitchen. It's a complete Cloud kitchen that uses data intelligence to figure out customer preferences to offer cuisine a neighborhood needs.
Swiggy Access Business Model
Also known as the "shell" in the restaurant industry it has a cloud kitchen with basic infrastructures and is owned by Swiggy. Restaurants can rent this kitchen space and use Swiggy's online ordering platform, their delivery people, and marketing strategies. So, you can focus on the food and leave the rest to Swiggy.
Bottom line
Choose a business model that best fits your needs and can win over your customer's loyalty. Which Cloud Kitchen business model would you pick for your restaurant?
Author: Sabah Batul is a young professional with a background in Journalism and Literature. She is currently working in the Marketing and Communications domain.