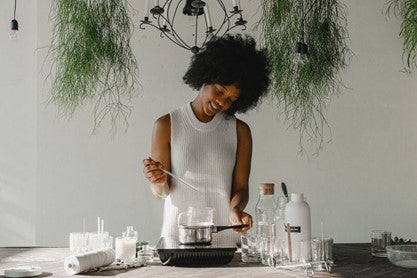 A simple hobby such as candle-making can be a lucrative and scalable business in the future. It has great potential because, for one, it is easy to set it up. It does not require a brick-and-mortar shop to sell. Furthermore, it does not need a massive space to hit the ground running – essential candle tools, supplies, and a basic working table can jump-start this trendy home décor business.
Read on to discover how to build your profitable candle empire.
What is your pitch?
Creating a business plan can be very intimidating, but do not fret. A business is very dynamic. Your objectives today may not be the same in a few months, but defining your purpose will serve as your framework. The purpose spans the core of the business. It answers the questions "who" and the value it brings to consumers, and the "what." Case in point, Love LuLu Candles is a company that produces pure soy scented candles that celebrates life occasions targeted to homemakers and candle lovers.
The target market
A profitable business adapts to the need of its target customers. To capture your market, brainstorm on the following:
Who will buy your candles?
How much are they willing to spend on your candles?
The answers to these questions will define your raw materials, ingredients, scents, vessel and packaging.
Seek your tribe
Finding your niche is a crucial step. Identify your brand identity in the sea of candle makers and sellers in the marketplace. Consider the value proposition of your products with regard to scent line-up and combinations, unique packaging appeal or creative names for your candle. The end-all and be-all of your candle biz is to sell distinctive candles that they cannot find elsewhere.
Brand identity
In coming up with a name, logo and identity, never veer away from what you are passionate about, your unique selling proposition and your core. Being personal and genuine to yourself takes you ahead of your game. In identity identification, stick to who you are and never be confused. Churn and process what is working and discard or adjust what is not.
Basic budget
Set up a working budget by estimating the cost of supplies, equipment and overhead. Explore your local business community for a flexible business line of credit to help you with your start-up biz.
Brand development
Develop your initial product listing with prices. Always factor in supplies cost and your time spent producing your products in setting your profit margins. Ensure that your product line is manageable and small. Prioritize scents and candle designs that your friends and families patronize before going live.
Online shop
Networking goes a long way in eCommerce. Set up your online shop and join community pages. The top places to sell are craft shows, local crafts pop-ups, online marketplaces, your online store and social media.
Candle-making has all the elements of a sweet business formula, low risk, low capital, and high margin of profit. It can be your playground – trial and error, make mistakes and adjust accordingly. Continuously experiment and get better.
A small-scale business is a typical route taken by hobbyist turned entrepreneurs; start small but dream big.