Much has changed in recent years since the pandemic, especially within entrepreneurship. People in the US have reconsidered what makes up their dream career, and for many, self-employment has become more desirable.
IONOS wanted to explore this new outlook on entrepreneurship and conducted a study to find out what the American people really think of startups and being your own boss. A few other surprising facts were also discovered…
Startups in later life
Startups are not just for the young. In fact, starting a business in later life has many advantages.
When asked about the most important factors when starting a business, the participants in the IONOS study stated that life experience is the most beneficial. Entrepreneurs who have age on their side tend to have a better knowledge of what works best, as they have generally had more time to test and perfect their ideas.
Also, the older you are, the more likely it is that you'll have more money behind you to fund your business idea, plus better networking opportunities.
America goes green: Sustainable startups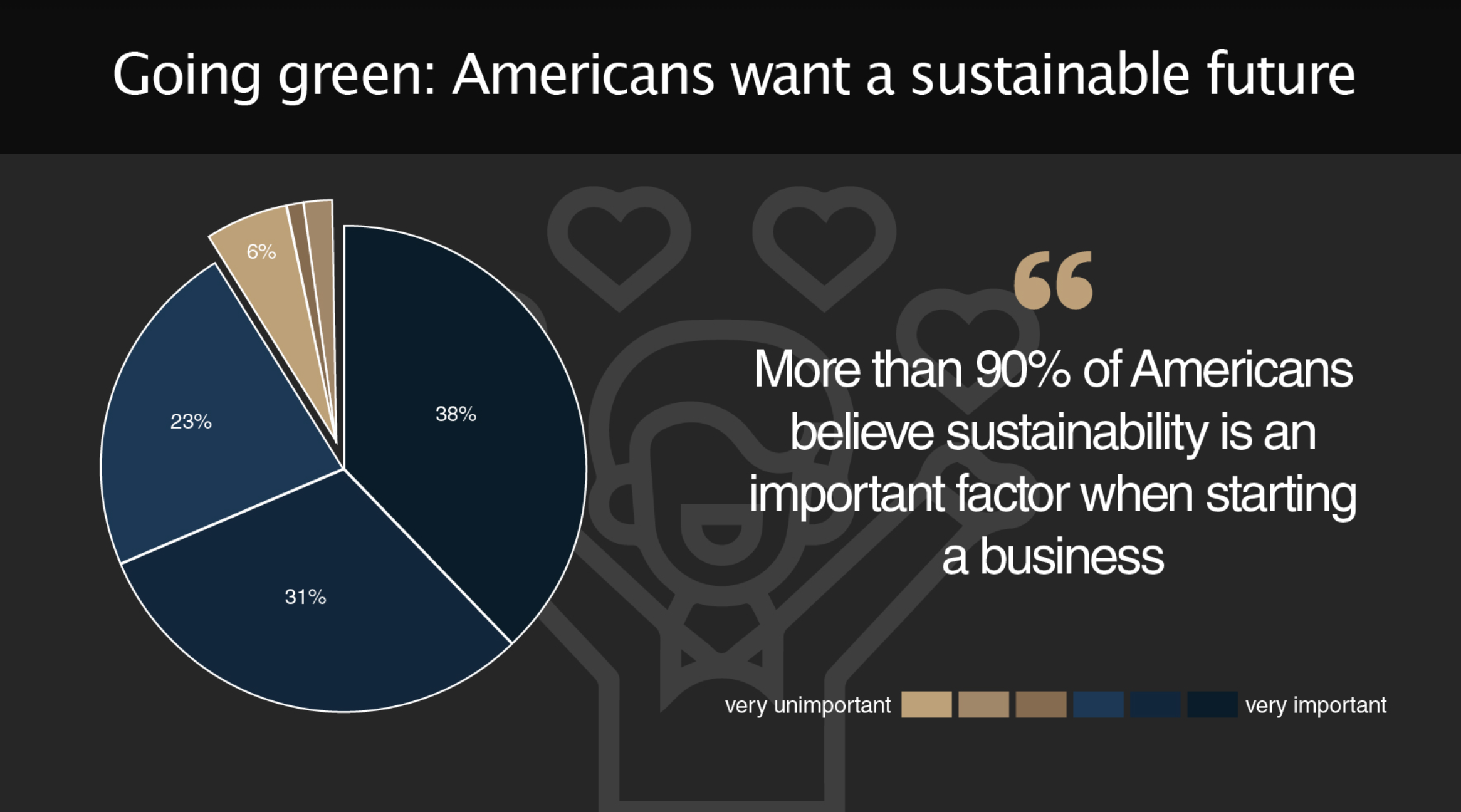 Sustainability is at the forefront of many people's minds. Businesses have started to implement changes to meet the demands of consumers, and entrepreneurs are paying attention.
New and innovative ideas have sustainability at it's core. Ninety percent of the study's participants stated that going green in business is essential in creating a positive image for customers and for competing with other brands.
This recent shift in societal attitudes towards sustainability is a major win for the environment, and it seems inevitable that more and more eco-friendly businesses will continue to spring up in the future.
The advancing role of digitalization
It's no secret that COVID-19 has fueled the digital world and emphasized the importance of digitalization, especially in business.
Having a sophisticated online presence might arguably be the key to a successful business. A large majority of the survey's participants stated that being active online is much more important since the pandemic.
Rural vs City startups
Location was once a major consideration when launching a business, but thanks to recent digital advancements, starting up outside of the city has never been easier.
Thirty-seven percent of the participants in the IONOS study believe that it is no longer important to be in tech hubs and big cities. Some even predict that the advancing role of digitalization will create more opportunities for rural startups and lead to ideas that have never been thought of before.
Females mean business
An important finding from the study found that women – especially mothers – want to be self-employed. More than 35% of the American people are unsatisfied with their jobs, with women making up a higher percentage than men.
Women have always suffered structural inequalities in the workplace. But it seems they have had enough.
More than 64% of the women in the study stated they want to be self-employed and are making changes in their careers to fit this dream. Flexible working hours and a better earning potential were the main reasons the women wanted to ditch their jobs and make the switch to self-employment.