Selling crafts is a lucrative way to tap into the ecommerce sector. The market size is worth over $36 billion in the US, and the opportunities are massive. However, not every DIY craft have enough demand. When doing product research, focus on the sweet spot: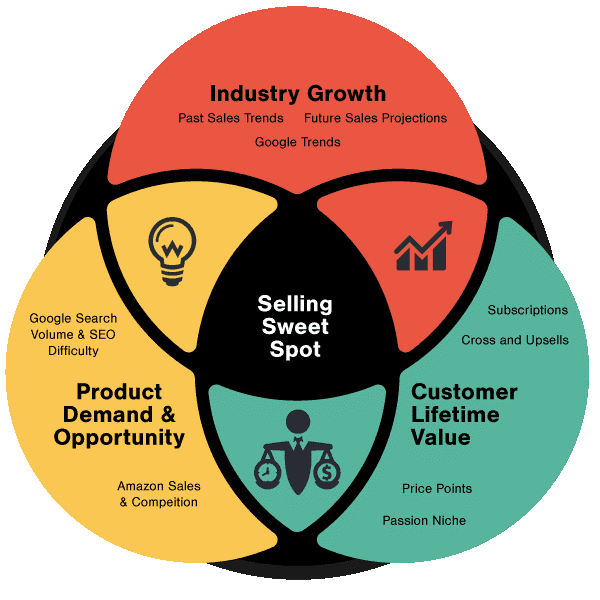 These are 7 crafts ideas that can inspire you to build unique stuff to make a profit. From my research, there's demand and high volume searches on Amazon and Google, and you could make lots of profit from them, however, still do your bit of market research before jumping in.
1. Lip Balm
Starting a homemade cosmetics businesses might not be the easiest, but it's very profitable. The lip balm market is set to rake in $824 million by 2021. It also has good enough search volume, both on Google and Amazon. If you want to go into this business, you can follow this guide on starting a DIY cosmetic business.
2. Bath Bombs
People were crazy over these on social media last year, and till now, the love for this explosive product hasn't come down. There are many fans willing to buy from you. You can start on Etsy. Selling on Etsy gives you a wide market, but it also means that part of your profit will go to the marketplace.
3. Tote Bags
The trend is steady, which is a good sign. Also, I noticed the search volume is in hundreds of thousands. There's high competition as well. You'll hardly see products with that much demand and low competition. The good thing is that there's room for newbies.
It's a fashion product, so there are many opportunities for marketing, even cross/up selling with other fashion items. You could sell this alongside private/white label shoes, or even leggings (given the use of the bags). Also, if you want people to find you, one working way is to go viral with the right strategy.
4. Pixel Art / Paintings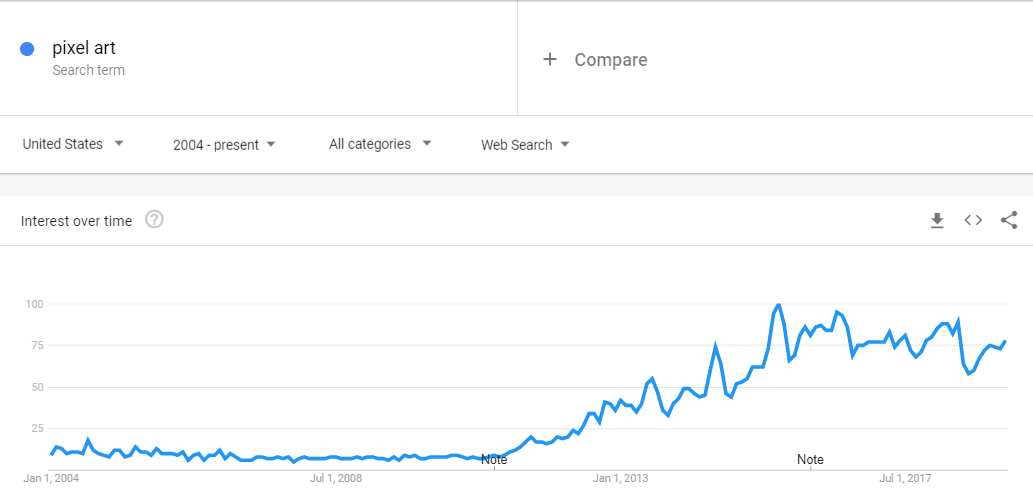 There's massive demand for pixel paintings and art, both for home and office decor. What I like about them is that you don't have to create much until you get an order. You could paint a few and use print on demand to cover the rest, so people make custom orders, and you sell.
5. Cufflinks
Cufflinks wouldn't go out of demand any time soon. The corporate world and some ceremonies will still cause people to wear them. Both men and women use them, and you can create pieces with an edge and simple ones as well.
You can sell these with ties and suspenders, then affiliate market for other fashion products that could go. If you are going to run all these on your site, you'll need these tips to scale up your online store.
6. Natural Body Scrub
Despite the warning on cosmetic products with microbeads and the effects on our environment, some brands still make them. With people being more enlightened, there's more move towards natural and eco-friendly products.
You can invest in this with a natural body scrub. There's interest, and it doesn't cost much to make one. You could sell/affiliate market with a similar item, like cleaning agents, or any other idea from this list.
7. Gadget Case
Phones, tablets, iPads, etc. You can make trendy cases for them. Maybe it's the celebrities posting about theirs or just the protection factor. Whatever it is, phone cases have a search volume running into tenths of thousands, and that of iPads go above that to hundreds of thousands. This is one of the easy DIY for those that are creative.
Conclusion
You might have the best idea, but if you sell on the wrong platform, you will not be able to maximize the potential of your products. You can go with the ones I have mentioned here or this post. In all, selling on your site gives you more room for growth and control over your profit; no margin cut, no policy to deem your shine.
Marketplaces though still have their good parts, and there's no harm in combining both, especially during the first few months of starting your business when very few people know of your website.