The U.S. could be headed for a prolonged recession following the coronavirus pandemic, which has taken an economic toll worldwide. Small businesses looking to survive — and thrive — during a recession can implement best practices now to better navigate an impending new climate.
Recession-proof businesses are those that meet essential needs for customers, selling products or services that are useful in different economic climates. Owners of recession-proof businesses are nimble and ready to pursue new opportunities in good times and bad.
5 traits of recession-proof businesses
The coronavirus pandemic has pushed the U.S. into recession territory, and economic recovery seems a long way off as new cases spike in cities across the country. Although further lockdowns and social distancing would likely curb the spread of the virus, economic activity would take a significant hit. Small business owners may want to take any possible precautions to avoid forced closures as the economy slides into yet another period of uncertainty.
Whether or not a business survives a recession depends on its product offering, leadership and management, location and broader industry trends. But there are several traits recession-proof businesses are likely to share.
1. Essential or need-based offerings
Businesses that can be described as essential or need-based tend to fare best during a recession, said Ben Landers, CEO of digital marketing firm Blue Corona. Providing a product or service people can't go without rather than a luxury item would increase the likelihood that you'd retain customers during hard times.
"On the business-to-business side of things, think network connectivity versus office snack delivery," Landers said. "On the business-to-consumer side of things, think plumber versus custom remodeling."
2. No alternatives to what's provided
Not only should your products and services be essential to your customers, they should be relatively irreplaceable. What sells during a recession are goods with no practical alternatives, Landers said. Or, your business should provide services your customers cannot or would not want to do on their own.
"When COVID-19 hit, my wife convinced me to make a family day out of weeding our gardens and spreading 10 square yards of mulch," Landers said. "But when the toilet broke in our master bathroom, we called a plumber."
3. Ability to adapt to changing circumstances
To survive an economic downturn, business owners must analyze current operations and make changes to adapt to new conditions, said Liza Rodewald, CEO of talent management software Instant Teams. In regard to the coronavirus pandemic, those changes may include creating contactless services or remotely managing employee productivity, she said.
Make sure your business is prepared to handle different economic scenarios going forward. Companies with financial safeguards in place and the ability to make quick decisions would be better equipped to react to new information, good or bad. Preparing for as many situations as possible would help your business build resilience.
4. Effective cash flow management
The one mistake entrepreneurs cannot make is running out of cash, Landers said. Before a recession sets in, business owners must figure out how long the business would stay cash flow positive if revenue drops but expenses stay the same. From there, you'd need a plan to reduce expenses before actually losing any revenue.
Cut costs with a goal of maximizing the number of months the business could stay open at reduced revenue levels. Make those cuts while also improving the value of the business and protecting jobs. The key is to make these changes before you need to, rather than taking a wait-and-see approach, Landers said.
"Unfortunately, at the time, you will worry that you're acting too aggressively," Landers said. "In hindsight, you might be, but this is a situation where you may be wrong. You may end up looking like a jerk, but your business will survive."
5. Innovative business models
Recession-proof businesses often implement out-of-the-box strategies to alter traditional operations, Rodewald said. Your business model should allow you to think critically and reevaluate the business.
"Does having all your workers be full-time employees working eight-to-five really make sense? Are you missing opportunities to leverage your workforce in a more creative way? Learning how to truly leverage remote work will become mission-critical," Rodewald said.
It's important to keep long-term goals in mind as you make modifications to the business. As your team acts urgently to counteract the immediate effects of a recession, you may be able to implement change on a larger scale to ensure future success for your business.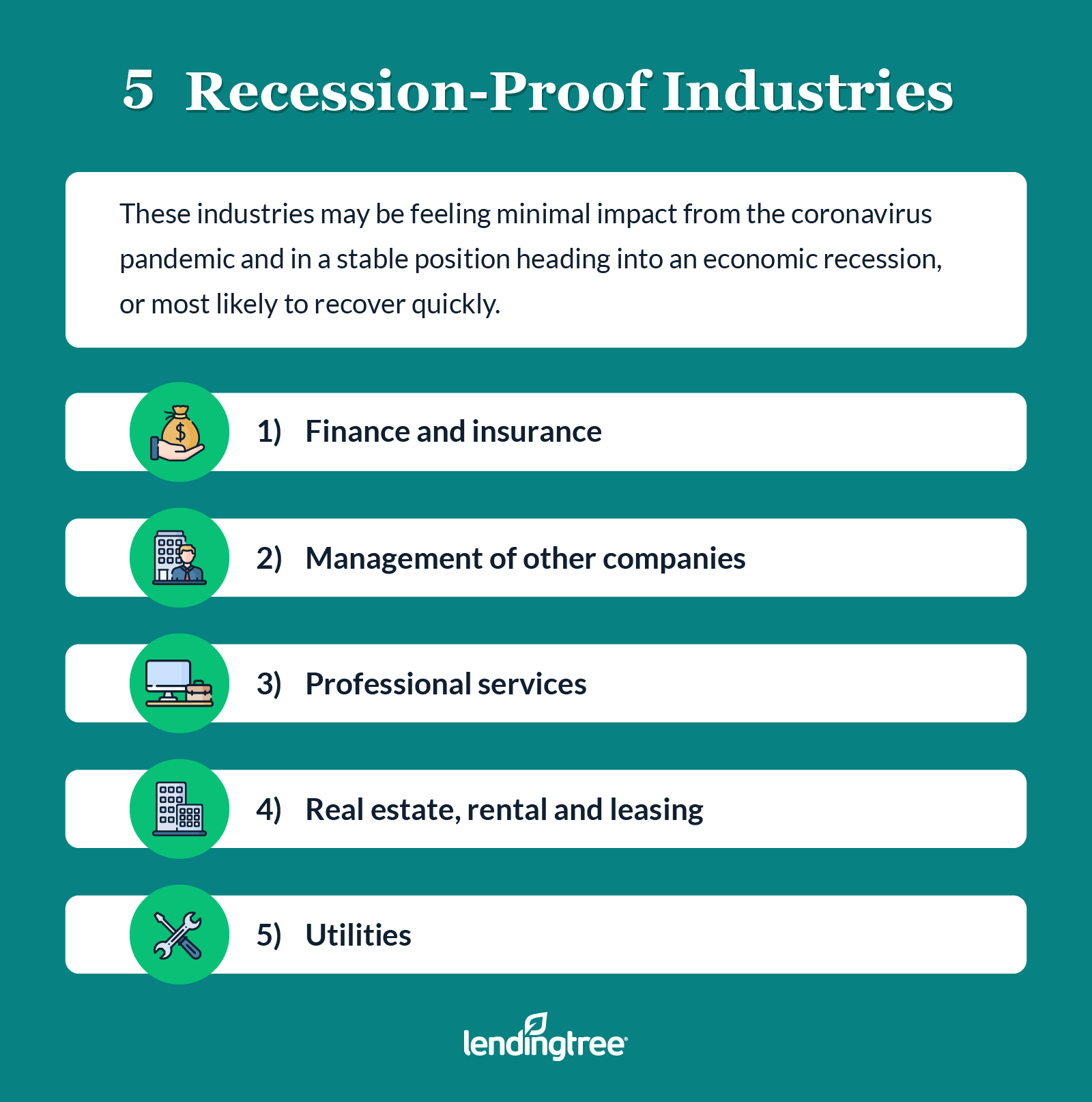 How to profit from a recession
Thinking creatively about your business can help you not only survive a recession, but turn a profit during the crisis as well. Brainstorm with your employees, shareholders and key customers to generate an improvement strategy to find opportunities during a recession.
"Think of the saying 'never let a good crisis go to waste,'" Landers said. "Constraints drive creative thinking, and an economic recession is a serious constraint."
Here are a few steps you can take to make a profit during an economic downturn.
REENGAGE CORE CUSTOMERS.
Return to your roots and reconnect with those who make up the foundation of your customer base. Make sure your marketing strategy to engage customers is location-specific. A recession may impact geographic areas differently. Keep this in mind if your business has a presence in various areas, or if your customer reach spans several regions.
PLAN FOR THE WORST, BUT STAY POSITIVE.
Confront the reality of the situation and calculate how long the business can continue operating without running out of money. As discussed earlier, reduce expenses as early as possible. However, balance your approach with optimism. Be sure to share a positive yet rational outlook with your team.
PRESERVE CAPITAL.
Take any measures you can to conserve capital. This could include simplifying or altering your businesses model, or making a complete pivot if necessary. Diversifying your sources of revenue would be an additional help to your business, as long as you're efficiently managing your operations.
ESTABLISH FINANCING AHEAD OF TIME.
Before a recession hits, set up financing for your business while you're still in good shape. Opening a flexible business line of credit would give you access to cash on an as-needed basis if your business struggles in the future. Also save three to six months' worth of daily business expenses, just as you would with your personal emergency funds.
Industries most affected by a recession
During an economic downturn, consumers are careful where they spend money. Industries that rely on high consumer demand like retail, tourism or travel may be most negatively affected during a recession, Rodewald said. Manufacturing companies that rely on the supply chain could be heavily impacted as well. Supply chain barriers are usually a common occurrence during an economic downturn.
Restaurants and small retailers would most likely be the first to feel the effects of a recession, just as they were when the coronavirus pandemic reached the U.S. Industries that COVID-19 hit hardest may be in the toughest position to survive another economic downturn. Those businesses would be poised to face additional hardships, though all companies would likely have hurdles to overcome.
"The future of business needs to survive in a dual-challenge environment — anticipating and executing in the post-COVID new normal, and adapting to the looming recession," Rodewald said. "Look toward the innovation opportunities and positive impacts your company can have."
Author:
Melissa Wylie is a Senior Small Business Writer covering small business financing for LendingTree.com and LendingTree-owned domains MagnifyMoney and ValuePenguin. In her role, Melissa explores all aspects of business ownership, from the start to the sale to all the hurdles in between.