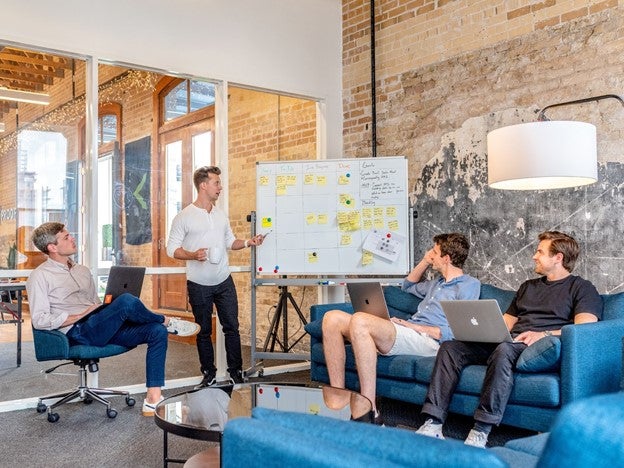 Your customer churn rate is the percentage of people who decide to no longer do business with your brand. When you're looking at improving your customer retention rate, you'll want to analyze why previous customers might not return to you, and what you can do to keep their loyalty. 
To help with that, we're going to provide you with our 5 top tips for reducing your customer churn rate so you can keep your clients happy and your sales up. Read on to find out more. 
Welcome customer feedback, and take it onboard 
The first step to reducing your customer churn rate is to work out why people don't come back to your business. The easiest and most effective way to learn more about this is by speaking directly to your customers.
One of the reasons why customer feedback is crucial to running a successful business is that it lets you know what your customers are experiencing while using your services and it gives you an idea of what you can do better. It's not enough to just ask for your customers' opinions, though — you also need to truly listen and act on them. 
To get authentic feedback from customers, you can simply send them a survey form asking about their experience of shopping or working with your brand. To make things easier, you can also list your business on sites like Google My Business or Yelp and then send emails that include these links so people can give you star ratings and reviews. 
Focus on helping your customers to make the most suitable purchases
If your company can help people to make the best purchasing decisions to suit their needs, you'll be far more likely to get repeat customers. It's one of the tried and tested content marketing techniques you can use to grow your business. 
Content is a very effective tool for giving people information that will help them buy the right products or services, and there are different types of content that are very good for doing this. 
For instance, buying guides are designed to outline what people need to consider when shopping around for a particular product or service, while case studies show how a specific product or service has helped a person or business. 
You can also create comparison pieces that compare similar products so that people can choose the one that best suits their needs. Or you could use product demonstrations in the form of videos to display the features of a product and how it can help solve problems for customers.
Let's take a look at some companies that already do a good job of creating this kind of content to provide you with some inspiration.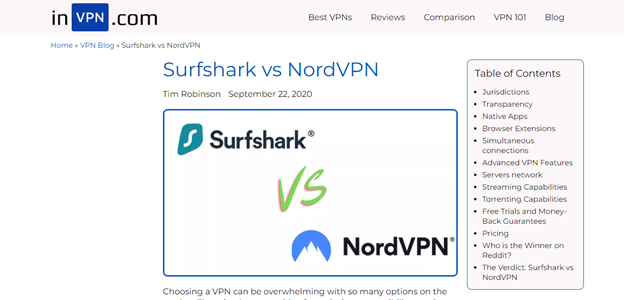 First up is an example from inVPN.com, an online resource that provides information about VPNs and other online privacy tools. 
On their website, they have a post that talks about two types of VPNs: Surfshark and NordVPN. The piece compares the features of the two products, their pricing, and other peculiarities that will help their readers make the best choice on what VPN to choose. 
It's a great example of a comparison piece that does a good job of giving customers all the information that will help them pick the most suitable product. Publishing content like this can help to reduce your customer churn rate, as it will increase the chances of your customers being happy with whatever they purchase from you.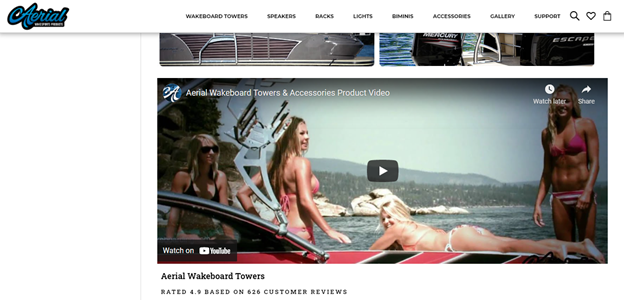 Next up is this product demonstration video from Aerial Wakeboarding, a brand that provides products like wakeboard towers and other accessories for water sports enthusiasts.
They've placed a video on their homepage to showcase their ski tow bars, wakeboard towers, and other products in action. This is a great resource for people who want to learn more about how these products work and whether they're going to be suitable for the activities they already enjoy or are thinking about trying out. 
If you sell products, videos like this can help to greatly reduce your customer churn rate, as it will show people exactly what to expect from certain items and help them to make informed purchases. This will ensure they're happy with whatever they buy and will increase the chances of them coming back for more.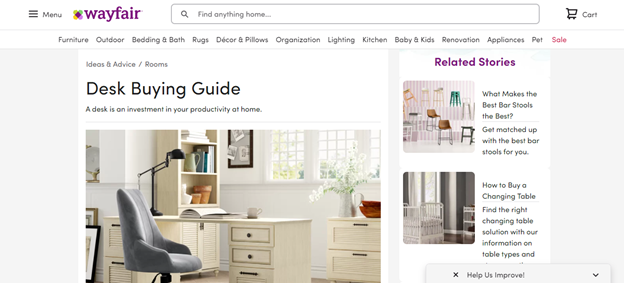 When it comes to buying guides, take a look at this great example from Wayfair, an online store that sells furniture and household appliances. 
Their desk buying guide outlines the different types of workstations they have available, along with photos, of their dimensions, and what special features they have. 
The guide goes into detail about what to note when buying a desk and even considers the fact that readers will have different budgets. It's definitely content that will be of great help to their prospective customers when shopping and will reduce the rate at which they lose customers.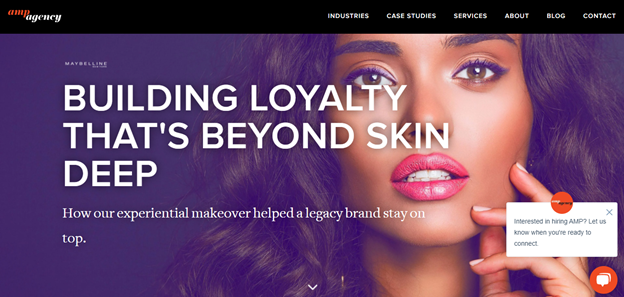 Our next example is from Amp Agency, a digital marketing company. If you look through their website, you'll see that they have various case studies on how they've helped clients achieve great results. This includes their Maybelline Skincare case study where they outline how they were able to improve loyalty among Maybelline's audience. 
The case study highlights the challenges faced, the solutions employed, and the results they got from the project. Future customers can always view this case study as well as others to determine whether Amp Agency is the right solution for their business. This will ensure happy clients who will come back time and time again, reducing the company's churn rate. 
Consider whether any of these types of content would make a great addition to your website, and get creating! 
Make great customer service a priority
To earn your customers' loyalty, you want to make it as easy as possible for people to get in touch if they have questions, concerns, or complaints. And don't forget that people like to communicate in different ways so, to cater to as many customers as possible, you should offer different communication channels. These could include email, phone, social media, and live chat options.
In order to provide exceptional customer service, you might even find that you need to hire a specialist team or outsource it to a company that specializes in this area. This can help you to make sure that each customer complaint is being handled in a timely and efficient manner, which should have a huge impact on your customer churn rate. 
You should also make sure that your customer service team keeps a record of all the complaints or inquiries they get so you can review them regularly and assess the quality of your support service. 
To give you an idea of how you should be displaying your contact options on your website to make life as easy as possible for your customers, here's an example of a website that gets it right.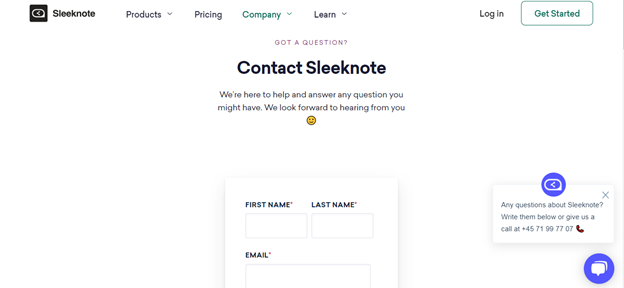 Sleeknote is a lead-generation tool that helps businesses to get more prospects with engaging pop-ups. They make sure to get their customer service right by offering multiple contact options, which can easily be found on their site. They have a phone number for people to call, a contact form for sending messages, and a live-chat feature that lets people speak with a company representative in real-time. 
Letting people know that the company is available through various mediums will reduce the risk of people leaving their brand and increase their customer retention rate. To do this for your business, make sure you create several contact options for customers to reach you, and allow them to do this directly from your website to make it as convenient as possible. 
Keep customers coming back with content that provides value
If you want people to make repeat purchases, you need to give them a reason to revisit your website time and time again. One of the most effective ways you can do this is by publishing high-quality and informative content your target audience will be interested in.
To do this, you'll need to improve your content strategy by coming up with relevant content ideas. You can get these by looking at what your competitors are doing or conducting keyword research to see what kinds of information your customers are looking for. 
To conduct keyword research, choose a specialist tool like Ahrefs or SEMrush and type in words or phrases related to what you do. You can then see which relevant queries people already have. Then, think about whether you could create content inspired by them.
Another method for coming up with content ideas is to look through the questions that people send to your customer service team. Or you could also try to cover topics that others in your field aren't yet. 
To give you some inspiration, let's look at examples of businesses that do a good job of creating informative and valuable content that will keep their customers coming back for more.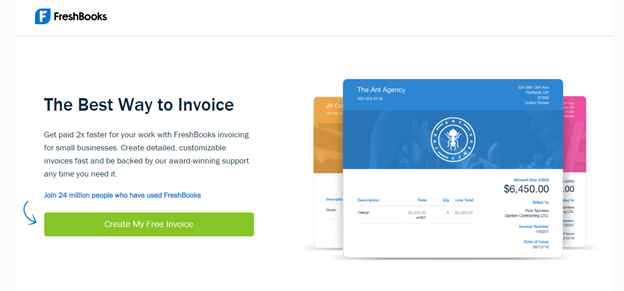 For instance, FreshBooks provides an accounting solution for small and medium-sized businesses. So, they've created a free invoice template that provides a lot of value for their audience. 
Here's the thing: when people see that a company has given out valuable content for free, they're likely to stick around to try and find out how much more value they can get. So, by making a free invoice template, the company has created a reason for people to keep coming back to their site to make use of this free yet valuable content.
If someone has invested in FreshBooks' accounting software, they'll be much more likely to ignore competitors and stick with it if they enjoy using these templates. So, consider how you could provide similar value for your audience.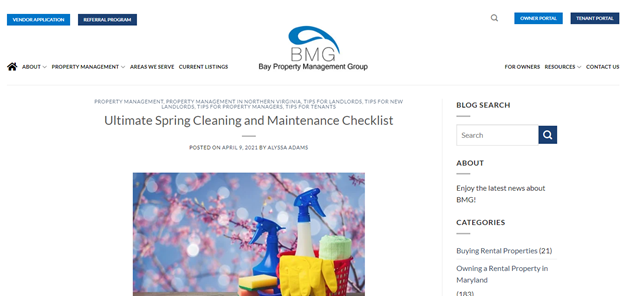 We also have another example from Bay Property Management Group. They help customers take care of their leasing and property management needs and on their blog, and they have created a spring cleaning and maintenance checklist that their audience is sure to appreciate having access to.
It is a very informative piece of content that can help the people in their audience who have rental properties that they need to keep in great condition. If someone takes a lot of value away from this piece, they'll feel like they've had a very positive experience of working with Bay Property Management Group, so they'll be likely to continue doing so, reducing the company's churn rate.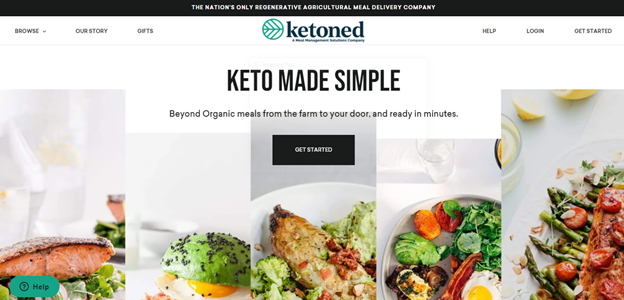 And last but definitely not least is this example from Ketoned, a meal management service that makes it easier for people to have access to healthy and organic food. Besides providing delicious meals, they have also created recipes that their customers can use to prepare meals by themselves. These are great for ensuring their customers keep coming back for more information, and is likely to increase the chance of them continuing their subscriptions. 
As you can see, there are several types of valuable content you can create to get people to keep coming back to your website, which should help to reduce your customer churn rate as a result. It could be blog posts, free templates, or checklists, but you need to make sure your content is genuinely useful and will help solve relevant problems your audience is facing. 
Incentivize repeat purchases
You should be giving previous customers a reason to return to your website or store. To do this, you could reward them for every purchase with loyalty points, send them coupons in the mail, or email them discount codes they can use within a limited time period.
However, you need to carefully plan your incentives so you don't end up losing money. This is why most brands base the incentives on a specific action. So, for instance, you could offer a 5% discount if a customer purchases a particular product or you could add an additional item to their cart if they buy something worth a particular amount. 
You should also use a reliable email marketing platform that will allow you to create and monitor these reward campaigns as they go out to your customers. WPBeginner actually has a great round-up of the best email marketing services that can help you with this. 
And, for more information about incentivizing repeat purchases, you should definitely check out SmallBizClub's guide that highlights different discounts and deals you can offer as incentives to increase sales and keep customers coming back. 
Summary
Losing customers is an inevitable part of doing business. But, if you want to reduce the rate at which customers leave your brand, start by implementing customer feedback, making customer service a priority, and creating content that provides value for your customers. 
By doing all of these things, you'll be creating an environment where customers will find it hard to leave your brand and instead will start referring you to their friends and family.