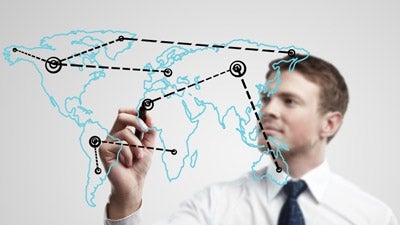 There was a time when the international market was open only to large companies with the capital and infrastructure necessary to operate across several time zones. Today, technological innovations and emerging customer bases have not only made it possible, but desirable, for smaller businesses to go global.
Depending on what your product is, it can be incredibly easy to
enter the international market
. This is especially true for tech products and services. Think about it: From the moment you've uploaded your app to a platform like Google Play or Apple's App Store, your product is accessible to the entire globe. If you're an app developer, not only is your product available to the world, but it's also facing huge demand, as nine out of 10 of the fastest-growing smartphone markets in the world are not English-speaking.
China is poised to become one of the biggest influences on the international market (more so than it has been). Right now, China has roughly 600 million Internet users—that's nearly twice the population of the U.S.
Consider the fact that on November 11, 2013—the country's 1111 Singles' Day—China set a world record for online sales, hitting $5.75 billion in 24 hours. The Chinese want to buy American products, which is underscored by the fact that they have many websites dedicated to selling U.S. items, such as Thunderex.com and SMZDM.com. Even
Walmart is preparing to move into China
, as the country's emerging middle class would vastly increase its sales growth.
Your business can get in on the action as well, but before you jump on the international bandwagon, there a few things to consider:
Product Demand
Before you move into new markets, it's important to do a bit of research and determine whether there's demand for your product in the first place. Search through your target country's equivalent to Amazon, such as China's Taobao.com, India's Flipkart.com, or Russia's Ozon.ru, to find out what people are buying.
Your Current Status
Look at your national business goals and decide whether you've achieved enough to warrant going bigger.
B2C vs. B2B
It's very difficult to expand internationally if you have a B2B company. While it's fairly easy to interact with and sell to customers remotely, business entities often expect face-to-face meetings.
Payment Handling
Are you prepared to handle overseas payments and other transactions? Some countries require you to set up a local entity and bank account in order to move payments. Once you've managed that, you have to sort out the tax implications of moving funds across borders, which can be extremely complex.
Operating on an international level not only provides huge sales potential, but it also comes with a
certain level of risk
. It's important to consider how you can minimize these hazards:
Fraud
It can be difficult to verify the validity of an overseas transaction.
Copycat
Once your brand is established, foreign entities may attempt to copy it, and dealing with the legalities of such a situation can be complicated.
Expense
If you decide to set up an office in another country, it involves the same difficulties you would expect domestically—setting up legal support, marketing, and everything else—all while doing it in a language you might not understand.
Team Accountability
Not only is it difficult to build a team from a distance, but it can also be hard to oversee operations from afar and maintain employees' accountability.
In the end, the decision to move into a foreign market is not without risks and complications, but it's certainly not without potential benefits. China alone offers a strong enough customer base to warrant managing the difficulties presented by entering it.
So if the time is right for your business to think big, go for it. Besides the potential for financial gain, it's always exciting to explore a new territory.
What would give you the push to go international?
Published: February 4, 2014
3779 Views