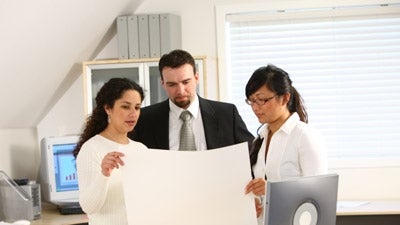 Every time you take on a new client as a freelancer, you have an opportunity to cement a working relationship that can last for years. To do so, you need to
stand out
with your clients from the get-go.
The tough part is balancing that need with work you need to get done: if you can't spend most of your time on doing great work that will please your clients, it won't matter what else you do. That makes it important to create a repeatable process for onboarding new clients. By creating a set process you can follow with each new client—or that you can even automate—you can wow your clients both with the quality of your work and with the amazing experience of working with you.
1. Interview your clients before you start working with them.
Even if you just ask your clients to fill out a form about themselves and their businesses, you can make sure that you have more information about what your client really needs. If you can, though, look into
completing a more in-depth interview
. Focus on learning about your client's goals and how you can help, beyond just completing the current project. You may not be in a position to suggest future projects your clients may want to consider or to suggest someone else who can help your client move forward after they've worked with you, but once you complete for first project together, you'll be able to.
2. Explain your workflow to your clients.
Walk your new clients through the process you follow. If you use tools that you can share some information with your clients through (such as a project management tool or a calendar where you can give other people access to just the information relevant to their projects), it's often worthwhile to do so. Many of your clients won't use such access and will instead rely on you to remind them of upcoming milestones, but making such information available can help your freelance business look more professional. You may also want to include a link to tutorials that show how to use any tools you rely on that your clients will have access to.
3. Lay out clear policies you can share with your clients.
Having a firm policy that you can turn to if there's an issue, like an invoicing policy stating when you send out invoices and how you handle late payments, can make it far easier to run a freelance business. You don't necessarily have to tell every new client each of your policies in advance, but have them on hand so that if a client asks a question, you can tell him the relevant information. Common policies can cover payment methods, revisions, emergency work and any other issues you run into on a regular basis.
4. Create an onboarding packet.
There is a ton of information that you need to communicate with a new client when you start working together—or at least a lot of information that you know you're supposed to share. If you have to rewrite that information out every time or find a copy of your contract to send along, it often doesn't get done. If you create a standing packet of information you automatically send once you and a new client decide to work together, however, you don't have to send along information piecemeal.
5. Ask your client their communication preferences.
It seems like a very subtle question, but if you can make sure that you're reaching your clients at the times they're available, through the
channels they prefer
, you'll create a great experience for them. They'll quickly come to associate communicating with any freelancer who doesn't follow their preferences with a big hassle.
6. Have all of your on-boarding materials professionally designed.
Whether your freelance specialty is design or something else, your on-boarding materials (and the rest of your marketing materials) should be clean and well designed. Since you'll likely have pieces that use over and over again, why not make sure that each document includes your logo and otherwise matches your design? A polished appearance will put you in a league of your own when clients compare you to the other freelancers who they normally work with. Even if you feel that you can't afford the necessary design help, you may be able to barter for the work or otherwise come to an arrangement with another freelancer.
7. Offer clear next steps after you complete the project.
There are, surprisingly enough, companies that will pay freelancers to do work and then never use that work—a brochure never gets printed or a website never gets uploaded. It's rare, but not as rare as you would hope. You can reduce the possibility that your work won't be used by making it as easy as possible for your clients to move forward once you've done your work. Offer them clear instructions on what to do next, as a standard part of your process. Don't be afraid to recommend more work, whether you'd do it yourself or recommend another freelancer to your client, as long as it helps your clients move towards their goals.
When you can show a client what a great experience you can offer, as well as the high quality freelance work that you're known for, that client is going to want to work with you again and again. You'll be the freelancer who he consistently recommends to his friends. You may even be the person your clients turn to for recommendations beyond the specific creative work you offer: don't be surprised if a client brings a project that isn't strictly in your wheelhouse if you sufficiently amazed him.
That sort of loyalty can make a world of difference for a freelancer. You can build a bigger freelance business when you have a few clients who come back to you on a recurring basis and, depending on how you want to grow your own company in the long run, you'll have plenty of options.
This article was originally published by Outright