Two-day shipping changed delivery logistics forever, but as consumer demand increased, so did its need. Now, same-day shipping has replaced its two-day predecessor, though some businesses still don't offer it. But to stay competitive, companies need fast, reliable shipping.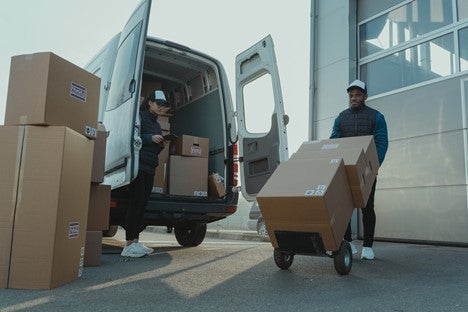 Image Source: Pexels
How to Find a Reliable Courier Service in Your City
Most businesses don't have the capital to offer same-day delivery state-wide, but that doesn't mean you shouldn't target your local buyers, whether you're in Buffalo, Houston, or Denver. Smaller suburbs might need a service based in their nearest cities for local delivery. In places like Denver, which is one of the fastest developing cities in the country, you'll need to specifically find a courier service in Denver that can keep up with the growing need.
Before selecting a courier service, read customer reviews and make a note of their customer service. Are they experienced? Do they offer tracking and customer portals? Do they cover a wide area should you want to expand? Do they offer fair price packages to their consumers?
Even if you receive positive answers to these questions, you should still ship a trial package with them. Nothing else will give you a better idea of how well a courier service performs.
How to Truly Impress Your Customers with Same-Day Shipping
Offering same-day shipping is impressive enough by itself, but if you want to stand out from your competition, you should include the following features with your fast delivery options.
Be Transparent with Your Customers
41% of consumers are willing to pay extra for same-day delivery, so the people who need this service are still going to buy it regardless of cost. However, some businesses may be tempted to hide the actual price of an item with expedited delivery until the shipping page.
Your customers don't like being blindsided. If they know what they're in for, they're more likely to take advantage of your faster shipping methods. Be clear who gets same-day shipping, the cut-off time, and the total cost of shipping to establish a trusting customer relationship.
Create a Same-Day Rewards Program
To help your customers offset some of their shipping costs and encourage more same-day shipment opt-ins, create a delivery rewards program. With these programs, your customers can earn their way up to reduced shipping, coupons, multiple contest entries, free items, and more.
Offer Real-Time Tracking and Confirmations
Your customers want to know where their packages are at all times, even for non-urgent orders. Not only does real-time tracking give customers the peace of mind that their items will be delivered on a specific date, but it also confirms if their package was delayed or lost.
When it comes to same-day shipping, live map tracking is even more important because your customers want to be at the door to accept their packages. With email or text confirmations, your customers will instantly know if they missed a delivery or if their package is outside.
Hire an Incredible Customer Service Team
As a retailer that offers same-day shipping as an option, you already acknowledge that your buyers need their questions answered as quickly as possible. By adding speedy customer service options, like live chat and quick phone queues, you'll be able to do just that.
Promote Specialized Shipping Services
Depending on what you're shipping, you may need API integration, HIPAA compliance, and an optimized supply chain. These specialized services are only available from the best couriers, but they're worth the extra cost because you can carry items you otherwise couldn't.
For example, a fleet of temperature-controlled trucks can ship food and time-sensitive items to your customers. If your courier agents are fully insured and trained to handle specialty equipment, you may be able to ship medical items provided you have a license.