If the Coronavirus pandemic has taught us anything, it's that you should always be ready for the unexpected. Not only have we seen how a pandemic like Covid-19 could shut down the world, but also millions of businesses in the process.
For many small business owners around the world, right now is a live or die moment, and the majority of entrepreneurs are teetering on which direction they might be headed.
Of course, this ultimately comes down to a number of factors. For retail business owners, they were hit the most, as they were forced to shut down their locations and still likely had to pay rent. This has left many of them with little choice but to shut down.
For other businesses, Covid-19 provided them with an opportunity to pivot and rise above the competition that decided not to take advantage of what the internet and virtual technologies have to offer.
With all of this in mind, today we are going to look at a few different solutions and technologies that can help SMBs not only continue to make money in changing global environments, but also bring in more business in the process.
Selling packages
For many businesses and brands, a great deal of money is generated by selling individual products and services. However, the preferred option is to sell products and services in the form of packages or bundles, as this not only leads to more revenue coming in but also more business and product movement.
Another great advantage of selling products and services in a bundle is that customers will often get a discount passed along to them as well – and we all know how much a good discount is appreciated when purchasing anything!
One company that has been able to help in best accomplishing this is vcita, a business-management app for SMBs, that now offers 'Packages' as part of their solution.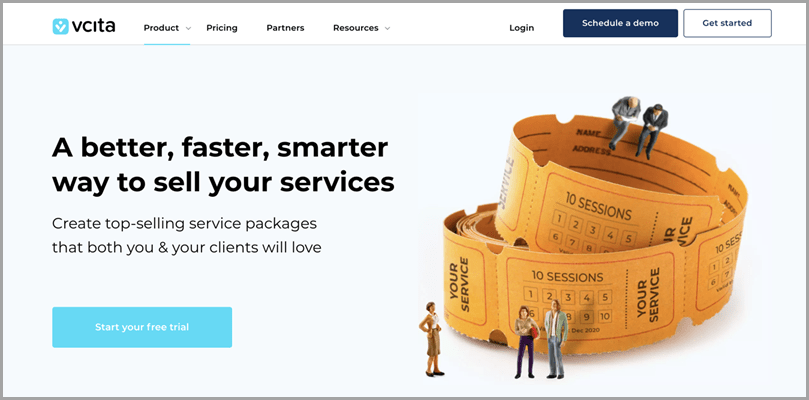 The benefits of using this business strategy include:
Increasing customer retention and securing long-term revenue
Providing customers with heavily discounted pricing options
Allowing users to pre-select services or mix-and-match options
In addition to the many advantages that we likely already think of when seeing discounted bundle packages and services, it's also a great source of incoming revenue for the business as well – while also increasing the average order size in the process.
With more attention on small business owners and the effects of being shut down for several months now, entrepreneurs and organizations are always looking for new ways to help SMBs in any way possible. When vcita launched their 'Packages' solution, the CEO of the company had the following to say.
"We see this opportunity as extremely beneficial for both the business and the customer" said Itzik Levi, CEO at vcita, "loyal clients enjoy a discount on their favorite services while the business enjoys increased retention and immediate revenue boosts".
The takeaway here is that most forms of business will eventually go back to normal, but the long term effects of what has happened during 2020 will live on for much longer. It's not enough to simply open up shop again and try to make up for lost time, but to instead implement better practices that grow and scale your business no matter the environment.
As new and more effective means for selling products and services become available, SMBs must adapt and implement such working methods to make sure their business is prepared to sell both online and offline, no matter what unknown circumstances may play out in the future.
The move from in-person to virtual
Along with the concept of selling products and services offline, the business model of selling your expertise and time has greatly been affected through Covid-19 as well. Some examples of this can be seen with professionals that offer person-to-person services relating to consulting, legal work, group classes, teaching, and therapy.
While the individual person might not be able to go to local painting and wine tasting events, or meeting with their therapist and hitting the gym… these are theoretically all possible through the use of virtual events and video teleconferencing.
However, just like I mentioned in the previous section, while many businesses and brands are affected by what's going on, it's also leading to more opportunities for SMBs that are willing to adapt and implement new strategies.
The benefits to using a virtual setting for your business consist of:
It's an easy solution to implement that more people are relying on daily
The ability to run live eventswith multiple customers/users at one time
Selling products that can be used during live events, classes, or training
A perfect example of how all of this could play out is if you had a local wine and paint party business. In the 'old-world' scenario, everyone would come to your location and sit together while drinking and painting along with the teacher. This same process can take place with a virtual classroom, and sending out all of the necessary paint supplies to customers so they can paint from home, while also being in a virtual group setting.
This is just one example, but it's also being done in a wide range of niche markets as well – especially in the personal health, education, and medical space. However, when it comes to taking your physical events virtual, there is one name that has stood out from the crowd…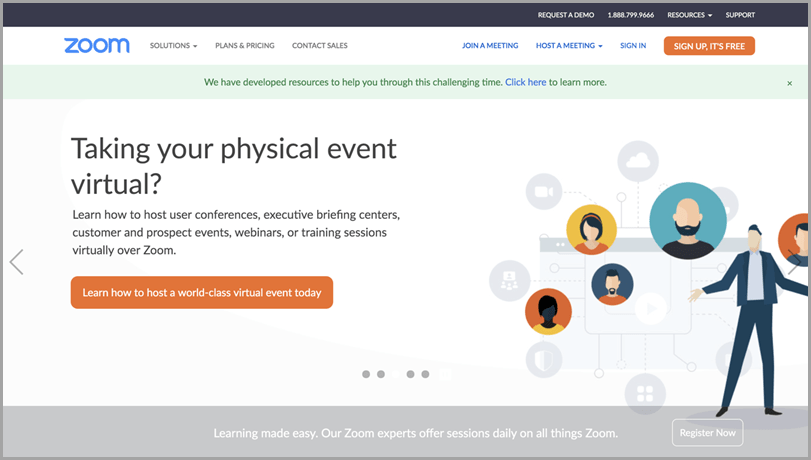 As the leading solution for video meetings and teleconferencing, Zoom has been very proactive in the way they've helped businesses and organizations throughout the pandemic, and have even released a statement on their support as well.
Mental health training:Zoom has provided free services and technical support to NGOs, such as charitable foundations and medical institutions, to assist with disaster relief efforts.
Online education:In cooperation with the China Educational Information Platform, a Zoom video conference platform was launched that supports online education and research for all universities and colleges in China.
Telemedicine enablement:Doctors from more than 1,000 public hospitals in China are using Zoom's high-definition video meetings to conduct online consultations, remotely diagnose patients, and provide treatment during the coronavirus epidemic.
As more organizations and brands have focused their efforts on connecting with business partners and clients through virtual meetings and events, this is likely to leave a lasting impression on the way we all connect with businesses and professionals in the future.
In addition to jumping on the Zoom bandwagon and connecting professionals with their customers and through live videos and meetings, another option is to launch an online course or training videos that can provide similar experiences.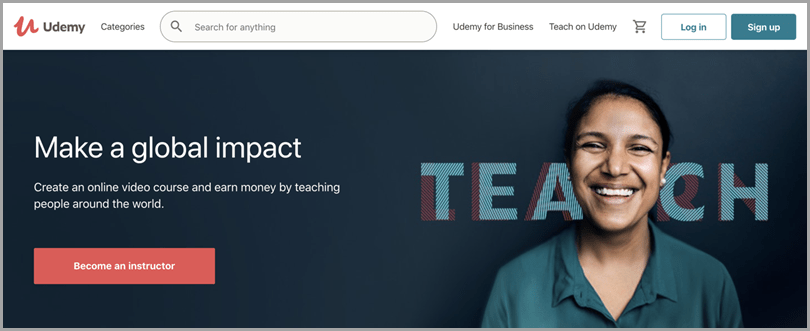 One of the most popular solutions and platforms for setting this method up is through Udemy. In short, their platform and marketplace allow instructors to create short videos that can be bundled up as online courses and sold through the site. Udemy keeps a small percentage while also helping to market the course, and the Instructor gets the remaining amount for themselves.
An added benefit is that there are currently more than 50 million students on the Udemy platform in more than 65 different languages, which makes the process of selling your course and getting new students and customers even easier.
For any businesses and brands that haven't adapted to these changes yet, there is no better time than right now – as your competitors likely have already made the switch.
Key takeaways
At the end of the day, there is no telling when, where, why and how something might come up that could affect your business. The only thing you can do, is make sure you put in the necessary tools and services to make sure your small business is up and running at all times.
For businesses and brands that were able to adapt and quickly switch over to online and virtual business models, they ultimately felt less impact from Covid-19, while also putting themselves ahead of the competition.
No matter what state your current business might be in, be sure to consider your options with each of the recommendations and examples listed above.
Author: Zac Johnson is a world-renowned blogger and entrepreneur with nearly 20 years of experience in the online marketing space and has helped his readers generate millions of dollars online. He shares his story and guidance at ZacJohnson.com