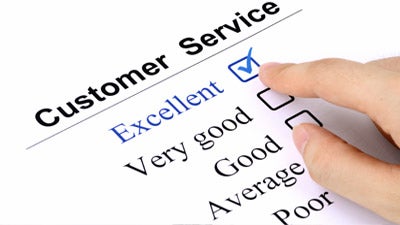 Customer service
is one facet of your company that will contribute to growing a substantial customer base. While working to entice new customers is important, it is far less expensive to
retain current ones
. Great customer service is a sure-fire way to earn customer referrals, which will in turn go the extra mile towards building your commercial rep.
So once you've got them, don't let 'em go. Follow these tips for growing an affluent customer following.
Get to know your customers
The value of taking time to get to know your customers cannot be overestimated. Over time, the use of data sources such as purchase histories or browsing habits can shed light on customer behavior, which is undoubtedly beneficial for future products, workload distribution among employees and eventually,
customer satisfaction
.
Knowing what your customers enjoy; what impresses them; what they find most convenient and what they don't care so much about will enable you to tailor the deals and offers you may send out to previous customers in a bid to get them to buy again, increasing the likelihood of their success tenfold. Inviting feedback after each purchase made will also help you identify areas of your service that may not be working, whether it be shipping rates, delivery times, availability periods or accessibility.
Forge personal connections
In this increasingly automated modern age, people are striving to be
treated as individuals
, especially if it involves a little exclusivity every now and again. Brands that tailor their customer service outreach and aren't afraid to go that extra way to impress (such as Zoopla, Amazon and Apple) are indeed the ones leaving their competitors for dust.
Follow their example and don't hesitate to get familiar with your customers. Allow your customer service or social media team to float the pages and feeds of your customers and comment on any major events or achievements that may be taking place in their lives. Keeping records of your customers' birthdays or anniversaries and offering gifts or offers around these special days also ensures you remain in your customers' hearts in a positive way.
And after all, the better you know your target audience, the clearer your marketing strategies—and products—will inevitably be.
Welcome customer complaints
No company likes to
receive a complaint from a customer
, but complaints can indeed be a blessing in disguise, allowing you to realize important aspects about your service that can easily be improved or prevented from going wrong in the future. These same problems may have stood in the way of past customers who weren't as verbal and simply took their business elsewhere. It often only takes one person to make a (successful) business sit up and take note.
Your company will no doubt have its own policy on handling complaints and offering compensation, and your customer service team should be trained appropriately. Above all, complaints should be listened to sympathetically, patiently and courteously, and the appropriate solution should be put in place as quickly as possible.
Don't forget to follow up with a phone call or email after the problem has been rectified and/or the customer compensated.
Your company may be young, but this is by no means a handicap. There are many older, more complex businesses that haven't changed their customer relations approach in years. By implementing a razor sharp, smart customer service with strong foundations, your company has the potential to go full steam ahead.
Author: Sophia Wright is a writer and researcher for Customer Service Guru, having worked in the consumer marketing profession as a Customer Relations manager and consultant for the last seven years. Her knowledge and expertise have led to her having articles published on several major leading customer care and consumer industry blogs, as well as in a handful of up and coming trade magazines.
When it comes to consumerism, Sophia is compelled by new and pioneering marketing techniques that put customers at the heart of success and growth. She values platforms for discussion regarding the satisfaction of the customer and enjoys the recognition of companies who are leading the way with regards to developing long-term B2C relationships. Follow Sophia on Twitter @gurucustomers