Even in Crisis, Outstanding Customer Experiences Can Put Companies on Top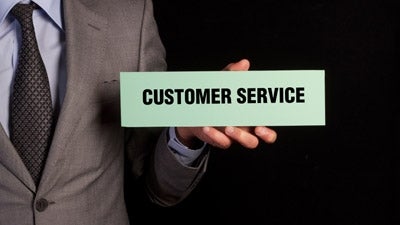 Carnival Cruise Lines has had a tough 18 months. It started in January 2012, when Carnival-owned Costa Concordia capsized, killing 32 people. This year, mechanical issues and fires occurred on four of the company's ships, leaving a bad taste in vacationers' mouths about cruising. Late last month, Micky Arison, who had been CEO of Carnival since 1979, was replaced by Arnold W. Donald, and the trial for the Costa Concordia captain began on July 9.
Fifty-three percent of respondents to research released by Harris Interactive in March 2013 said they were less likely to take a cruise than they were the previous year. In the same study, Carnival's trust score dropped 17 percent and perceived quality scores for Disney Cruise Line, Holland America Cruise Line, Royal Caribbean International, and Norwegian Cruise Line also dropped.
There's no doubt that not delivering an outstanding customer experience can lead to unfavorable opinions about a brand, and even an entire industry. Many small businesses don't prepare for a crisis, leaving them susceptible to public criticism and the potential loss of customers and revenue.
Providing an exceptional customer experience can make all the difference for your company, brand, and customers. With that in mind, here are some strategies that could help you turn a crisis into a positive situation.
Address the issue with empathy. We've all seen this before: a company does something wrong, and skirts around the issue. Whether you're a big business or a small one, your public wants an explanation, acknowledgement of the toll your actions have had on your customers, and details on what actions you're going to take to resolve the situation. Everyone makes mistakes. It's all in how you correct it.
Apologize. Think about this in your personal life. Doesn't a sincere apology go a long way? Does a sincere apology single-handedly remedy a crisis situation in the business world? Of course not, but a sincere apology will humanize your company and spokesperson, while delivering confidence at a time when it's needed most.
Exceed expectations through full transparency. Put yourself in your customer's shoes. What would you want done to rectify the situation? Whatever the answer is, do that action, plus one thing. One of the very best things you can do to extend your relationship with that customer is to fully disclose the root causes of the issues and the steps you are taking to arrest and address it. Customers want the companies they do business with to make things right. Even when it seems nothing will help, the effort will be appreciated.
Keep promises and be honest. This goes along with exceeding expectations. Whatever you've promised your customers, deliver it, and deliver it well. It's as simple as that. It's better to under promise and over deliver than the opposite. Don't promise more than you can provide, and never lie through omission; it will be found out in the end.
Take to the social channels. It's important to have a crisis communication plan in place before you begin to tweet and blog, but the most important thing to remember is silence can be your worst enemy. Don't let your customers wonder what's happening. That will only upset them further. Remember, your customers are living in a world of instant information. The more prepared you are, the better.
Focus on the customers you do have. So often companies focus on acquiring new sales and clients. When your reputation is on the line, ensure your current customers are the number one priority.
Let Carnival be an example of the importance of having a plan to provide an exceptional customer experience during a time of crisis. Doing so will help instill confidence in your company and go a long way in enhancing long-term
customer loyalty
. I firmly believe it all starts and ends with the customer experience.