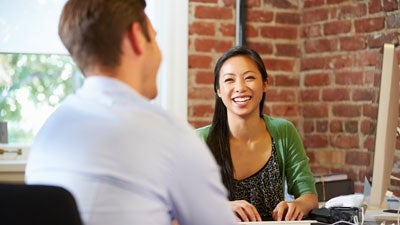 Your organization is only as good as the talent you recruit. It is the people who define and shape the organizational culture—so identifying people with the right character, attitudes, and behavior must be the highest priority when hiring or promoting within.
In my experience as a leadership change consultant, character always wins—too often people are hired for competence, but fired for character. This is why it's important to ensure your recruitment process is focused on finding and hiring people who share the same values as your organization.
A 3 Step Approach to Hiring Individuals Who Fit Your Culture
Finding the right people to work in your organization begins with a well thought out hiring process that gives priority to character and behavior over competence.
In order to hire the right people, you need to be clear about your organization's mission and about the character and competences required to fill the open position. Following this 3 step approach will help you find the right people:
Focus on character: Character should not be confused with attitude. Character is how someone fits with your organization's values and whether they conduct themselves in alignment with those values. Someone can have a bright a cheery attitude, but still not share the same values/character traits you are looking for. Think about your culture—is it collegial or competitive. Differences in character will create discord in your organization. Of course, specific skills are often essential in a specific role, however, no matter how skilled someone is, the wrong character and the wrong fit will eventually lead to issues. Once you have quickly eliminated those who do not have the basic required skill sets, focus on character and someone who has the right mindset that will fit and enhance your current culture and has the ability to hit the ground running.
Look for the right past behaviors: Probe for situational examples of past behaviors that demonstrate their character in action. Focus more on how they did it (their character) and less on what they did (the skill)—make sure to listen for the "how versus the "what."
Teach skills: Yes, potential candidates must have a certain level of competency, but skills should not be the focal point of the hiring process. Missing skills can be taught. Look for people who exhibit a willingness to learn, grow, and do what is best for the organization. Training can be used to fill in skill and knowledge gaps, and people with good character realize this and will be willing to put in the time and effort to ramp up as quickly as possible. These are the people who will have the biggest impact on performance and will fit within your culture without making waves.
Developing New Employees and a Strong Organizational Culture
The real driver for long-term success is found in your organization's culture. You can't hire the right people if you don't first understand your desired culture and the type of people who are a good fit. The right hire should enhance and strengthen your desired culture.
You also won't be able to keep good people if you have a poor work environment. Companies succeed when the culture they create to improve employee satisfaction and build a strong work environment also attracts good job candidates. There is a reason why people flock to some companies and are reluctant to apply for positions at others.
As a leader, it's important for you to not only develop new hires, but also reflect on the management practices internally that contribute to a high performance work environment. Ask yourself:
What is our mission? What are our goals? Does our team clearly understand what is expected of them to achieve these objectives?
Are we making strides forward? Are we providing adequate feedback and support to our employees?
What support are we providing to our team? Are we offering enough training?
Are we meeting our team's needs? How do we recognize our people for their efforts?
As a leader, it is up to you to set the tone for your organization. It starts with the hiring process and follows through with culture development. When the people with the right character, behavior and skills are hired, your team will achieve a common vision more effectively, helping you deliver better results and create a culture and a company that will attract people with both character and competence.
This article was originally published by Bill Hogg
Published: March 25, 2015