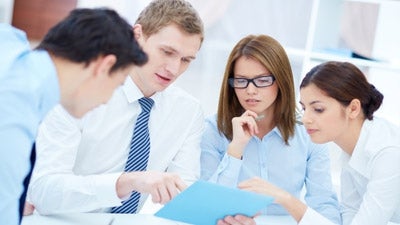 In business we are only as successful as the people we hire. And while our front-line employees are critical to our business, choosing the right managers can have significant impact on our success. So what makes a good manager, what are the behaviors that stand the test of time? Here are a few thoughts on the characteristics to look for in a successful Manager.
1. Must be able to shift gears and cope with change effectively. You have to be able to make decisions without knowing all the details or seeing the big picture. Today's managers have to be able to function in an atmosphere of ambiguity.
2. Must be aware of the competition, best practices and market trends to stay ahead of the game. They have to not only think about the issues that are important today, but must be aware of what needs to be done in the future to get the job. Do they have the ability to evaluate and synthesize information and make appropriate decisions based on the data that's available?
3. Must build effective customer relationships that create customer loyalty and build trust. Given the importance of customer focus in today's business environment, Managers must demonstrate the behaviours they would like to see modeled. Plus, strong customer relationships provides the opportunity to learn more about our customers' needs and wants which helps us improve products and services.
4. Must be flexible in how they interact with and understand different cultures and classes of people. They must manage diversity in their team and with customers and work effectively with all races and nationalities and cultures by providing equal and fair treatment for all.
5. Must be able motivate others. A significant part of being an effective manager and producing results is creating a climate in which people want to do their best—where people feel their work is important. Effective managers empower people to contribute ideas, make decisions and share ownership. Managers must be able to understand individual motivators for each person and then use them to improve performance.
6. Must identify future high performers and build and develop raw talent. The ability to set clear goals and provide clear direction, assign work fairly and provide timely feedback are all critical factors. They must have the ability to understand people's career goals and provide challenging and stretching work opportunities in order to help them reach their potential.
7. Must provide ongoing coaching and feedback to improve performance. They need to understand how people learn and then set clear goals and outcomes for ongoing development.
8. Must build effective teams and relationships with other people in the organization in order to accomplish business goals. They must define success in terms of team performance and must balance that with the ability to provide clear, specific direction when needed.
9. Must be results driven. Effective managers must understand the overall big picture of their business and be able to deliver results.
Finding a candidate that is a perfect balance for all these competencies is obviously difficult. You must decide which are the most important in the context of your business. Once you have determined this, design your interview process to discover the strengths in each of these areas.
You will notice most of these qualities are not skills based, but character-based in keeping with my view that character is more important than competence or specific skills.
Finding a manager with the right character—with the ability to learn—is always better than finding a manager who may have managerial experience.
The manager level is one of the most critical levels in any organization for developing a high-performing culture. Without this key element of the organization engaged and aligned with the corporate goals, no organization can develop a high performance culture.
This article was originally published by Bill Hogg
Published: February 14, 2014
2057 Views