How to Foster Productivity Through Communication and Transparency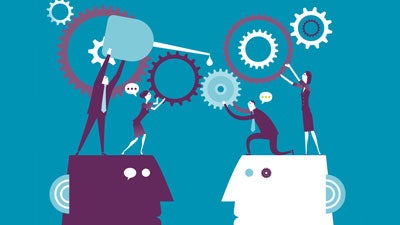 I left the first company that I founded. My co-founder and I had different values, and without realizing it, we created two disconnected cultures within the same company.
This is a common problem within startups. In growing organizations, employees often have no idea what's going on in other departments. Marketing, sales and customer support don't communicate, which means these teams might as well be operating as entirely different companies. When crucial information isn't flowing between departments, these silos crush productivity and ultimately stifle growth.
Whether your team is distributed across several offices or located under one roof, here are four ways you can create an environment centered on open, two-way communication that builds cohesion.
1. Institute a Transparent Workplace
A common mistake management teams make is not sharing information across the organization. This demonstrates a lack of confidence and can lead to distrust. The best way to prevent this is to practice open, transparent communication.
According to Michael Wolfe of Point Nine Capital, company leaders should share as much information with their teams as they can, including meeting notes, customer feedback, key data on financials, targets, fundraising and new hires. (Some companies even share salaries and stock options.)
Be discerning about the information you share, but don't worry about overwhelming your teams. The people you want to hire at a startup are those who are smart and ambitious enough to want this information and will use it to make the company better.
2. Get Rid of "Us vs. Them"
According to a 2012 Salesforce.com study, 86 percent of executives blame workplace failures on a lack of collaboration and poor communication. This secretive "us vs. them" mentality can lead to interdepartmental friction.
When employees aren't communicating across departments, leaders need to build practices that strengthen relationships between different teams. At 15Five, we have a strong culture of open feedback and communication, but this is something we've built over time by establishing genuine human connections. For instance, we bring together our globally distributed team for a daily video call to celebrate recent successes and gather support for challenges.
Always look for ways to build connections between people—especially when there's a lack of common work goals and interests. Open office layouts, group lunches, team outings and retreats can encourage collaboration and sharing.
According to the same Salesforce.com study, 97 percent of employees and executives surveyed believe a lack of alignment within a team directly impacts the outcome of a task or project. Employees who have clear roles, responsibilities and deadlines are more likely to be held accountable.
To keep everyone aligned and focused on a set outcome, establish quarterly objectives and key results (OKRs). Always frame these within larger company goals to show people how their efforts support big-picture company objectives, and make all OKRs public throughout the organization.
4. Ask Specific Questions
Your employees have tremendous insight into the inner workings of your company, and the best way to tap into this intelligence is by asking the right questions. In addition to regular team meetings, an automated feedback tool that asks employees relevant questions can prove invaluable for recognizing achievements and identifying challenges.
More importantly, it's wise to maintain regular face-to-face interactions. During these one-on-one meetings, you should ask pointed questions in a way that demonstrates genuine concern and understanding about employees' roles. Instead of asking, "How are things going?" try questions along the lines of, "Hey, I noticed that X is happening. Do you need support?"
By maintaining regular, direct communication with team members, you'll gain valuable insights into the operations of each department and be able to resolve issues quickly.
Communication and employee feedback aren't just methods for getting more work out of people; they're also vehicles for boosting employee loyalty, building alignment around goals and increasing productivity. Building a culture of transparent communication will open doors throughout your company and help your entire organization run more efficiently.
Author: David Hassell is the Founder and CEO of 15Five, web-based communication software that elevates the performance of managers, employees and entire organizations by initiating weekly conversations that quickly uncover achievements, challenges and risks. Named "The Most Connected Man You Don't Know in Silicon Valley" by Forbes Magazine, David has also been featured in The New York Times, The Wall Street Journal, Inc., Entrepreneur, Wired, Fast Company and the Financial Post. Learn how David and his team are helping companies inspire greatness in their people at 15Five.com.