In honor of Veterans Small Business Week, I had the pleasure of nominating two NY State veteran business owners as success stories. Their stories will be placed on the National SBA web portals for recognition. These entrepreneurs were in various stages of their startups, but we worked together to grow their business into the successes that they are today.
Here are their inspiring stories:
A native of Rensselaer County, NY, Thom Besch came home to the Capital Region after a 26-year career serving in the U.S. Army. After retiring as a Colonel, Thom apprenticed in a local solar business for four years before launching his own startup solar firm, Veteran Solar Systems, in February of 2014. Thom's company employs up to five employees and serves mainly residential customers in a one-hour radius of Albany. Resources like the SBA's Boots to Business training program, the SBA's Veteran Business Outreach Center (VBOC), and incubator space at the Watervliet Arsenal have contributed to Veteran Solar's continued success.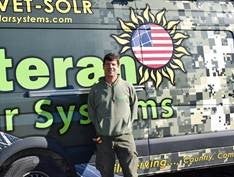 "I came back because this is where my family lives. In trying to decide what I wanted to do next, I thought about defense contracting and changing uniforms for a coat and tie. I believed in the missions and units I was a part of, and I wanted to do something afterwards where I was contributing to something important. After some soul-searching, for me it was renewable energy," says Thom Besch, President of Veteran Solar Systems. "My business counselor Amy Amoroso connected me with the Watervliet Arsenal for great office space and help with marketing and more from its McNulty Center for Veteran Entrepreneurial Activity. I discovered there are a lot of people willing to help veterans in business; you just need to make the connections and reach out. After being in the military where you always have a boss, no matter what your rank is, it's nice to have control over your own destiny."
SBA interviewed Thom about his experience as an entrepreneur and posted the interview on YouTube: https://www.youtube.com/watch?list=PLrwM1ZVcvDhbuJ0_M9XQ8MzyGvy4gPN5W&v=qkxm7GQG-G8
Barry Moore, Owner of JNB Foods
After his enlistment in the U.S. Navy in the 1970s, Albany-native Barry Moore worked as a commercial painter. In between painting jobs, he took the U.S. Postal Service civil service exam and passed with high marks. Barry spent the next 32 years at the Postal Service, rising from clerk to executive, by building a strong background in leadership and management skills.
"In 2011, I decided it was time for something else. I retired and rode off into the sunset on my Harley. But when winter time came and I couldn't ride, I sat down with my brother and my son Jason to talk about taking my bruschetta into the marketplace. We financed everything ourselves to get started as JNB Foods and were struggling. The spring of 2012 we found help with business planning from Amy and the Veterans Business Outreach Center," explains Barry Moore.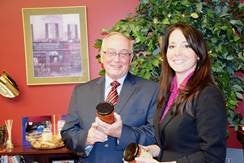 "Our first production was 20 cases of bruschetta and apple corn salsa for the Women's Expo here in Albany and we sold out. One month later, I had a phone call from a dietician at Shop Rite who had attended the Women's Expo. She invited us to pitch our products with the store manager and we had our first major success. We were in the right place at the right time."
When JNB Foods was ready to grow to meet rising demand, Moore used the research resources available at the Albany Small Business Development Center (SBDC) to develop his business plan when he attended their SEED Program in 2012. Today, JNB's foods are sold in specialty and grocery stores across New York State. Their products such as pineapple salsa and cranberry chutney live up to their company slogan of "Natural. Healthy. Delicious."
In addition to business counseling with New York State VBOC, Moore also found assistance from the Albany SBDC for trade missions to China with SBA's STEP program, and product placement through Taste of New York stores in Puerto Rico.
Find more information about Veteran entrepreneur programs at:
http://www.nysbdc.org/veterans.aspx