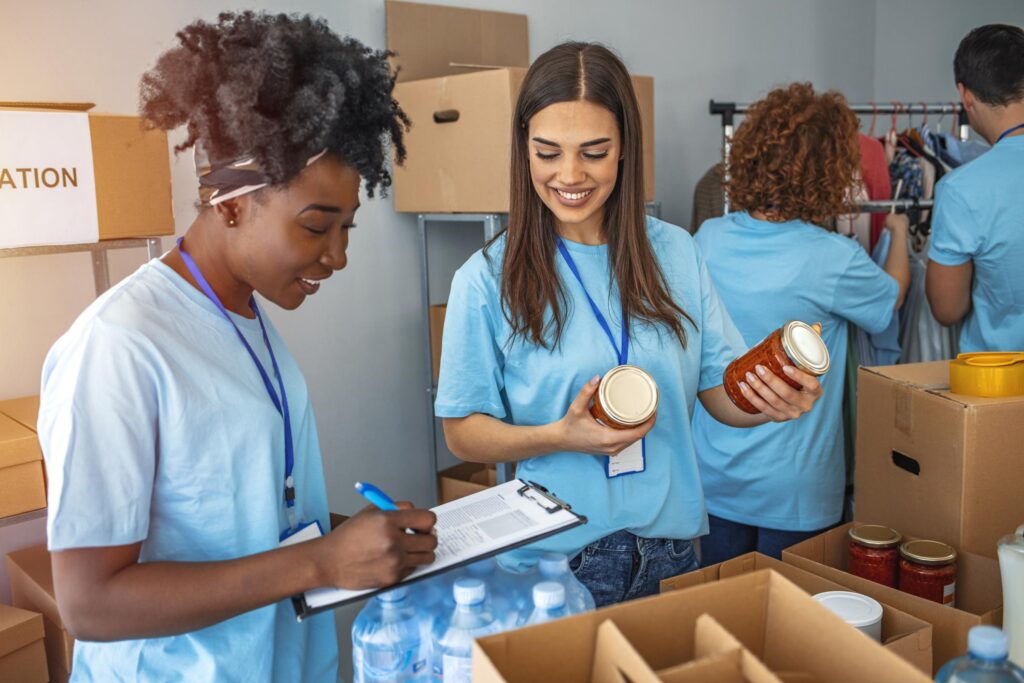 Credit: iStock / Getty Images Plus/dragana991 Creative #1218067733
As part of the local business landscape, your small business provides valuable products and services, employs local individuals and supports a local economy. Philanthropic efforts give your business another way to get involved in the community.
Businesses volunteering in the community strengthen community ties and the individuals who could become future customers or referrals. Community involvement provides networking opportunities for small businesses as they contribute positively to those in need.
Philanthropic efforts can also help you attract better candidates and increase employee retention. The 2018 LinkedIn Workplace Culture Report found 46% of employees said having a positive impact on society is one of the top factors keeping them at their company for more than 5 years. Plus, 71% of professionals would be willing to have a reduced salary to work for a business that has shared values and a mission they believe in.
No matter what size your business is, there are plenty of ways to contribute to organizations in need. Use these tips for how to volunteer in your community on behalf of your small business.
What is Corporate Philanthropy?
According to the Council on Foundations, corporate philanthropy refers to "the investments and activities a company voluntarily undertakes to responsibly manage and account for its impact on society." Corporate philanthropy can include monetary donations, product and service donations, corporate volunteering and other forms of charitable giving.
Some small businesses choose to contribute to a select organization or group of organizations that aligns with their mission. Some small businesses partner with a nonprofit organization on an ongoing basis as a main sponsor.
Small businesses may also choose to volunteer with a variety of nonprofit organizations, broadening their reach in their communities based on how their help is needed.
Why Do Companies Practice Corporate Philanthropy?
While corporate philanthropy helps those in need, it's also an advantageous business strategy that can boost company growth. There are several reasons small businesses practice corporate philanthropy. These include:
To give back to the community
To engage employees who want to contribute meaningfully on the job
To build awareness for a business
To network and create win-win alliances and partnerships
To contribute to company culture
There is a time and/or financial investment companies make when they're volunteering or providing donations as part of corporate philanthropy efforts. But those investments can provide a significant return in employee engagement and business sentiment.
What Are the Benefits of Corporate Philanthropy?
Corporate philanthropy provides numerous employee engagement benefits, which is good for retaining current employees and attracting top talent. According to the 2017 Deloitte Volunteerism Survey:
89% of employees believe company-sponsored philanthropy activities create a better working environment.
77% of employees believe volunteerism is essential to employee well-being.
70% of employees believed volunteer opportunities were better at boosting morale than company mixers were.
Another possible benefit of employee volunteerism is that your employees may learn new skills that can help them perform better on the job. These might include communication and client relations skills, or insights into management and operations.
Corporate philanthropy also fosters a better work-life balance for employees, because volunteering provides health benefits. The Mayo Clinic reports:
Volunteering decreases the risk of depression and reduces stress levels.
Volunteering teaches new skills and instills a sense of purpose.
Volunteering benefits physical and mental fitness.
Volunteering fosters relationship development.
In addition to helping employees by offering company volunteer opportunities, your business can also improve its standing in the community. Being associated with a prominently covered event can result in positive news items mentioning your business. You could also improve your search engine optimization (SEO) efforts by having your business linked on nonprofit websites.
Corporate philanthropy can also help small businesses attract clients who want to work with a business that gives back to the community. A small business can highlight corporate philanthropy efforts on its website and in marketing materials to show customers and clients the great work the company is doing.
How Small Businesses Can Practice Corporate Philanthropy
It's easy to get started with corporate philanthropy efforts. Many nonprofit organizations rely on volunteerism from small businesses to operate.
Using your corporate mission as a guide, search for opportunities that align with your vision to reinforce your corporate culture. Here are some company volunteer ideas.
Become a Sponsor
Offer a financial investment as a sponsor for a scholarship or local event. In addition to helping whomever will benefit from the sponsorship, your business will also benefit from brand recognition.
Online, a sponsorship can lead to a positive search result for your business. Wherever your business name is listed for the sponsorship, from pamphlets to signage, that exposes your business to a new audience.
Volunteer for Team-Building
Empower your managers to use their next team-building event as a volunteer opportunity. For example, if a department does team-building activities once a month, make next month's team-building event a trip to a food bank. Your employees will get to spend work time in the community, bonding with their coworkers as they help those in need.
Host a Drive at Work
Make corporate philanthropy a part of office life by hosting a drive at your business. This could be an on-site blood drive or an ongoing drive like a gift collection for the holidays. Employees will see that your business is entwined with giving back and they can contribute on the job.
Participate in a Community Event
Big events like 5K races and festivals provide team-building opportunities outside of work for your employees. Create work teams for community events so employees can connect and give back to a worthy cause on behalf of your business.
Partner with an Organization in Need
You might consider a long-term partnership or partnerships with local organizations in need. For example, you could create a volunteer organization at your work that tutors children in reading at a local school, or a group that provides regular assistance at a local hospital.
To motivate employees to join, allow them to do their volunteer work during work hours, perhaps a couple hours every other week. A long-term partnership can extend to other corporate philanthropy efforts, like item drives and financial investments for that organization, as well.
Corporate Philanthropy: Good for the Community, Good for Your Business
It's likely your employees want to have opportunities to volunteer and contribute to the community. By providing those as part of corporate philanthropy efforts for your business, you can increase employee engagement and boost your business reputation. Giving back to the community on behalf of your business is a win all around.