13 Entrepreneurs on Their Biggest Business Mistakes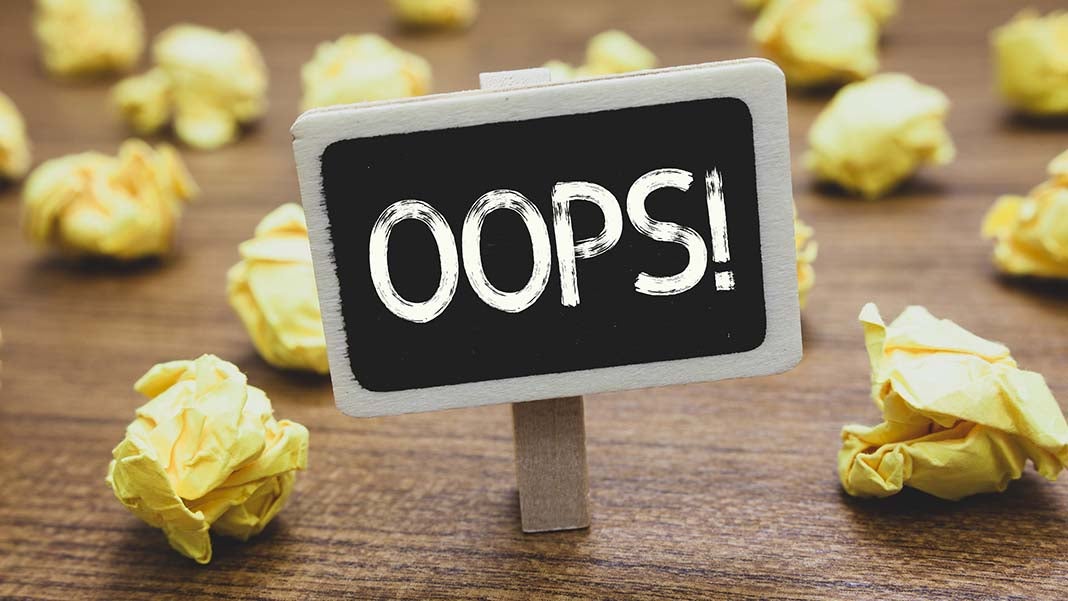 If entrepreneurship was easy, everyone would do it. Unfortunately, the reality is that half of all startups close within five years, which means you're just as likely to fail as succeed.
Sometimes failure is out of your control—disaster strikes, or a competitor gets an unexpected boost. But often, the reason is a little more depressing: Our own mistakes doom us.
Before your business falls victim to an avoidable mistake, keep an eye out for these 13 errors that have previously sunk, or almost sunk, your fellow entrepreneurs. Unlike some of the entrepreneurs on this list, you may not get a second chance to right the ship.
Note: These responses have been edited for length and clarity
1) Not paying yourself
Pay yourself! This advice was given to me by many counselors and advisors when I started Knit Marketing, but I was so determined to give people job opportunities that any money that came into the business went to building our team.
On one hand, this has given me an amazingly strong team, but it's not personally sustainable. Almost three years after launch, and I'm job searching now because my business still doesn't pay me. If I made the goal of paying myself first early on, I would have made different choices and probably wouldn't have hit a financial wall less than three years in.
—Rebecca Borough, founder of Knit Marketing
2) Focusing on too many things
Early on I experimented with trying to be everything to everyone. We began to offer lawn maintenance and snow removal along with our core service of parking lot litter removal… It spread us too thin. We gradually phased out of those services without losing any litter removal contracts. It's better to do one thing better than anyone else than to do many things average. What's the saying—jack of all trades, master of none?
—Brian Winch, owner and operator of Cleanlots
3) Going deep on initial inventory
Be strategic with your business's initial inventory purchases, and buy for breadth—not depth. It's impossible to precisely forecast how much inventory to purchase without sales data, so only purchase the minimum order quantity per SKU before diving in deep. If you're up to your eyeballs in debt with a garage full of inventory that won't move, that can sink your business.
However, if you're patient, buy for breadth, and then place orders in higher quantities on the units that move, you can build a sustainable business backed by data.
—Eli Williams, owner of Foundry Outdoors  
4) Overlooking ROI
Early on in my business career, the biggest mistake I made with my business was that I spent too much money on branding and did not focus on our return on investment. Later, I would find out that many of those marketing expenditures were ROI-negative. We lost money because of irrelevant or bad marketing bets.
If you have a small business, I would recommend paying careful attention to its ROI. You should exactly where your hard earned dollars are going, and how the investment is paying off.
—Deborah Sweeney, CEO of MyCorporation.com
5) Not testing before investing
We had an episode about four years back where we decided that our clients would really like a product where a Marketing Specialist personally called them for a quote to be placed in a newspaper. This was included in a bundled package, so there was no opt-in. We just assumed.
One major problem: The customers didn't understand or want what we were doing. We were too in love with our idea to hear this feedback. When things didn't go well, we thought it was a problem of execution, so we did more training. When they wouldn't take our calls, we just called more and left more voicemails.
Had we adopted a 'done is better than perfect' approach, we would have tested this idea for as little as $5,000 and received excellent customer feedback along the way. This could have saved us $195,000—which is a large sum of money for a small business.
—Adam Stetzer, CEO at HubShout
6) Waiting to delegate
One of the biggest mistakes we made at Mixmax was waiting too long to hire senior talent and delegate tasks. It can be difficult to delegate because you've put so much into your business and letting someone else take over parts of it is scary, but it's also vital. There's no way one person (or even a few) can handle everything that comes with making a business successful—you've got to have some help.
—Olof Mathé, co-founder and CEO of Mixmax
7) Neglecting lead generation
I neglected having a sound lead generation strategy in place. I had some initial success with getting new clients through various means. I worked hard for my clients and spent most of my time managing their marketing campaigns and ensuring they were successful in achieving their goals.
Unfortunately, I was not spending enough of my time on business growth and getting new clients. As any entrepreneur who provides a service can attest to, clients leave for various reasons. Even the clients who are happy with your performance can decide to "go in another direction" at any time. If you don't have a plan in place to generate new leads, then you may find yourself in a tough spot when a few clients decide to jump ship.
—Nick Bennett, founder of Growmeo
 8) Doing it all yourself
Don't go at it alone. Identify your pain points early on, ask for help and accept it. There are people out there willing to help, you just need to receive it.
Outsource the areas you're not truly exceptional at. If you're not a tax expert, get someone to help you. If you're not a social media guru, hire a marketing coordinator. You do not have to wear every hat and you shouldn't wear every hat. Focus on what you're good at and outsource everything else.
— Kyle Elliott, MPA, CHES, founder and career coach behind CaffeinatedKyle.com
9) Spending like you're successful
When I started my company I thought it would be a struggle to success. The issue I found was that success was easy to attain. We were flush with cash within a year, but our spending habits resembled a TV show more than a responsible (and seasonal) business. Luckily we caught a lot of this before it put us out of business but spending is the hardest part to manage.
Spend money like you don't have any coming in. Be mindful of your costs, and don't buy things because they are "cool" or high tech; only buy things your business can't function without, and even then start used over new!
—Alex Caslow, owner of Red Beard Sailing
10) Discounting right away
Stay away from promotional companies that pay you pennies on the dollar for your hard work. Companies like Groupon have a wide reach, but at times you could be putting your product in front of someone who may not appreciate it. So discounting your product when you first start out is something I would always caution against. Sure, you will get exposure, but at what cost when you're thinking long-term. These flash sale type of sites aren't small business minded, they are not in your corner as much as they might say they are.
—Bryn Butolph, CEO and founder of Eat Clean Meal Prep
11) Forgetting about culture
Thoughtful planning and execution is required to build and maintain a great company culture. Don't ever skimp on the recruiting process. Hiring the right people based on cultural fit and skill are critical to success. I would much rather hire a hard worker that is a cultural fit than a highly skilled person with no cultural fit. It boils down to being able to work well with others in a team environment.
If you're unable to collaborate, the chance of innovation and new opportunities are diminished. Spend the time and money to recruit employees who will enhance your culture.
—Christoph Seitz, co-owner of CFR Rinkens
12) Hiring too fast
I hired more employees than we could afford. It sounds like a very basic error, but it is not. When you're growing fast and thousands of new problems pop up every day, you're not always controlling your economy minute by minute. Instead, what you think is, if I contract this person, they will help me with this problem. If I solve this problem, more clients will come, more money will be generated, and we will have the money to pay that person at the end of the month. Unfortunately, it will not always be this way, maybe a customer delays paying or sales were not as expected.
As long as you are sincere, your team will understand and help you to get ahead of the financial problems that will always exist.
—Cristian Rennella CEO and co-founder of MejorTrato.com.mx.
13) Assuming steady cash flow
We made the mistake early on thinking that clients would pay their invoices on time, and we almost hit a cash flow issue. Luckily, our clients were quick to pay once we reminded them their bills were past due—and we updated our service agreement to incorporate prepayment of hours. It is fantastic not having to spend as much time chasing non-paying clients!
—Maurice Harary, CEO of The Bid Lab
When you're just starting out, many mistakes are due to inexperience—and once you make them, you'll never make the same choice again.
Accept that as a business owner you will make mistakes, but the more mishaps you can avoid, the quicker you can get off the ground and make your business a wild success.
Published: January 28, 2019
4239 Views