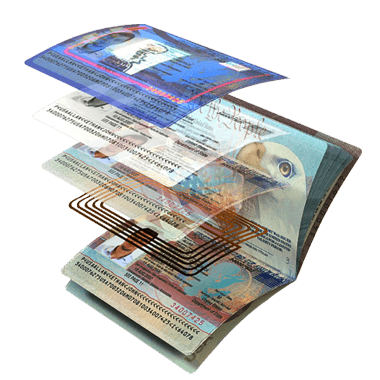 Image
First of all, let's be sure we're all on the same page, or at least in the same book. We can assure you, it's not witchcraft! ID scanners work on scientific principles well-known to many. With that said, some aspects of their operation are admittedly quite complex.
We'll start with the simple part. Scanners use many of the same techniques as ANPR/ALPR cameras. They make a digital image of a document that contains textual and visual data. From that image, they use special software to identify key bits of information in what they "see." However, the similarities regarding these two solutions' main principles end here, since ANPR/ALPR cameras are used to identify license plates, whereas ID scanners are tailored to retract data from ID documents and bust forgeries. In fact, these amazing tools use multiple layers of checks and double-checks to ensure absolute accuracy of image interpretation and authentication of documents.
This article will explore these functions in more detail. Though we'll discuss these functions in several more sections, a good passport scanner performs them all in just a few seconds. When many people must be identified, as in boarding a plane or train, this capability is vital to maintaining schedules. Adaptive Recognition's ID scanners are among the most capable and adaptable examples available.
Optical Scanning With Various Light Types and Angles
Using various light wavelengths and angles ensures a clear, unblemished image of a document. The techniques they use remove reflections and other imperfections. In some applications, the ID scanner may be placed where the lighting is dim, excessively bright, or variable. The machine must adapt to all these conditions – something that most state-of-the-art ID readers can already do.
A document that's been in someone's pocket or wallet for a long time may be faded, smudged, or otherwise hard to read. A good ID scanner using several light angles and wavelengths can often produce a clearer image than the original document.
Optical Character Recognition (OCR)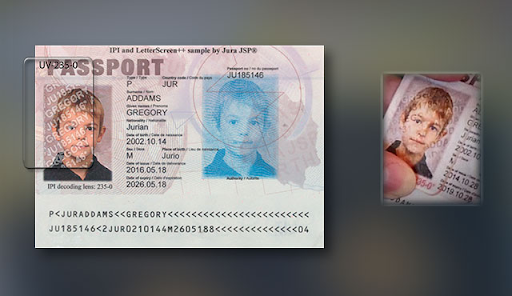 OCR interprets textual information and stores it in machine- or human-readable form.
Adaptive Recognition's ID scanners are programmed to read Latin alphabet characters (as used in English and most European languages) and many others, like Cyrillic, Arabic, etc.
As more and more people travel widely in the world, this capability is increasingly important.
Checking Internal Consistency in Documents
This is one of the checks that help identify fakes and copied documents. A good ID scanner checks all coded data and images to ensure the information linked to all parts of the document match. These checks quickly detect fakes and forgeries with uncanny accuracy.
If the person standing in front of the agent doesn't match the image in the document – after facial recognition has been performed – then the document doesn't pass and the person with the problematic ID can be questioned.
Embedded Information in Codes and Images
IPI (Invisible Personal Information) is embedded in some identity document images. Some include RFID chips and barcodes. The document scanner must be able to decode all types of embedded information.
A good scanner produces quality, high-accuracy results in any light condition.
Passports, residency documents, and other forms of ID can have different forms, despite efforts to standardize them. New types of documents, such as vaccine certificates, are often issued. A capable scanner can quickly learn to read documents it hasn't seen before.
Connectivity to Other Systems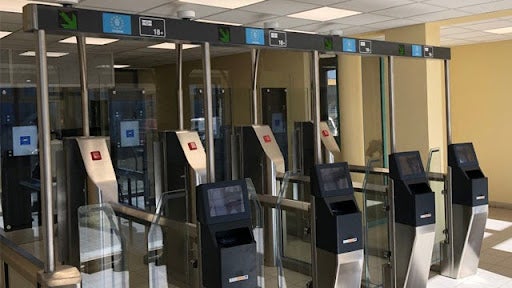 The most adaptive scanners can readily connect to other devices, software, and databases to make the data it interprets most useful to various users.
Often document scanners are used in applications where the data they interpret from ID documents are used for age verification, invoicing, criminal record check, travel status, etc. To be useful in these functions, the scanner must connect to external databases, software, or computers. Also, it should have the capability to connect with these other systems by cable, Bluetooth, or through the internet.
For example, starting from 2022, the upcoming EES (European Entry/Exit System) will require biometric identification of all non-EU citizens when they cross European international borders. Playing off the success of their ABC (Automatic Border Contol) system at the Ferenc Liszt International Airport in Budapest, the Hungarian National Police once again contracted Secunet to implement the first EES-ready land border crossing – with Adaptive Recognition's Combo Smart Kiosk passport scanners implemented into the new e-gates.
For this system to work, the ID scanner must connect with a facial recognition camera or a fingerprint reader. It compares the biometric data with the data it reads electronically from a chip in an ID card or passport.
The document scanner must also be linked to the government's immigration database so the traveler's record in that database shows accurately which country they are from.
When everything checks out – which, usually, takes just 12 seconds – the traveler can be on their way. Compare this to the several minutes required for all this to take place with a human agent manually processing the documents. If a bus with 40 passengers passes this crossing checkpoint, the time savings provided by the e-gates are very significant.
So, while it's definitely not witchcraft, you can see that a competent ID scanner uses many sophisticated systems to accomplish accurate, unchallengeable identification of travel documents.
Adaptive Recognition is a company providing some of the most capable document scanners in the industry since 2000. To learn more, visit their website and contact their experts to discuss how the company's solutions can help in your project.