According to one recent study, about 80% of people said that they used some type of mobile device to search the Internet in 2019 alone. Given the fact that smartphone ownership increases every year, this is one trend that you can expect to only pick up steam moving forward.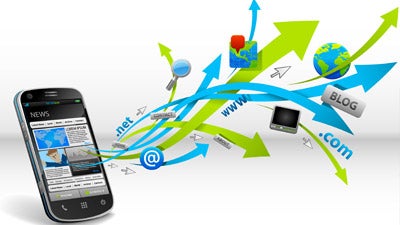 But it's not just the fact that people are browsing the Internet on mobile devices that is important – equally so is what they're doing while online. Roughly 40% of online transactions are conducted on a mobile device, as per the same study outlined above. Even when it comes to in-person shopping, about 69% of people still say they prefer to look for reviews of products on their phone than approach an in-store employee. All told, traffic from mobile devices accounts for roughly 54.8% of all global Internet traffic – a number that will only keep increasing over the next several years.
Which, of course, demands the question – what does that mean for your website?
Your company's website needs to be so much more than just a virtual calling card. It needs to be a core part of the experience that you're offering to people. If more and more visitors are arriving via smartphones and tablets, you need to start making design choices with them firmly in mind.
That, in essence, is what a mobile-first design is all about.
Why Mobile-First Matters
As the name suggests, a mobile-first design is one where you start the development of your website by making design choices that are geared towards navigation on smaller devices – commonly with touchscreen interfaces. Gone are the days when everyone is interacting with your site using a keyboard and mouse on a monitor that is probably at least 15″. The iPhone 12 Mini, for example, has just a 5.4″ display – meaning that it's an entirely different experience, even from other products in the same line.
Now, it's crucial to keep in mind that a mobile-first design does not mean that you're neglecting users who may be arriving on your site via a desktop. On the contrary, it simply means that you're making sure that your site offers exceptional quality on both of these devices at the same time. If you hit a home run in terms of the experience on a mobile device, the desktop half of the equation will essentially fall into place automatically.
To get to this point, many organizations leverage something called responsive web design, or RWD. This is an approach to website design and development that allows for dynamic changes to the way your site looks depending on the device being used to access it. Page elements rearrange themselves automatically as the display size grows or shrinks.
There are a wide range of different benefits to this approach. For starters, you're building a website that works on nearly every device and screen size – regardless of how large or small it may be. But more importantly, you don't have to design multiple versions of the same site to achieve the results that you're after.
Think back to when smartphones first came on the market and "mobile sites" weren't really an option. You would try to access a website on your smartphone and it would be a frustrating, time-consuming experience. If the content even displayed properly to begin with, you would probably have a fair amount of difficulty interacting with buttons and other page elements. Soon, businesses started developing dedicated mobile sites – but your phone had to "know" it was supposed to load that version over the desktop one.
During these early days, those mobile sites actually swung far too hard in that direction. They were "bare essential" versions of a business' main site that may have been easier to navigate and interact with, but that also left a lot to be desired in terms of the visual look and feel.
Responsive web design and a mobile-first approach to development, on the other hand, allow you to address all of these issues in one fell swoop. You get to build a site that is easy to navigate and that looks great on a smartphone that also offers a complementary experience on laptop and desktop computers automatically.
There are other advantages to this approach, too. It's significantly easier to maintain your site because you're not trying to manage multiple versions that were designed for multiple devices. If you were trying to maintain two distinctly different versions of your site, for example, every change essentially becomes two changes because you have to make them in both locations. This also creates more opportunities for something to break on one version of the site versus the other, potentially alienating a significant portion of your visitors before you know it.
It's also far, far easier to monitor things like website analytics when you're only working with one version of a site. Rather than trying to piece together insights from two disparate sources, you have a "single source of truth" for what's working, what isn't and what still needs to be done.
This approach is also critical in terms of your search engine optimization (SEO) efforts. Google regularly makes changes to its algorithm to, in part, keep up with the trends of its users. Over the last few years, they've actually begun prioritizing mobile-friendly sites in their results pages. This means that if your site is mobile friendly, you will largely rank higher than competitors who aren't almost by default. If the biggest search engine on Earth says that mobile friendliness is important, that means that you need to think the exact same way.
In the end, mobile devices like smartphones and tablets are obviously here to stay – which means that the mobile version of your business' site needs to become a top priority. A mobile-first design is a way to offer your visitors the experience that they're after, all while creating advantages for yourself that you wouldn't necessarily have through other means.